« previous post | next post »
Bruce Doré and Robert Morris, "Linguistic Synchrony Predicts the Immediate and Lasting Impact of Text-Based Emotional Support", Psychological Science 2018:
Emotional support is critical to well-being, but the factors that determine whether support attempts succeed or fail are incompletely understood. Using data from more than 1 million support interactions enacted within an online environment, we showed that emotional-support attempts are more effective when there is synchrony in the behavior of support providers and recipients reflective of shared psychological understanding. Benefits of synchrony in language used and semantic content conveyed were apparent in immediate measures of support impact (recipient ratings of support effectiveness and expressions of gratitude), as well as delayed measures of lasting change in the emotional impact of stressful life situations (recipient ratings of emotional recovery made at a 1-hr delay). These findings identify linguistic synchrony as a process underlying successful emotional support and provide direction for future work investigating support processes enacted via linguistic behaviors.
Where the data was from [link revised to work outside the Psychological Science site]:
Participants in this study were users of an online application, called Koko (previously Panoply), that facilitates text-based emotional-support interactions within an anonymous social network (Morris et al., 2015). We analyzed data from every user who interacted with this application between June 1, 2016, and June 20, 2017; a total of 169,376 unique users posted about 361,139 unique stressful situations and received 1,161,360 messages of support in response.
How they defined "linguistic synchrony":
Our selection of predictor variables was informed by a model positing that synchrony in textual content, style words, emotion words, and latent semantic content reflects a support provider who is able to use language from the recipient's post, reference relevant actors or objects of the post using the appropriate function words, reference or re-express emotional states expressed by the recipient, and in a broader sense, speak to the semantic content conveyed by the recipient (i.e., semantic content that is not reflected in function words or emotion words).
We defined surface-level textual similarity as the opposite of the Levenshtein distance, which is the minimum number of single-character deletions, insertions, or substitutions required to change one text into another. The greater the Levenshtein distance, the more different two documents are in terms of the text they use.
We defined synchrony in linguistic style (typically called language style matching) as similar use of the function words from the Linguistic Inquiry and Word Count dictionary: negations, quantifiers, conjunctions, adverbs, auxiliary verbs, prepositions, articles, personal pronouns, and impersonal pronouns[…]
We also considered synchrony in the texts' overall emotional character (i.e., the specific kinds of emotions expressed). We defined the texts' emotional character using a lexicon-based algorithm that estimates expression of eight categories of emotion—joy, trust, fear, surprise, sadness, disgust, anger, and anticipation—as well as overall positive and negative valence, across 14,182 English words  […]
Finally, we considered similarity in latent semantic content—that is, similarity in the kinds of underlying topics that are addressed in the stressor posts and support responses, despite potential differences in the words and phrases used. To do this, we used latent semantic analysis, which provides an algorithmic estimate of document similarity […]
The results ("Functions relating textual, linguistic-style, emotional-content, and latent semantic synchrony, as well as overall support-response valence, to immediate ratings of emotional-support effectiveness, whether a thank-you note was sent, the valence of thank-you-note language, and lasting emotional recovery"):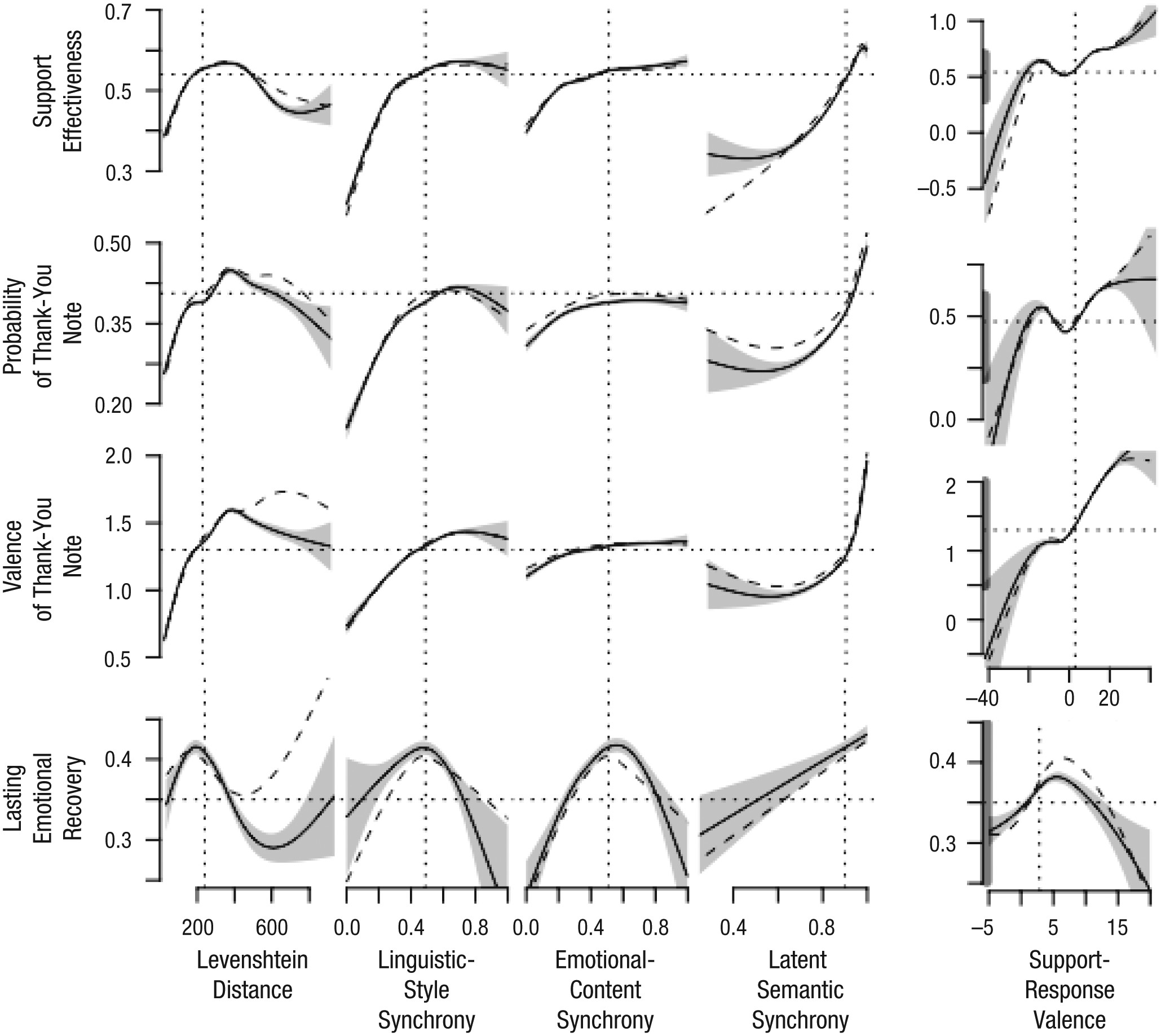 For some relevant background, see Molly Ireland et al., "Language Style Matching Predicts Relationship Initiation and Stability", Psychological Science 12/13/2010, discussed on LLOG in "Little Words", 6/7/2011.
---