« previous post | next post »
My, my! What does the signage on this van in Chengdu, Sichuan Province (China) say?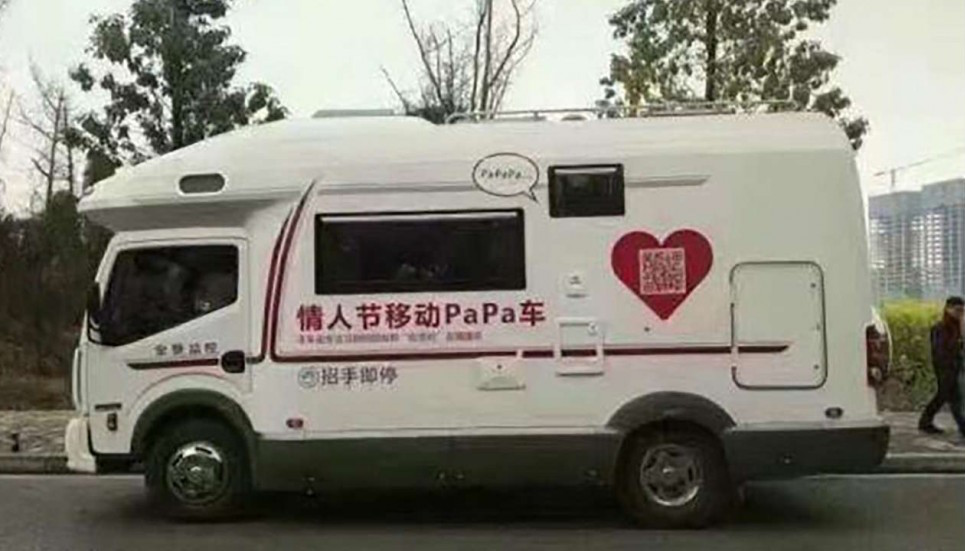 From: "Chinese firm ordered to remove sexually suggestive Valentine's Day advertisements" (SCMP, 2/15/17).
Qíngrén jié yídòng chē 情人节移动PaPa车 ("Valentine's Day Mobile PaPa Van")
zhāoshǒu jí tíng 招手即停 ("stops when hailed")
You're probably wondering what "PaPa" (or "PaPaPa", as at the top of the van in the middle) means.  To be blunt, it's internet slang for "having sex".
The Chengdu Bureau for Industry and Commerce, upon receiving complaints about the signage on the vans (there were two of them roaming the city streets like ice cream trucks) ordered the start-up that operated the vans to remove the advertisements, whereupon the owners covered up the objectionable parts with cardboard.
BTW, this is another in our long series of posts featuring multiscriptal signs.
[h.t. Mark Metcalf]
---