« previous post | next post »
Bob Moore sent in a link to a story (Brooke Crothers, "Windows 10 will only work on newest PCs, says Microsoft", Fox News 1/18/2016), and commented:
I was confused when I saw this, because I am already running Windows 10 on several older PCs. When I read the article, I realized that what they meant to say was "Only Windows 10 will work on newest PCs, says Microsoft".
As far as I can tell, the editor who wrote the headline must also have been confused, since as far as I can tell, "Windows 10 will only work on newest PCs" can't possibly mean "Only Windows 10 will work on newest PCs".
This opinion is not a prescriptivist judgment about how the language ought to be interpreted, like most complaints about the placement of only, but a simple statement of how the phrase works (or doesn't work) for me. (And I suppose for Bob as well.)
Here's the start of the Fox News article:
Microsoft just dropped a bombshell. Older versions of Windows will not be supported on the newest chips from Intel and others.  
The crux of a statement from Terry Myerson, executive vice president at Microsoft, is that new processors won't run older versions of Windows reliably – and won't be supported. "Going forward, as new silicon generations are introduced, they will require the latest Windows platform at that time for support," Myerson wrote, in a blog post addressed to "enterprise customers," aka, businesses.  
So, in the future, don't expect to be able to run Windows 7, for example, on the newest 6th Generation Intel Core "Skylake" processors that are shipping in systems today.
I guess it's possible that there are English speakers who interpret only so as to make the headline fit the content of the article. But it seems more likely that the headline writer misunderstood the article, or just typed the wrong thing in a fit of distraction, or something like that.
Screenshot: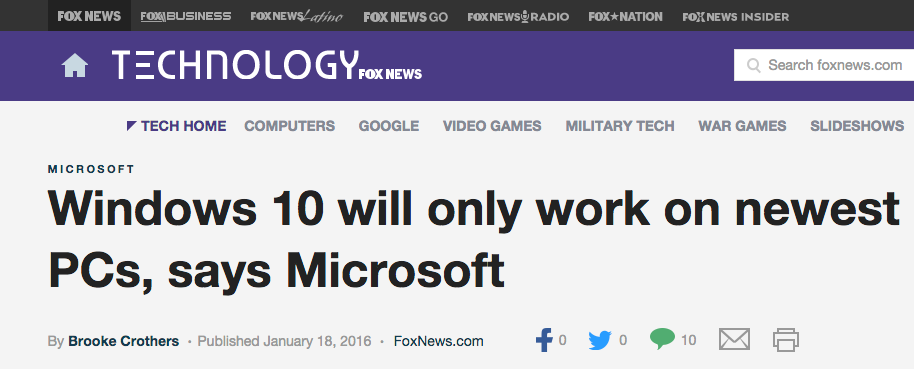 ---