« previous post | next post »
Joel Martinsen came across this snapshot a couple of days ago: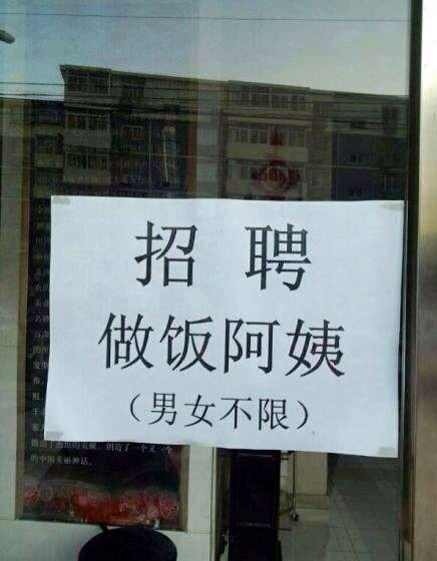 Here's the story
The sign says:
Zhāopìn
Zuòfàn āyí
(Nánnǚ bù xiàn)
  招 聘
做饭阿姨
(男女不限)
Help Wanted
Cook Aunty
(Male or female)
Baidu Fanyi translates the last line more literally as "not limited to men and women".
We've been grappling with gender a lot lately, and it looks like we have more gender bending going on here.
The key term is āyí 阿姨 ("aunt; auntie; aunty; nurse[maid]"). The first syllable is a noun prefix designating terms of relationship; the second syllable contains the semantic core of the word — note that the character used to write this syllable has the female radical.
Chinese families often hire an āyí 阿姨 ("aunty") to help with the children, but many of the āyí 阿姨 that I encountered in China served primarily as cooks for the families where they were employed. In this case, it is fairly clear that cooking duties are being emphasized.
But wait a minute! What about the last line, which declares that this "cook aunty" can be either male or female (or maybe even something else!)? It would appear that āyí 阿姨 ("aunty") is losing its gender designation in China, so for many people it no longer sounds strange to think of a "male aunty".
It's no stranger than to speak of a "male nurse", though I must confess that, when I was young and first heard that expression, I felt confused. Similarly, it took me a while to get used to the fact that stewardesses could be male (never mind that "stewardess" is obviously the femininization of "steward"). See: "'Male stewardess' just didn't fly". More generally, see also this Wikipedia article on "Gender marking in job titles".
[Thanks to Rebecca Fu, Jing Wen, and Cheng Fangyi]
---