« previous post | next post »
In a post a couple of days ago ("PSDS", 3/30/2014), I observed that in English, "Syllable-final (and especially phrase-final) /z/ is usually voiceless". In a comment, Mark F. asked
[A]re "buzz" and "biz" just isolated counterexamples to the generalization about syllable-final /z/, or is it generally false for accented syllables? Or do I just think I pronounce the /z/?
The answer depends on what Mark means by "pronounce the /z/".  I'd put it this way: in phrase-final position, he probably pronounces the /z/ in buzz, but pronounces it mostly like an [s], even though the difference between bus and buzz remains perfectly clear.
Here are the Merriam-Webster online dictionary pronunciations for bus and buzz.  (I've concatenated them artificially — M-W's speaker(s) presumably read them many items apart in a long list of items to be read for use in the dictionary.)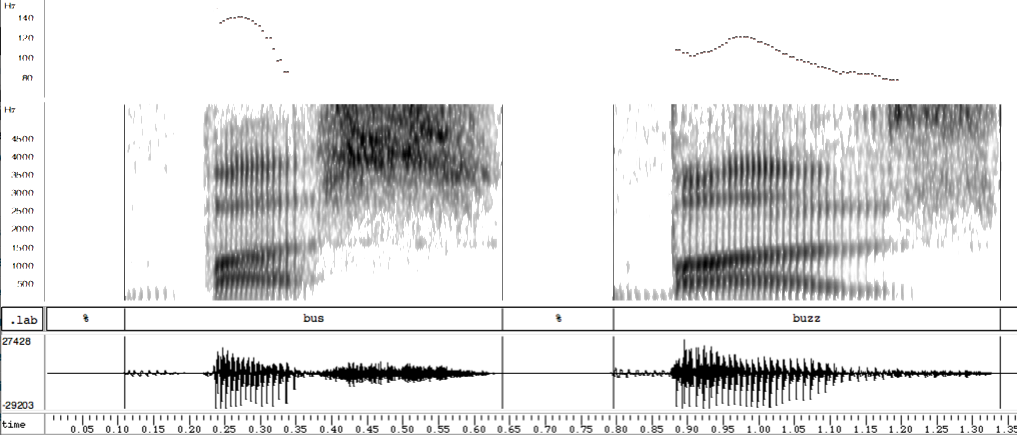 If we listen just to the last 150 milliseconds of (that pronunciation of) buzz, amplified a bit, it sounds like this:
And if we listen to everything in buzz up to the point where that s-like section starts, we get
This is just one example, but it's a typical one. Here's race vs. raise from the same source (but in the voice of a different speaker):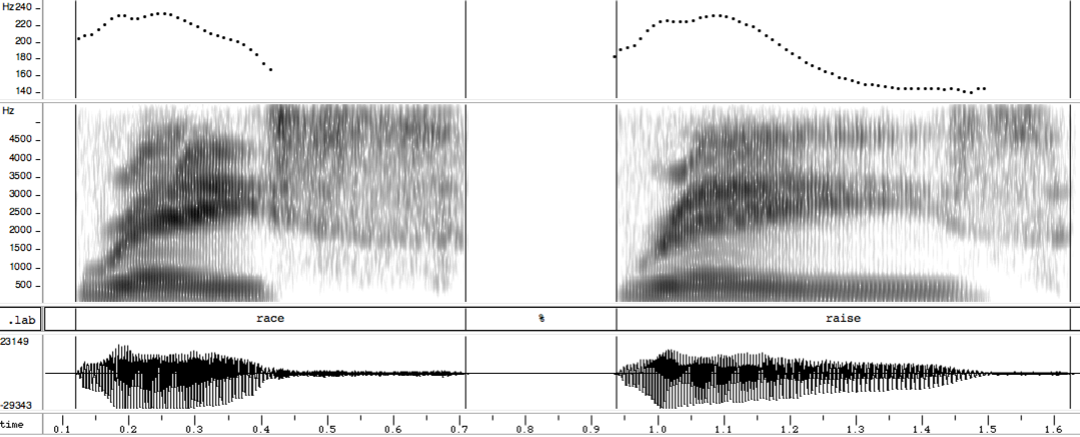 As before, the main differences between /s/ and /z/  in this context are:
The vowel before /z/ is much longer.
The voiceless fricative noise associated with /z/ is shorter and weaker.
The pitch contour in the /z/-final syllable reaches a low target and stays there for a while.
There is a short segment of voiced frication in the transition between the vowel and the final /z/, which is slightly longer than the comparable segment in /s/.
Now, English is not a tone language, and so the tonal difference is reliable only in this context, i.e. a phrase-final stress syllable with a falling nuclear accent. Things would be different with given a final rise, or a phrase-medial syllable. And in phrase-medial position before a following vowel, English /z/ might really be [z], pretty much. Here's TEST/DR3/MGLB0/SI1534.wav from the TIMIT corpus — "Is it because of my slovenliness that hair grows on my face?"

If we zero in on the first few words, we see that the /z/ in "is it" ( = /ˈɪz.ɪt/) is voiced almost all the way through, and similarly the /z/ in "because of" (= /biˈkɔz.əv/):

Likewise the /z/ in "grows on" (= /ˈgroz.ɔn/):

(By the way, this apparently odd choice of example sentence — similar to the finest vintage effle — made its way into the TIMIT collection from p. 100 of Guy Endore's 1961 novel Voltaire! Voltaire!, by way of the Brown Corpus.)
---