« previous post | next post »
Gullible reporters keep falling for a self-aggrandizing scam perpetrated by Paul J.J. Payack, who runs an outfit called Global Language Monitor. As regular Language Log readers know, Mr. Payack has been trumpeting the arrival of "the millionth word" in English for some time now. In fact, he's predicted that the English language would pass the million-word mark in 2006… and 2007… and 2008… and now 2009. As reported in the Christian Science Monitor and The Economist, the date that Payack has now set for the million-word milestone is April 29, 2009.
In a previous installment of the Payack saga, I wrote that the Million Word March was "a progression that he turns on and off based on his publicity needs." So I can't say I was terribly surprised to learn that April 29, 2009 just happens to be the publication date of the paperback edition of Payack's book, A Million Words and Counting: How Global English Is Rewriting The World. What a stupendous coincidence that Global Language Monitor's word-counting algorithm has timed itself to accord with Payack's publishing schedule!
A quick review for newcomers to the story. Payack's million-word claim first popped up on our radar in early 2006. In February of that year, Payack told The Times of London that "the one millionth word is likely to be formed this summer." Then in August 2006 he said it would happen that coming November. In early 2007 I observed that the Million Word March seemed to have gotten stalled, and speculated that it might have had something to do with the serious debunkage the claims had received from Jesse Sheidlower on Slate and our own Geoff Nunberg on NPR's "Fresh Air." As it turns out, the more likely reason for Payack's slowdown had to do with rolling out his book to cash in on the lexico-quackery.
Here's what I've been able to piece together about Payack's latest maneuvers. A Million Words and Counting was originally slated by his publisher, Citadel Press (an imprint of Kensington Books), to appear as a hardback in April 2008. The publisher page for this edition announced, "In 2007, the English language passed the million-word mark." The following month Payack put out a press release for the hardcover asserting that "English will adopt its millionth word in 2008." This same claim appears on the back flap of the hardcover edition locatable on Google Book Search. (I haven't actually seen a physical copy of this edition, copyright 2008, but I assume it exists somewhere.) Then the publisher announced that a trade paperback would be released on April 29, 2009. And of course the goalposts were moved yet again, with the announcement stating that the millionth word would be achieved not in '06, or '07, or '08, but '09. (Really! No kidding this time!)
All the while, Payack has continued to dress up his claims with pseudo-scientific talk of an "algorithm" that precisely calculates the size of the lexicon and predicts its future growth. In a press release dated June 30, 2008, Payack stated that "English will adopt its millionth word within a ten-day period centered upon April 29, 2009." The "ten-day period" presumably is intended to give the impression of a statistical margin of error produced by Payack's magic algorithm. A lovely idea, except that this algorithm has evidently failed in its prediction of passing the million-word milestone for three years running.
In my February 2007 post, "Whatever happened to the millionth word?", I checked up on past claims reported on the Global Language Monitor website for incremental growth in the size of the lexicon, using the Internet Archive Wayback Machine. Let's continue to monitor the Monitor:
| | |
| --- | --- |
| 11/16/03: | 816,167 |
| 11/28/04: | 823,481 |
| 3/30/05: | 856,435 |
| 5/19/05: | 866,349 |
| 11/3/05: | 895,479 |
| 1/16/06: | 985,955 |
| 1/26/06: | 986,120 |
| 3/21/06: | 988,968 |
| 10/16/06: | 989,614 |
| 12/19/06: | 991,207 |
| 12/31/06: | 991,833 |
| 4/2/07: | 991,833 |
| 5/16/07: | 993,412 |
| 8/14/07: | 994,638 |
| 10/23/07: | 995,116 |
| 12/23/07: | 995,116 |
| 2/13/08: | 995,117 |
| 11/7/08: | 997,752 |
| 1/1/09: | 998,773 |
| 4/29/09: | 1,000,000 |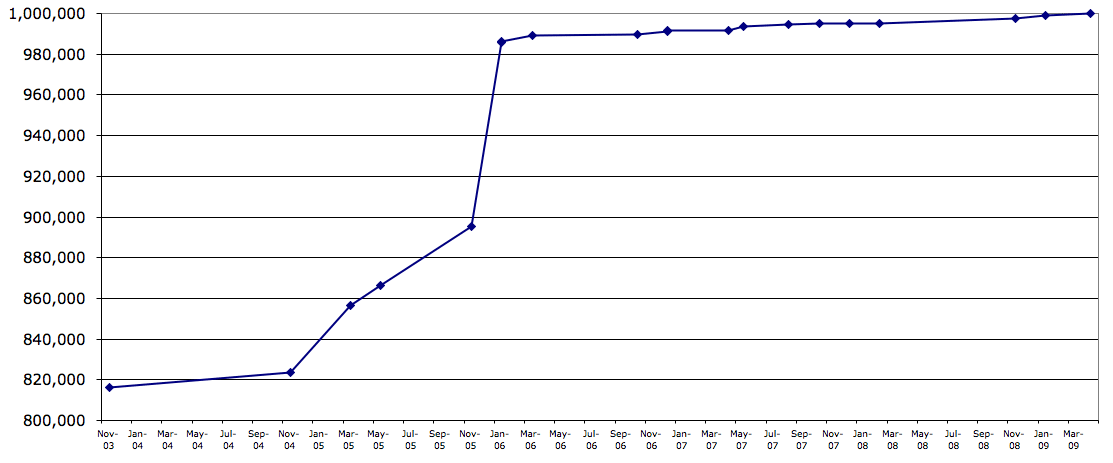 There are apparently no archived pages for the site after February 2008, and I wasn't bothering to check the site myself very much over the past year. But it's still quite easy to see the asymptotic approach to a million words, ever since the big jump at the end of 2005 in advance of Payack's first round of self-promotional puffery. Now at least we know what's holding things up: the media blitz planned for his next publication date. It's my fervent hope that in 2009 Payack's manipulation of his bogus figures will be immediately transparent to any journalist with the ability to Google. But given the track record of how easily the media has been duped for the past three years, I'm not holding my breath.
[Update: I should note that the Economist piece linked above, by John Grimond is rightfully skeptical of the Payack poppycock, so not all journalists are so credulous. Daniel Franklin, executive editor of The Economist, continued poking fun at Payack's prediction on NPR's Morning Edition.]
---