« previous post | next post »
Tim Marchman & Reuben Fischer-Baum, "Who Is The Most Pompous Sports Pundit? A Scientific Investigation", Deadspin 9/25/2013:
Of all the stupid rhetorical plays columnists use—issuing thundering imperatives, positioning their banal opinions as the exact midpoints between varieties of unyielding madness, championing their cronies' worthless businesses as examples of the disciplinary power of markets, etc. etc.—the funniest are always the ones that reveal they truly do regard themselves as small stars, able to fix planets in orbit around them through the gravitational pull of their self-regard.
"We don't care," Simmons writes at one point of McGrady's unfortunate midcareer decline, "if this happens to the Juwan Howards and Richard Jeffersons of the world," and this is just one of the many opinions he confidently ascribes to you and to me:
we wish they could see what we're seeing … we want to tell them. We always feel relieved … We don't want to remember someone … We don't want to remember him … We want to remember … We want to remember … We want to remember … We want to remember … We want to remember … we've spent the past seven years grading LeBron James on a curve … we cannot allow … we assumed …
Do we know why Simmons—who is just a talking head from the television set, after all, and not an X-Men villain—thinks he can read our minds all the way from his California lair? Do we want to know, really? No, we don't. What we do want to know, to a point of scientific certainty, is whether Simmons—a man who recently wrote 16,000 words premised on the conceit that the the public is interested in his comparison of the NBA off-season to a Charles Grodin movie from 25 years ago—is really the most self-obsessed pundit of all, or just a fraudulent aspirant to the throne.
Wherefore this: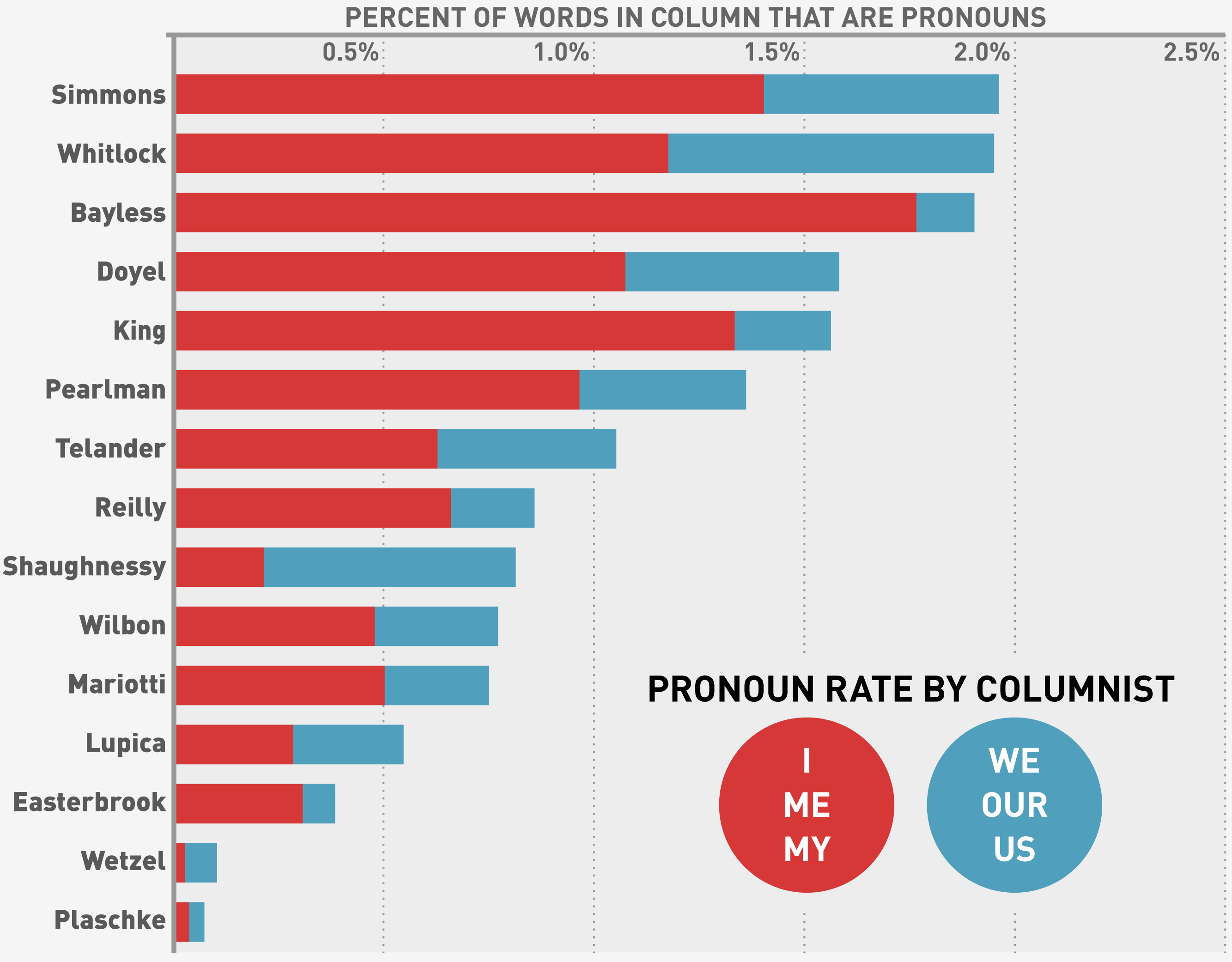 Here's the good part:
A caveat: Use of the first person might indicate many things that are not pomposity. We're not interested in such nuance, though—we're here to use pseudo-science to buttress our pre-existing distaste for certain columnists.
Now, if only George Will, Peggy Noonan, Charles Krauthammer, Stanley Fish, etc., etc., etc., were equally honest. Alas, those worthies generally don't even bother to count, much less cop to the attitudinal underpinnings of their pronoun usage claims.
[Tip of the hat to Don Creach]
---