« previous post | next post »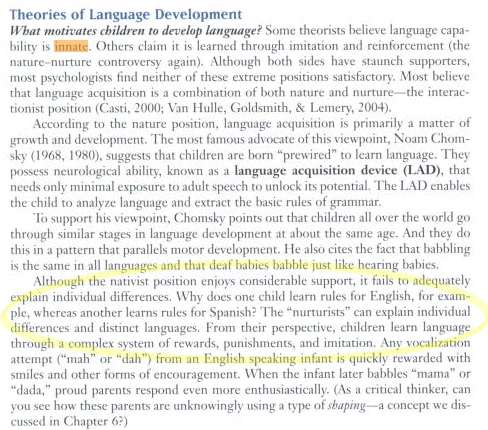 In the section on "Theories of Language Development" in Karen Huffman's Psychology in Action, Wiley, 8th edition, 2005 (p. 303), we read that
… Noam Chomsky … suggests that children are born "prewired" to learn language. They possess neurological ability, known as a language acquisition device (LAD), that … enables the child to analyze language and extract the basic rules of grammar.
[…]
Although the nativist position enjoys considerable support, it fails to explain individual differences. Why does one child learn rules for English, whereas another learns rules for Spanish?
(To see the whole passage in context, click on the thumbnail in for a larger image.)
In a linguistic version of the Daily Show, at this point Jon Stewart would look up at the ceiling, point side-to-side to mime consideration of the two pieces of the quotation, look at the audience, start to speak, stop, expel an exasperated breath, and shrug, palms up, with a wry smile.
Unfortunately, I don't know any emoticon for this particular package of non-verbal signals. So please take me to have transmitted verbally that I'm at a loss for words.
Even without having read the rest of this textbook, I'll guess that students paying the $128.66 list price will get access to many other useful lessons in logic and rhetoric. A pointer to the passage cited above arrived in email from a reader whose daughter brought Psychology in Action home from college. The email gives a couple of other examples, including this one:
[T]he topic that I thought might be of interest for an LL article was the following. The Ford motor company "forgot that communication is a two-way process", and reputedly tried to sell Pintos in Brazil, but failed because "Pinto" is slang for "little penis" in Portuguese; so Ford changed the name to Corcel "the horse". They cite Archbold and Harmon 2001 for this. The reference in the bibliography is unclear, but the paper appears to be available on the web as "International Success Begins with an Attitude of Acceptance".
This has all the markings of an urban legend: big arrogant American company messes up by ignoring realities of cross-cultural communication; on-line citation from a company whose business is "career coaching and outplacement"; lots of different on-line versions of the story ("they had to rebadge all the cars with a new name", "they couldn't give the car away"); etc.
OTOH, 'Pinto' is a common surname in Portuguese, according to http://www.answers.com/topic/pinto (and they list several more or less famous Portuguese athletes, authors etc.) And this site attempts to debunk the story. But none of my usual urban legend websites mention it — thus the Snopes Mistranslations collection fails to list this one, although a lot of the points in the page about the Chevy Nova legend apply.
So — will Language Log take this one on, and enlighten us? Inquiring Minds Want To Know.
I've never heard this one before. But the cited debunking site (dated 1/12/2004) seems pretty convincing:
Everyone, get out your web erasers! This popular story is debunked.
Marcelo de Castro Bastos informs us (and confirmed elsewhere):
Ford Pinto (under any name) wasn't ever sold in Brazil, except maybe as a low-volume import. The Ford Corcel was a totally unrelated product, the result of a joint project by the Brazilian subsidiary of Willys Overland and French automaker Renault (Willys used to make Renault cars, like the Dauphine and Gordini, under license in Brazil.) When Ford acquired Willys's Brazilian operation, they inherited the almost-finished project and decided to launch it under their own brand. They MAY have considered to use the "Pinto" brand on it, but saner heads prevailed and decided on the "Corcel" name in order to keep to the "horse" theme Ford seemed to like at the time. The "Pinto" name was never used in Brazil.
And the wikipedia article on the Ford Corcel backs up this version of the history.
A few minutes of web searching demonstrates that Huffman is not alone in retailing this particular legend — many other authors have joined her, including some publishing apparently scholarly books, and at least one article in a refereed journal.
The Archbold and Harmon article uses the Pinto legend to good rhetorical effect in its opening sentences:
The Ford Motor Company launched a marketing campaign for the Ford Pinto in Brazil with hopes that sales would take off at a gallop. But enthusiasm turned to embarrassment when Ford executives discovered that "pinto" is a Portuguese slang term meaning "small penis." Ford quickly changed the name to Corcel, the Portuguese word for "horse."
Ford found out the hard way that learning customers' languages, including colloquialisms, is vital to international business success. But, just enrolling in a crash course in another language won't do the trick. As more and more companies go global, astute businesspeople are finding that knowledge about other countries' cultures and customs can enhance their working relationships–and thereby affect their businesses' bottom line.
An online student paper from the University of Tasmania says that
Ford's export push into Brazil was halted when it was  discovered that the Portuguese slang translation of Pinto was "small male appendage" (Ricks,  1999, p. 40).
The bibliography identifies this as D. Ricks, Blunders in international business, Blackwell, 3rd edition, 1999. The 2006 4th edition is available for search on Amazon, and says (without any footnote or other citation of a source) on p. 39 that
Additional headaches were reported experienced when Ford's "Pinto" was briefly introduced in Brazil under its English name. The name was speedily changed to "Corcel" (which means "horse" in Protuguese) after Ford discovered that the Portuguese slang translation of pinto is a "small male appendage."
Google Scholar finds a reference in the more formal (refereed?) literature– June N.P. Francis, Janet P.Y. Lam, & Jan Walls, "The Impact of Linguistic Differences on International Brand Name Standardization: A Comparison of English and Chinese Brand Names of Fortune-500 Companies", Journal of International Marketing 10(1): 98-116, 2002:
When a brand is expanded into a foreign market, a careless choice of a new or translated brand name can have negative effects on the product as well as on the company in terms of loss in sales, damage to credibility, and damage to reputation. Even a company that uses its original language in the new market to maintain an exotic foreign image may not be able to avoid problems. The original brand name may not be easily pronounceable in the foreign language and may convey an undesirable association or meaning. For example, the name "Ford Pinto" in Brazil turned out to mean "tiny male genitals" (Stout 1997).
Their bibliography expands that citation to Kay Stout, "Thinking Global?", Brandweek 38 (9): 22-25, 1997. Looking that up via EBSCOhost, I find that Ms. Stout wrote:
Much like Reebok's recent Incubus naming nightmare, which resulted in a women's shoe brand translating to "a monster that rapes women in their sleep," or the Ford Pinto that in Brazil turned out to mean "tiny male genitals (sorry, gentlemen), branding history is laden with examples of nomenclature no-no's in the cutesy arena. But there also are other serious language issues that arise, one of which surfaced when we were asked to redesign the Scotch tape brand in Germany: The original packaging put all the technical information on the back panel in English–a language that 40% of the public didn't speak. In our design, we made sure German prevailed.
That's all that I have time for today, but I bet there are plenty of other believers out there, and probably none of them have any better basis for their belief than the fact that they read it in a book, whose author read it a paper, whose author read it in a magazine, whose author …  Of course, that's also the way it works for most things that turn out to be true. But examples like this Pinto legend never ground out anywhere in a believable source.
This is typical of a swarm of useful little factoids that work their way into intellectual as well as popular culture, and replicate vigorously despite being unsupported or even completely untrue. A couple of our favorite local examples are The Great Eskimo Vocabulary Hoax (see this LL post for a list of relevant links), and the Scientific Study Shows Women Talk More hoax.
These factoids are successful because they're useful — they provide a quick, punchy way to make a point or to set the stage for an argument. In that respect, they're like famous lines of poetry, or plot devices from famous novels, or lines from famous movies and TV shows. And throughout human history, there's been no more reason to care about whether such factoids are true than about whether Virgil really guided Dante through hell.
But over the past few centuries, a few fanatics have come to the strange conclusion that there's an advantage to insisting that certain kinds of statements must be literally true. I don't mean the people who feel that way about the bible — that's (mostly) a different crowd. I'm talking about scholars and scientists.
It probably doesn't matter to marketing researchers or teachers of undergraduate psychology courses whether their illustrative anecdotes are true. If an anecdote about the Ford Pinto in Brazil helps to teach business executives and psychology students that you should think about your message from the perspective of your intended audience, who cares that the story is (apparently) a total crock? Well, a few of us think that once you start down that slippery slope, it's only a matter of time before you're making public policy on the basis of pseudo-scientific fables. But we fundamentalists are a small minority.
---