« previous post | next post »
Several people have sent me pointers to the linguistically-themed 9/27/2023 NYT crossword puzzle. For some discussion by Sam Corbin, see "Talk, Talk, Talk", NYT 9/26/2023 ("Scott Koenig puts silly thoughts to bed with a clever crossword"), which includes a quotation from the puzzle's author:
I first learned about Professor Chomsky as an undergraduate linguistics minor. The man has been a public intellectual and an absolute legend in the field for more than seven decades, and still remains active today, earlier this year penning a guest opinion essay contrasting ChatGPT's approach to language with that of a human. (I'd like to call special attention to the wonderfully clever title of the paper that the essay references.)
[Spoiler alert: a solved version of the puzzle is presented after the fold…]
Here's the solved puzzle, courtesy of Gene Buckley: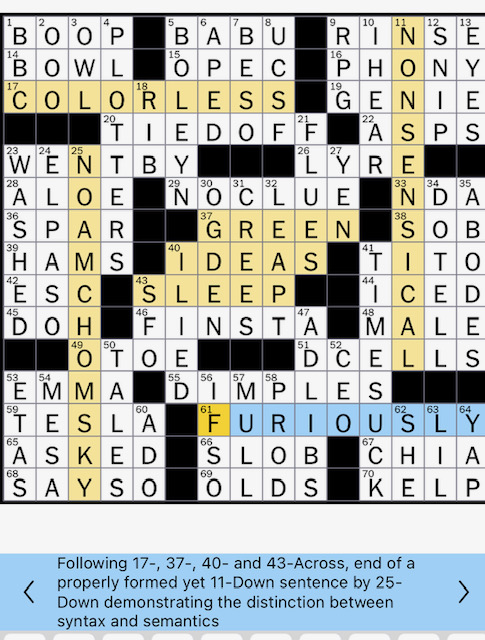 As Sam Corbin's article observes, the puzzle obviously riffs on the famous example sentence from Syntactic Structures (1957), "Colorless green ideas sleep furiously".
And Scott Koenig is right that Chomsky presents that sentence as "demonstrating the distinction between syntax and semantics". But that's not all. As the surrounding passage makes clear, Chomsky also wanted to refute two other (then and now) popular ideas, namely the idea of basing linguistic analysis on a "corpus" (a large collection of examples),  and the idea of a  "language model" (a statistical or other quantitative summary of patterns found in such collections):
On what basis do we actually go about separating grammatical sequences from ungrammatical sequences? I shall not attempt to give a complete answer to this question here (cf. §§ 6.7), but I would like to point out that several answers that immediately suggest themselves could not be correct. First, it is obvious that the set of grammatical sentences cannot be identified with any particular corpus of utterances obtained by the linguist in his field work. 
[…]
Second, the notion "grammatical" cannot be identified with "meaningful" or "significant" in any semantic sense. Sentences (1) and (2) are equally nonsensical, but any speaker of English will recognize that only the former is grammatical.
(1) Colorless green ideas sleep furiously.
(2) Furiously sleep ideas green colorless.
[…]
Third, the notion "grammatical in English." cannot be identified in any way with the notion "high order of statistical approximation to English." It is fair to assume that neither sentence (1) nor (2) (nor indeed any part of these sentences) has ever occurred in an English discourse. Hence, in any statistical model for grammaticalness, these sentences will be ruled out on identical grounds as equally 'remote' from English. Yet (1), though nonsensical, is grammatical, while (2) is not.
Times have changed since 1957. Digital collections of text and speech became available, and grew exponentially. Computer power also grew exponentially. And "language models" — invented in the 1940s by Alan Turing and Claude Shannon — have also grown bigger and bigger, have evolved algorithmically  in (pseudo-)neural directions, and have begun to exhibit impressive (if still over-hyped) abilities.
But Noam's argument, persuasive as it was, was actually refuted in the late 1990s, using old-fashioned statistical methods. For details, see "Colorless green probability estimates", 10/4/2003, and the articles referenced therein.
It would be even easier today to refute the assertion that "in any statistical model for grammaticalness, these sentences will be ruled out on identical grounds as equally 'remote' from English", using pseudo-probabilities or similar measuures from any of several open-source language models. (Though of course the original "colorless green ideas" sentence has been repeated so many times on the internet that we'd need to craft a new sentence with analogous properties.)
It remains true that what we humans know about "syntax" is qualitatively different from what LLMs know about word-sequence (or letter-sequence) patterns — but proving it requires more than just one pair of semantically-improbable word-sequences.
---