« previous post | next post »
According to Tim Arango, "I Got the News Instantaneously, Oh Boy", 9/14/2008, some so-far anonymous computational linguist caused United Airlines to lose more than a billion dollars of its market capitalization, over the course of about 12 minutes last Monday.
Here's Arango's reconstruction of the sequence of events:
At 1:36 a.m. E.D.T. last Sunday, Sept. 7, Google's search "crawler" picked up a 2002 news article about United filing for bankruptcy from the Web site of The South Florida Sun-Sentinel; for some reason the outdated story had been listed on The Sun-Sentinel's list of most popular business stories. (United emerged from bankruptcy protection in 2006.)
The next morning, an employee of the investment advisory firm Income Securities Advisors saw the story and posted it to the company's own wire service, which is available over Bloomberg's trading terminals. United's stock plummeted soon after.
In a statement, the Tribune Company, which owns The Sun-Sentinel, said the bankruptcy story "contains information that would clearly lead a reader to the conclusion that it was related to events in 2002. … It appears that no one who passed this story along actually bothered to read the story itself."
Mark Palmer, president of Streambase Systems, which designs software for automated trading, said: "What happens is the first crack in the ice is the news gets fed out to the algorithm, and that triggers it to sell. Someone puts in a big order and that gives the signal to other algorithms. Then another system picks up the sell order. That's the whiplash. The problem is there's a cascade effect."
This timeline makes sense as written only if "1:36 a.m. E.D.T. last Sunday" actually means "1:36 a.m. E.D.T. last Monday", since there's no stock trading on Sunday.
Anyhow, the article suggests (without proof) that this was not some bleary-eyed trader reading the wire story without understanding it, but rather a consequence of the fact that
Wall Street's computer scientists and linguists keep trying to find quicker ways to react to the news by creating ever-more complicated algorithms, the mathematical formulas that execute stock trades automatically based on such criteria as headlines and news stories.
Well, that and the fact that a six-year-old news story somehow found its way onto the Sun-Sentinel's web site — this is a rare enough event that apparently the newswire-scanning algorithms don't try to check for it. Or if they try, they didn't succeed in this case.
I reckon that a billion dollars is roughly equal to the past 50 years of investment in computational linguistics research — or about three days of the U.S. investment in the Iraq war. (Though I'll confess that I haven't done a time value of money correction, in either case…)
Arango's article comes with a nice illustration: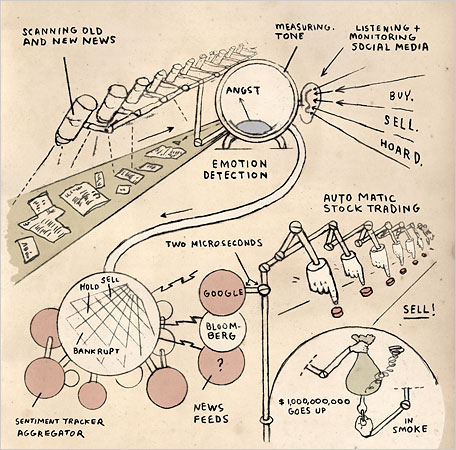 ---