« previous post | next post »
A recent Dinosaur Comics strip features T-Rex imitating (a certain kind of) speech style from the 1940s: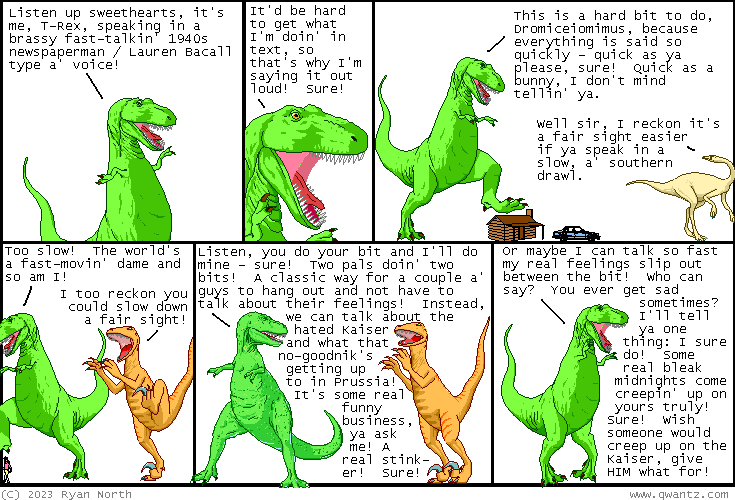 Mouseover title: "to t-rex's mind, and mine as well, all of the past takes place around the 1930s. well sure! and why not?"

The next strip: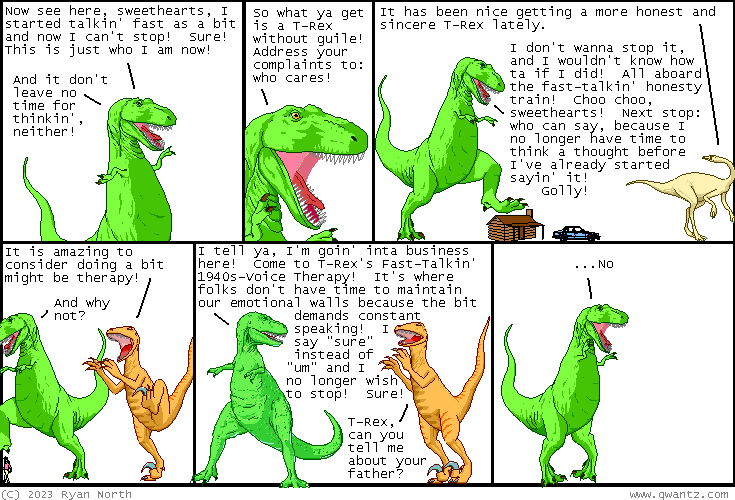 Mouseover title: "you want a gender-neutral way to address a room, well here it is, sweethearts! "sweethearts"! sure!"
Although Ryan's imitation is persuasively evocative in general, I can't find gender-neutral "sweetheart(s)" actually used in any 1930s (or 1940s) novels — though maybe he's connecting to some movie dialog? No doubt commenters will have suggestions.
Meanwhile in New Hampshire, a reporter asked Ron DeSantis why he didn't take questions after his stump speech. DeSantis, who was talking to individual audience members, responded "Are you blind?" — which Josh Marshall perceived as a phrase from the 1950s:
Another day, another awkward Meatball Ron moment … "are you blind?" The 1950s called they want Meatball Ron to send their idiom back. https://t.co/AFzIKXK0qd

— Josh Marshall (@joshtpm) June 1, 2023
The interaction was covered widely in mass and social media, either as an example of DeSantis's temper, or reporters' bias, or both. But the "1950s idiom" impression is not one that I share — what do others think?
---