« previous post | next post »
Today's xkcd: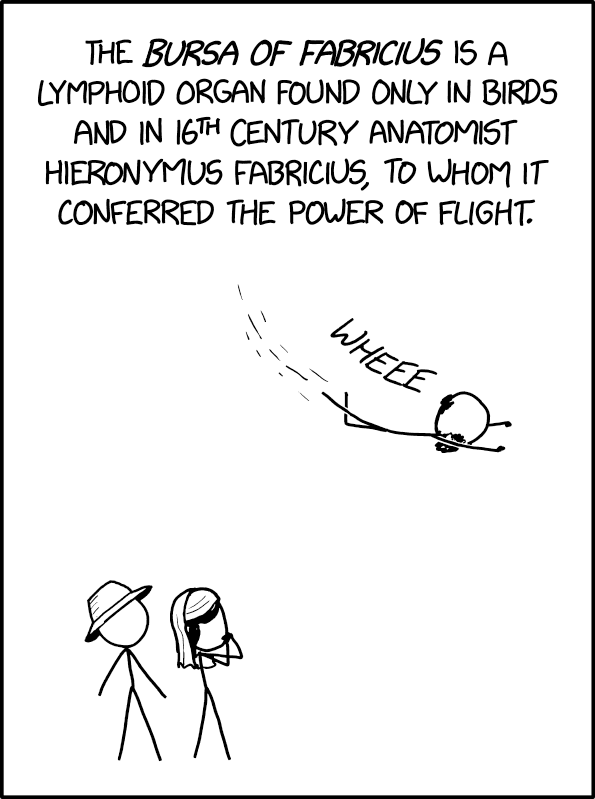 Mouseover title: "If an anatomical structure is named for a person, it means they were the only person to have it. Pierre Paul Broca had a special area of his brain that created powerful magnetic fields, enabling him to do 19th century fMRI research."
Background links: Bursa of Fabricius; Hieronymus Fabricius; Broca's area; Pierre Paul Broca.
The joke behind the mouseover title, of course, is that the semantic relation between NAME and THING, in terms like NAME's THING or (the) THING of NAME, is ambiguous (or vague, your choice).
My reaction, primed by xkcd's examples, was that anatomical instances of such patterns always refer to their discoverer, not to their notable possessor. But a quick scan of Wikipedia's List of human anatomical parts named after people turns up two exceptions — which happen to be the first two in alphabetical order: Achilles tendon and Adam's apple.
Things are different, both syntactically and semantically, for places named after people. Algorithms are also somewhat different. Scientific names of organisms seem to be rather like places. No doubt commenters will point to other ontological categories, like tools, theorems, industrial and chemical processes, scientific laws (real or jocular — see also), common names of organisms, etc.
There are also some morphosyntactic differences worth following up on — thus theorems and laws named after people are mostly of the form NAME's THING, whereas awards named after people are mostly of the form the NAME THING.
The divergent patterns seem to reflect sociological rather than semantic differences, for the most part — though maybe there's a tinge of semantics in "Boyle's law" vs. "the Nobel prize"? Or "Sturgeon's law" vs. "the Streisand effect"?
Update — see also this recent xkcd: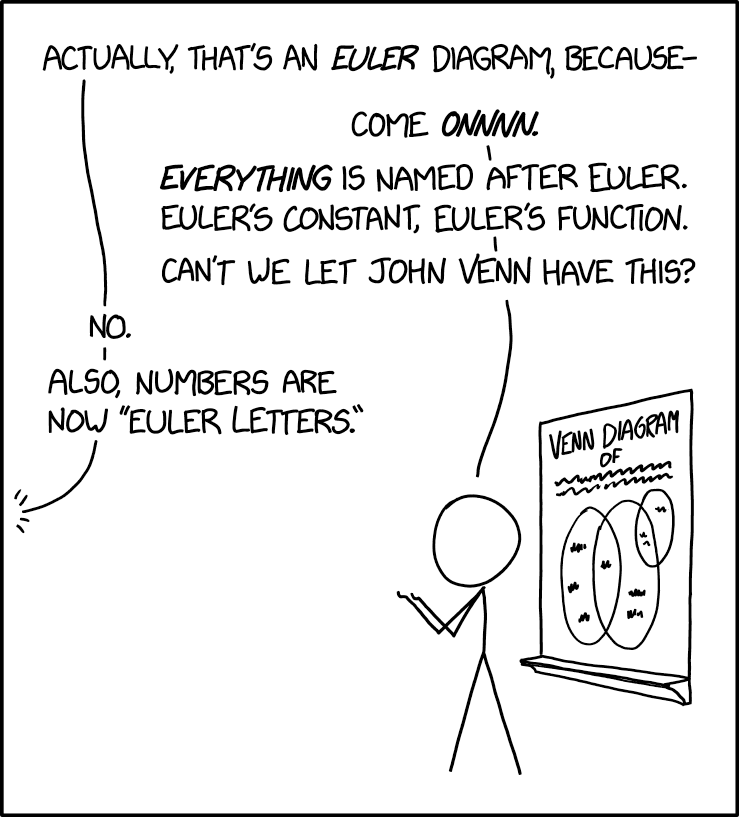 Mouseover title: "Things Leonhard Euler created ( most of math ( overlapping circle diagrams ) a cricket bowling machine ) Things John Venn created".
Update #2: I was surprised to find that the internet is apparently ignorant of "Dobbin's Law" ("If it doesn't work, you need a bigger hammer"), which was frequently quoted by co-workers during my career as an aircraft mechanic…
Update #3: John Venn was apparently also responsible for the frequency theory of probability.
---