« previous post | next post »
The start of today's 9 Chickweed Lane: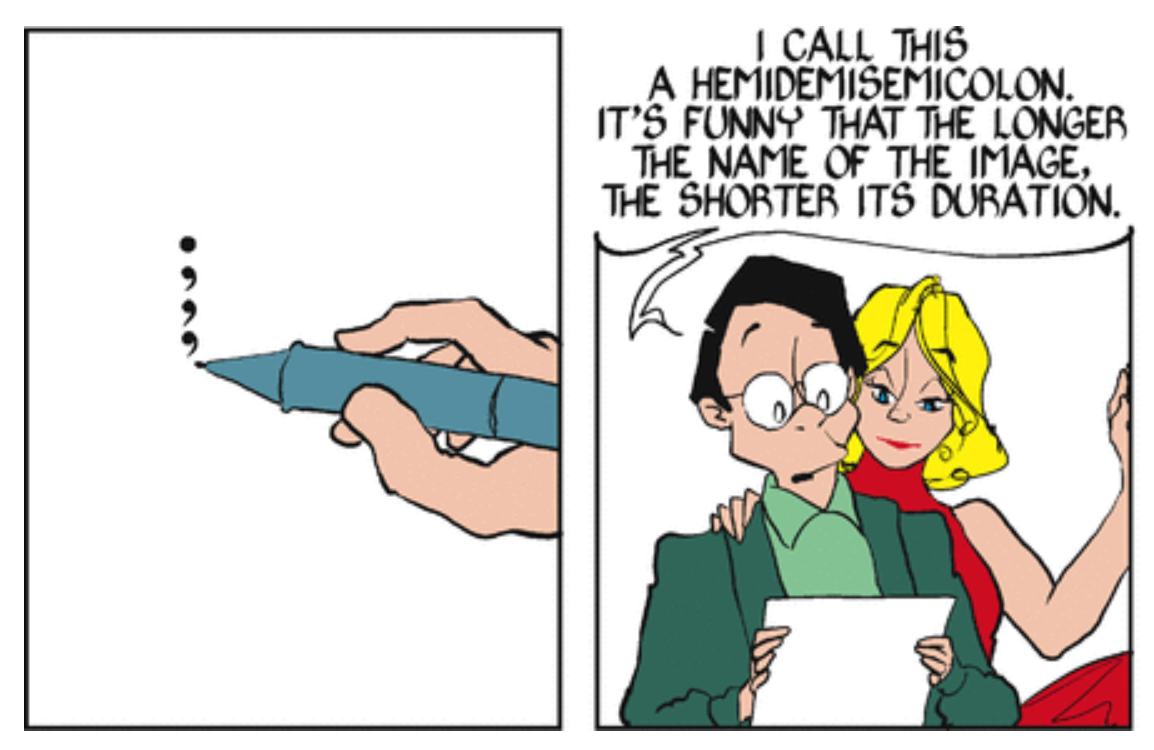 Punctuation names don't actually follow the powers of 1/2 beyond "semicolon", of course. But the traditional names of musical notes do — and are an interesting exercise in lexical history, combining etymologies from Greek, Latin, Old English, French, and Italian, along with a pervasive inflation of time values.
Thus a quaver, known more rationally as "eighth note", comes originally from the (presumably Old English, and anyhow obsolete) verb quave, meaning "To quake, shake, tremble", plus the frequentative suffix -er, as in clatter, flutter, wander, waver and twitter. In other words, quavers were originally "shakes" or "trills", decorative musical wiggles, presumably to be performed as fast as possible.
But now, at an andante tempo of ♩ = 75, a "quaver" lasts for 4/10 of a second — long enough to say two or three syllables. Similarly, when I was a kid, a bottle of soda from a machine cost a nickel — whereas now it's \$1.50 or \$2.25 or more.
The whole list:
Actually there's more! As this Wikipedia page shows you, at the long end there's also an "Octuple Whole Note" (= "Maxima"), and at the short end there's the "Hundred twenty-eighth note" (= "Semihemidemisemiquaver" or "Quasihemidemisemiquaver"), as well as the "Two hundred fifty-sixth note" (= "Demisemihemidemisemiquaver").
It's not entirely clear when and why to chose "semi", "hemi", "demi", or "quasi" for the various powers of 1/2 involved, but whatever…
And there are probably studies Out There exploring how inflation has modified time-values over the centuries — perhaps someone in the comments will point us to them.
---