« previous post | next post »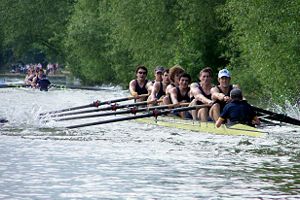 From Andy Bull's interview with Acer Nethercott, cox for Britain's Olympic eight ("The little guy with big brains and Olympic ambition", The Guardian, 8/7/2008):
Likeable, and clearly happy to be in Beijing, Nethercott is indecently intelligent. Two months ago he completed a DPhil in the Philosophy of Language. "What exactly?" I ask with all the confidence of a man who has a 2:1 in English Lit.
"Linguistics. The semantics of complex demonstratives."
"Uh-huh".
In between qualifications (he has a BA in Physics and Philosophy and a Masters as well), Acer says he "fell into" international rowing.
I haven't yet been able to find an online copy of his dissertation — I guess he's been busy.
[via Brian Weatherson]
---