« previous post | next post »
Dave Itzkoff, "Elon Musk Hosts a Mother's Day Episode of 'Saturday Night Live'", NYT 5/9/2012 ("The much-discussed Tesla and SpaceX executive took a self-deprecating approach, telling viewers, 'I'm pretty good at running human in emulation mode.'"):
Musk, the billionaire chief executive of Tesla and founder of SpaceX, appeared in several "S.N.L." sketches this weekend, playing characters that included a doctor at a hospital that caters to Generation Z patients, the producer of an Icelandic TV talk show and the video game villain Wario.
He used his opening monologue to share some personal details about himself, introducing viewers to his mother and discussing his diagnosis of Asperger's syndrome —  […]
Musk took a self-deprecating tone in his "S.N.L." monologue, telling the audience: "Sometimes, after I say something, I have to say, 'I mean that,' so people really know that I mean it. That's because I don't always have a lot of intonational variation in how I speak. Which I'm told makes for great comedy."
The question of intonational variation in the speech of people on the autism spectrum is an interesting one. In the literature and in clinical presentations, I've seen phrases like "As is well known, autistic individuals have monotone intonation", and also "As is well known, autistic individuals have singsong intonation".
This apparently reflects the fact that most observers of intonation only notice differences between what they expect and how people talk. So depending on  their relationship to the speakers and the contents and contexts of interaction, they might perceive the same speakers' intonation as inappropriately monotone or inappropriately varied. There may also be relevant subgroups within the large and extremely varied space of people "on the spectrum" — autism is one of the many DSM-defined behavioral categories that are "phenotypically diverse", which a clinician friend explains is the Greek translation of "We have no f-ing clue"…
Anyhow, intonational variability is one of the many features that we found to correlate with an ASD diagnosis — from Julia Parish-Morris et al., "Exploring Autism Spectrum Disorders Using HLT",  CLPsych Workshop (NAACL-HLT 2016):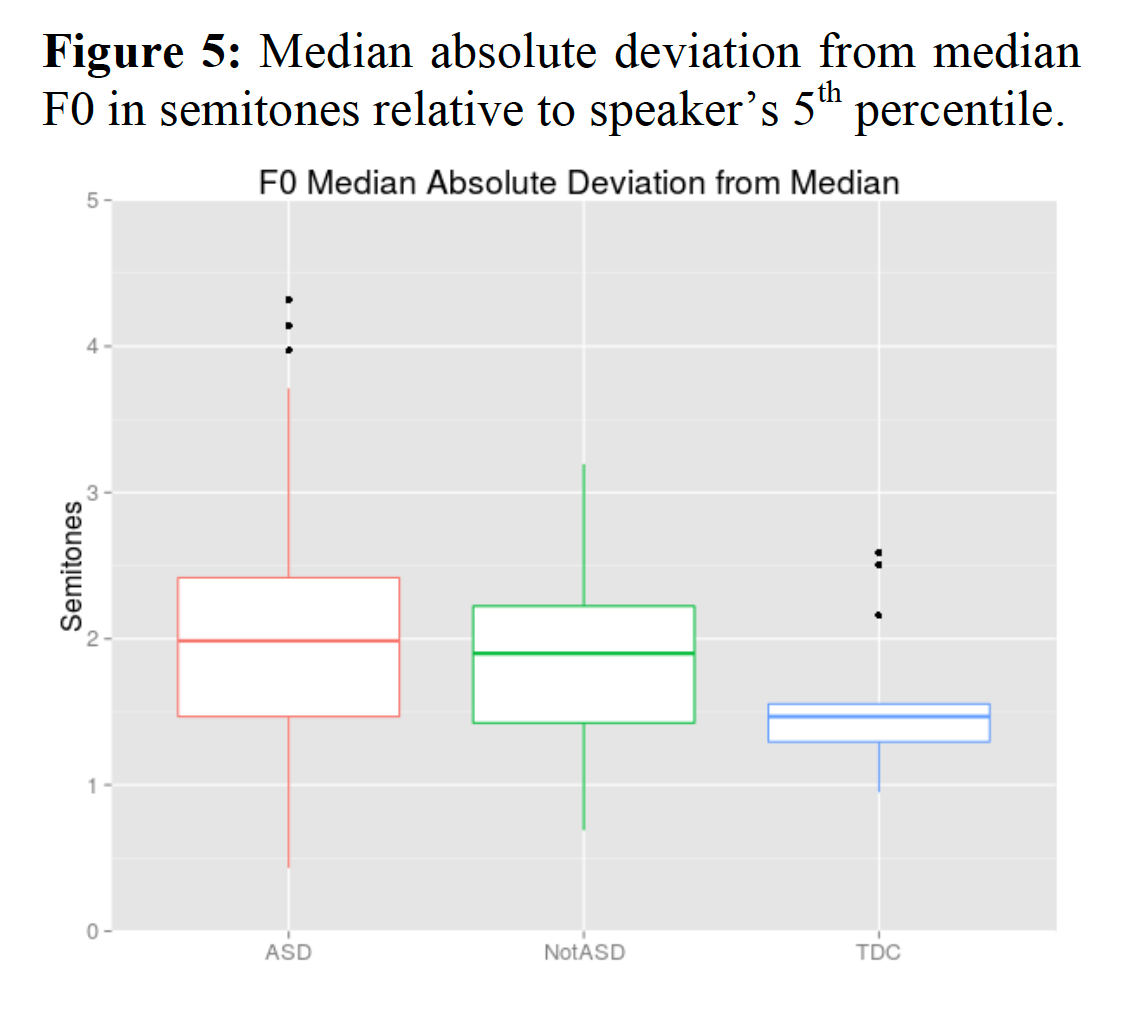 "TDC" means "Typically Developing Children", and "NotASD" refers to subject diagnosed with some other condition, usually ADHD.
We also found that the ASD-diagnosed subjects tended to speak a bit more slowly: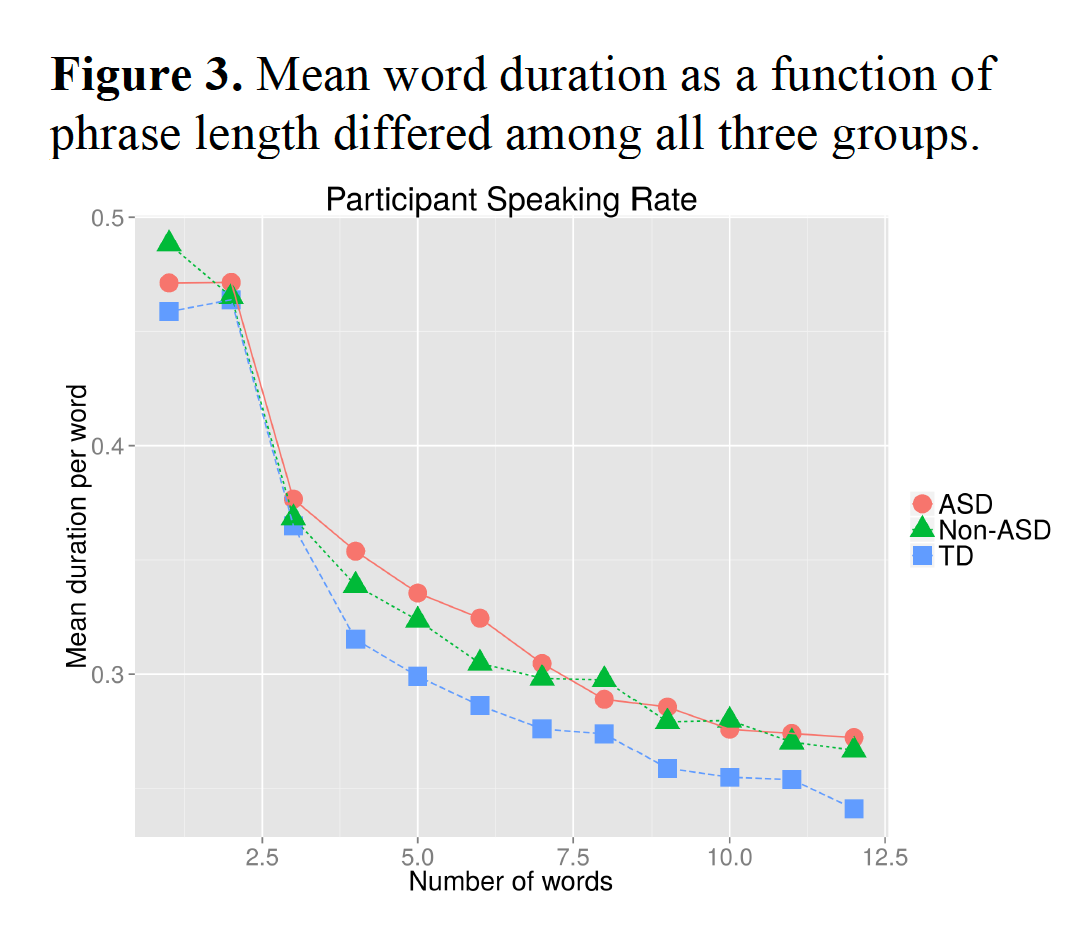 "Running human in emulation mode" is apparently more commonly found, or at least more successful, in females — see Julia Parish-Morris et al., "Linguistic camouflage in girls with autism spectrum disorder", Molecular autism 2017:
Autism spectrum disorder (ASD) is a behaviorally defined condition predominantly found in males [10, 19, 40, 49]. Recent research suggests that girls with ASD may "camouflage" real struggles with social communication by engaging in social mimicry and behaving in ways that are superficially typical, thus complicating diagnosis [7, 34]. For example, nonverbal communication (e.g., gesture) is broadly impaired in ASD [3]. Using 3D motion capture, a recent study showed that girls with ASD gesture in ways that are more vibrant and noticeable than boys with ASD, despite similar struggles with social communication [48]. In this way, girls effectively modified their behavior to mask a traditional area of weakness.
See also Francine Russo, "The Struggles of Women Who Mask Their Autism", The Atlantic 2/24/2018, and Eve Armstrong's brilliant 4/1/2020 essay, "An Artificially-intelligent Means to Escape Discreetly from the Departmental Holiday Party; guide for the socially awkward", discussed here.
"Camouflage" or "human emulation mode" is a tactic that describes aspects of nearly everyone's behavior. So I'll add something that I generally lead with, in any presentations where I talk about our ASD research:
It's clear that Autism is not a "spectrum", i.e. a single dimension, but rather a space, with many dimensions. It's a space that we all live in,with some corners that have been medicalizedbecause they can cause serious life problems.
---