« previous post | next post »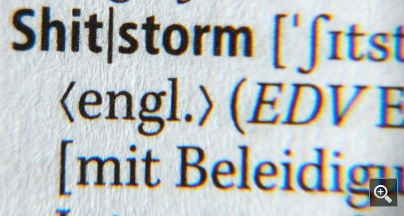 So says Die Welt. But this Teutonic  lexicographical event has gotten an unusual amount of  press coverage in other languages: "English profanity earns place in standard German dictionary", Reuters; "English rude word enters German language", BBC News; "'S***storm' adopted into German equivalent of the Oxford English Dictionary", The Independent;  "Shitstorm. Němčina má nové slovo, kvůli krizi zdomácnělo", iDNES.cz; "Duitsers omarmen Engelse shitstorm", NOS OP 3; "H αγγλική βρισιά shitstorm μπήκε στα λεξικά της γερμανικής γλώσσας -Τη χρησιμοποιεί και η Μέρκελ", iefimerida; "Shitstorm entra no diccionário alemão depois de usada por Merkel na crise", Diário Digital; "La langue allemande officialise l ' anglicisme ' shitstorm '", ActualLitté; etc.
No doubt this is mostly due to the fact that Angela Merkel was a prominent early adopter. As Metro explains (""'Shitstorm' enters German dictionary after becoming popular during eurozone crisis", 7/3/2013):
After being used by Angela Merkel to describe the eurozone crisis, the word shitstorm has now made it officially into German dictionaries.
Duden, the German standard lexicon and the country's equivalent of the Oxford English Dictionary, has now recognised the word.
But in German it has a slightly different meaning and has come to define a controversy on the internet rather than the general calamity it is in English.
Duden defines shitstorm as: 'Noun, masculine – a storm of protest in a communications medium of the internet, which is associated in part with insulting remarks.'
The entry in Duden of course is not in English, but rather reads:
Substantiv, maskulin – Sturm der Entrüstung in einem Kommunikationsmedium des Internets, der zum Teil mit beleidigenden Äußerungen einhergeht
Philip Oltermann gives some additional cross-cultural background ("A shitstorm in a dictionary", The Guardian 7/3/2013):
The announcement that the word "shitstorm" has entered the most commonly used German dictionary, the Duden, after being used by Angela Merkel has triggered the usual wave of cliches: that Germans are darkly obsessed with pooping, farting and bottoms, psychologically stuck at the anally retentive stage.
As the great German linguistics blogger Anatol Stefanowitsch has shown in this excellent blogpost, the "Germans love shit" meme can largely be dated back to a 1984 book by the US anthropologist Alan Dundes, called Life is Like a Chicken Coop Ladder. Dundes claimed that German folklore was riddled with an "inordinate" amount of shit-related riddles and proverbs, and that Scheiß (or Scheiße) was "the most often used word in Germany today". But, as Stefanowitsch impressively shows, it's just as easy to think of shit-metaphors that litter English speech, a "shitstorm" being what can happen when the shit hits the fan, someone serves you a shit sandwich, talks bullshit or beats the shit out of someone, or when things generally end up up shit creek without a paddle.
Arguably, the tendency to psychoanalyse the German attitude to bodily functions goes back even further. In 1973, the American novelist Erica Jong's novel Fear of Flying claimed that the architecture of German toilets revealed something sinister about the psyche of those who sat on them:
"Go into any German toilet and you'll find a fixture unlike any other in the world. It has a cute little porcelain platform for the shit to fall on so you can inspect it before it whirls off into the watery abyss, and there is, in fact, no water in the toilet until you flush it. As a result, German toilets have the strongest shit smell of any toilets anywhere … German toilets are really the key to the horrors of the Third Reich. People who can build toilets like this are capable of anything."
Slavoj Zizek has elaborated this into a wider critique of German metaphysics.
Here's the cited Zizek lecture:
More from Oltermann:
Linguist Hans-Martin Gauger spent several years comparing swearwords in 15 different languages and concluded not so much that Germans were inordinately obsessed with faecal matters, but that there were inordinately reluctant to use sexual metaphors to express negative sentiments.
Look up "motherfucker" in the Langenscheidt dictionary and you get Arschloch (arsehole). In German you don't say: "Verfick dich (fuck off)," but "Verpiss dich (piss off)"; you don't feel "fucked off" but "beschissen (shat upon)". Even Johann Wolfgang von Goethe was happy to use the filthy German equivalent of "kiss my arse" in his 1773 play Götz von Berlichingen: "Er aber, sag's ihm, er kann mich im Arsche lecken!" Only the Swedes share a similar reluctance to use sexual metaphors as swearwords.
But it's easy to go astray in generalizing about cross-cultural cussing, as discussed e.g. in "Oh sleepies", 8/30/2006.
---