« previous post | next post »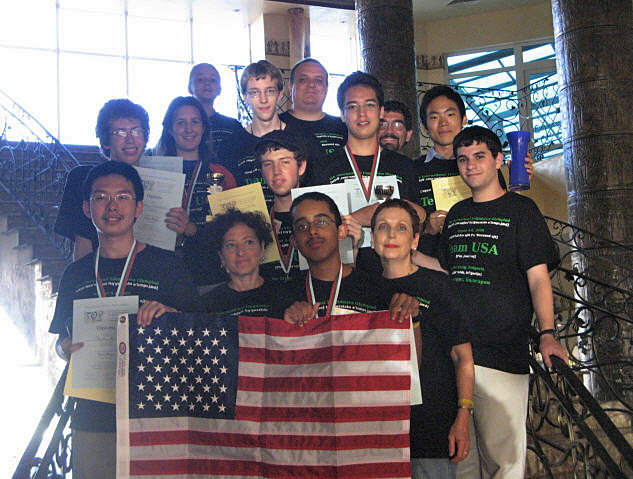 Congratulations to Hanzhi Zhu, who won an individual gold medal; to the team of Jae-Kyu Lee, Rebecca Jacobs, Morris Alper, and Hanzhi Zhu, who won a gold medal in the team competition; and to the other participants who won individual and team silver and bronze medals, as described in the press release on the NSF web site ("Team USA Brings Home the Gold", 8/15/2008).
We're talking, of course, about the 2008 International Linguistics Olympiad, held in Slanchev Bryag ("Sunny Beach"), Bulgaria.
So far, no press outlets have picked this up, due to the competition from important events like Bigfoot's DNA turning out to be from a possum, a megachurch co-pastor getting acquitted of airport assault charges, and so on. (Though I hope that the uptake will have improved by the time you read this post.)
Perhaps the story would be more popular if the press release gave a more detailed description of the problems and their role in competitive turning points, so that the intrinsic drama of the event is brought more vividly to life. I have in mind things like the heart-breaking moment when the Dutch team omitted a schwa in the phonetic transcription of Micmac te'plj "goat":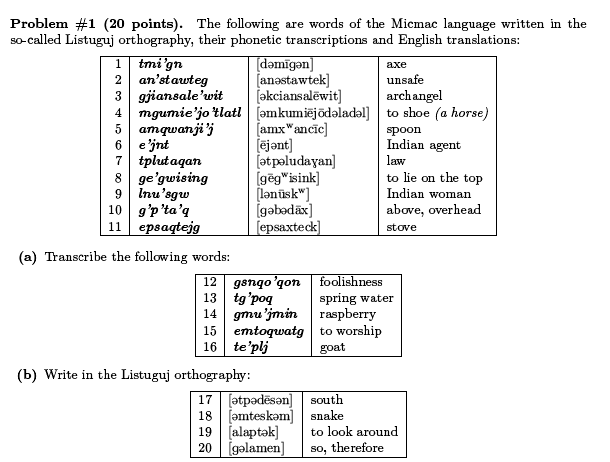 The thrill of victory, the agony of scribal error.
Actually, I made that up about the Dutch team, though it's more plausible than the Bigfoot picture, which even the BBC treated with suspicion.
Still, I'm sure that there were many dramatic moments in the competition, if only we knew what they were.
I also have a suggestion for the organizers of the next Linguistics Olympiad (these olympiads are annual, as historically unsound as that may be): how about some crowd-pleasing new events? The folks in Sunny Beach, Bulgaria, missed some obvious opportunities — "beach parsing", anyone? — but next time, how about structural analysis of a corpus of bird song? or a hypothetical linguistic encounter with space aliens?
Maybe I'm getting a little carried away here — though why not a team competition to translate between made-up version of Yeti and Sasquatch, with Olympiad officials in the non-human roles? OK, never mind, but how about a live interaction in the style of Ken Pike's monolingual demonstrations?
I know that Anderson Cooper is probably too busy, but maybe you could get Geoff Nunberg to report on it for Fresh Air. Or if you go with my Yeti-to-Bigfoot idea, there's always the BBC.
---