« previous post | next post »
Sean Hannity's new book, Live Free or Die, was released a couple of days ago. The original cover featured a Latin motto, "Vivamus vel libero perit Americae", whose source was apparently Google Translate's version of "Live Free or America Dies":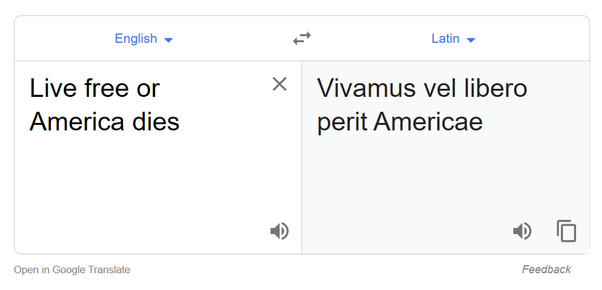 As Spencer Alexander McDaniel observed, this is gobbledygook — or perhaps we should say "googledygook".
The title of McDaniel's post ("Sean Hannity does not know Latin") is unfair, though probably true, since the cover design was most likely created by the publisher. But a better observation might have been that Google Translate doesn't know Latin. Of course modern machine translation systems don't really "know" any languages, but have just memorized patterns of contextual correspondences. When the available training data is merely a few million words, as in the case of Latin, the results are often bad, as here.

In any case, Hannity's book has a new cover on which the motto is rendered more plausibly as "Vivamus liberi ne America pereat", literally "Let us live free lest American perish".
McDaniel attempts to construe the earlier version as follows:
The words in Hannity's motto are real Latin words, but, the way they are strung together, they don't make even a lick of sense. Here's the breakdown:
Vivamus is the first-person plural present active subjunctive form the verb vivo, meaning "to live." Here it is presumably functioning as a hortatory subjunctive meaning "Let's live."
Vel is a conjunction meaning "or."
In this context, libero is most likely either a masculine singular dative or ablative form of the adjective liber, meaning "free," but it could also be the first-person singular present active indicative form of the verb libero, meaning "I set free."
Perit is the third-person singular present active indicative form of the verb pereo, meaning "to die" or "to pass away."
Americae is either the genitive singular, the dative singular, or the nominative plural form of the name America.
The only way I was able to make any grammatical sense out of this on my own was by assuming that perit had an unstated subject, interpreting libero as a dative of disadvantage, and interpreting Americae as a genitive of separation.
Thus, with some serious creative liberties, you could maybe argue that Hannity's motto says something like, "Let's live or he [i.e. the unstated subject of perit] passes away from America for the detriment of a free man." Unfortunately, this still doesn't really make any sense and you have to jump through a ton of grammatical hoops just to get here.
As for the origins of the phrase "Live free or die", Wikipedia has it covered.
See also McDaniel's more recent post "Sean Hannity Still Doesn't Know Latin—But Does He Read My Blog?", 8/2/2020.

---