« previous post | next post »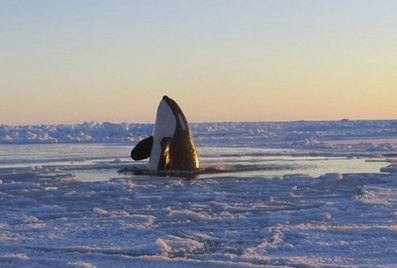 Miranda Leitsinger, "11 killer whales free after being 'locked' in ice, mayor says", NBC News 1/10/2013:
Twenty of the Inukjuak villagers were tasked with doing much the same: they were going to remove the broken ice around the area and use chainsaws to enlargen the hole, which was getting increasingly smaller.
Adam Czarnota, who sent in the link, noted that "'Enlargen' put me in such a good mood that I got a chuckle out of 'increasingly smaller', too".
In fact, the Middle English Dictionary tells us, enlargen was a common form in the 14th and 15th centuries:
?a1425(c1400) Mandev.(1) (Tit C.16)   28/20:  Egypt is a long contree but it is streyt..þei may not enlargen it toward the desert for defaute of water.
ME usage apparently also included the collocations enlargen the herte, "to make kinder or more generous", and enlargen with abundance, "provide abundantly".
The 347 comments on that NBC News article are, I note with interest, dominated by angry screeds about the NRA, Al Gore, global warming, and media bias.
---