« previous post | next post »
Reddit, for those few who might not know, is a popular bulletin-board site for posting and discussing links and texts. A voting system determines the order and position of entries. The site is divided into "subreddits" devoted to paticular topics, of which there are now tens of thousands.
One of these countless subreddits is /r/grammar. Here "grammar", as usual, is mostly taken to mean "spelling, punctuation, and word usage" — but the items posted are generally questions rather than peeves, and the questions are sincere and sometimes interesting. Like other subreddits, /r/grammar has moderators, and they've chosen a few select links for the right-hand top of the page: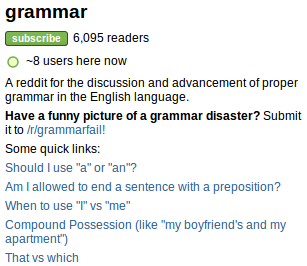 The five selected topics seem a bit random, but at least the first four of them (a vs. an, sentence-ending prepositions, I vs. me, Compound possession) link to plausible discussions of the cited issues. The fifth one, however, points to a grammatical disaster: a page on "That Versus Which" from Marc A. Grinker's "The Legal Writing Teaching Assistant: The Law Student's Guide to Good Writing" (1994).
Its opening:
The traditional approach to this question is to use "that" with restrictive clauses and "which" with nonrestrictive clauses. While some writers seem to have abandoned the distinction entirely, no better rule has come along to replace the traditional rule.
Every assertion and implication in these two sentences is false. It's depressing that a widely-read site like Reddit links prominently to such nonsense.
For the past couple of centuries, the true "traditional approach to this question" has been to use which (following a comma) with nonrestrictive relative clauses, and either that or which with restrictive relative clauses. The restrictive-that-nonrestrictive-which idea is a usage-maven's innovation, first suggested in the early 20th century as a possible means to increase "lucidity & ease", and then elevated to the status of a "rule" by various self-appointed (and mostly American) authorities.
The phony restrictive-that-nonrestrictive-which "rule" has never been followed by elite writers on either side of the Atlantic. Fowler 1926 conceded as much when he advanced his unfortunate suggestion:
… if writers would agree to regard that as the defining relative pronoun, & which as the non-defining, there would be much gain both in lucidity & in ease. Some there are who follow this principle now; but it would be idle to pretend that it is the practice either of most or of the best writers.
William Strunk's original 1918 Elements of Style did not include any mention of the phony restrictive-that-nonrestrictive-which "rule", and in fact used restrictive which freely and frequently, e.g.
This book […] gives in Chapter III only those principles of the paragraph and the sentence which are of the widest application.
… non-restrictive relative clauses, that is, those which do not serve to identify or define the antecedent noun, and similar clauses introduced by conjunctions indicating time or place.
The sentence is virtually a combination of two statements which might have been made independently.
A common fault is to use as the subject of a passive construction a noun which expresses the entire action, leaving to the verb no function beyond that of completing the sentence.
The effectiveness of the periodic sentence arises from the prominence which it gives to the main statement.
The writer must therefore, so far as possible, bring together the words, and groups of words, that are related in thought, and keep apart those which are not so related.
There is precedent from the fourteenth century downward for interposing an adverb between to and the infinitive which it governs, but the construction is in disfavor and is avoided by nearly all careful writers.
At some point in the publishing history of E.B. White's revision and republication of this work, starting in 1959, he introduced the famous which-hunting incitement:
Careful writers, watchful for small conveniences, go which-hunting, remove the defining whiches, and by so doing improve their work.
However, White himself did no such thing in his earlier writing. Thus there are five examples of restrictive which in his 3700-word essay "The Death of a Pig" (1948):
This was slapstick – the sort of dramatic treatment which instantly appealed to my old dachshund, Fred …
The pigs I have raised have lived in a faded building which once was an icehouse.
There is a pleasant yard to move about in, shaded by an apple tree which overhangs the low rail fence.
… an enormous earthworm which had been partially exposed by the spade at the bottom dug itself deeper and made a slow withdrawal …
… the premature expiration of a pig is, I soon discovered, a departure which the community marks solemnly on its calendar …
There are dozens of examples in White's published Letters, e.g.
… it seems to me that the promise which was made to the world by the Four Freedoms statement was justified (at least in the "want" clause) by the new feeling of responsibility which is evident in government.
For a long time I have been taking notes — sometimes on bits of paper, sometimes on the mind's disordered pad — on a theme which engrosses me.
This goal is arrived at by a bit of wizardry which I haven't yet mastered …
… you had hardly been out of town ten minutes when I wanted you back here to submit some sketches on New York subjects, to be used as little decorative illustrations of those poems which are on New York subjects.
I surmise that which-hunting must have been beaten into White by some overbearing New Yorker editor, during the development of that publication's magisterial linguistic idiosyncrasy.
If you want more details, you can read about the history at length in the MWDEU entry.
And for still more information, see Geoffrey Pullum's recent Lingua Franca column, "A rule which will live in infamy"; his web page "The myth that which is banned from integrated relatives"; or this long (but probably incomplete) list of earlier LL posts on the topic:
"Sidney Goldberg on NYT grammar: zero for three" (9/17/2004)
"Which vs. that: I have numbers" (9/17/2004)
"Which vs. that: A test of faith" (9/20/2004)
"Which vs. that: integration gradation" (9/23/2004)
"Don't do this at home, kiddies!" (5/3/2005)
"The people from the CCGW are here to see you"  (5/7/2005)
"What I currently know about that and which" (5/10/2005)
"Five more thoughts on the that rule" (5/22/2005)
"Smokin' too much Fowler" (5/29/2005)
"Still more Declaration of Independence" (7/10/2005)
"Ann Coulter, Grammarian" (10/7/2005)
"Grammatical indoctrination at law reviews" (10/8/2005)
"Did which-hunting change the laws of the game?" (10/10/2005)
"The unfab four" (5/14/2007)
"For National Grammar Day: Copy editors, we do not hate your guts!" (3/4/2008)
"Walking into a buzzsaw" (8/24/2009)
"When evidence counts for nothing and nobody will listen" (8/27/2009)
"One comma too many" (5/20/2010)
"Oddly enough, McArdle did not err" (5/23/2010)
"That which doesn't apply to English" (7/3/2010)
"Check all boxes" (10/22/2011)
"Which-hunting in uncomprehending darkness" (5/4/2012)
"A quantitative history of which-hunting" (9/5/2012).
---