« previous post | next post »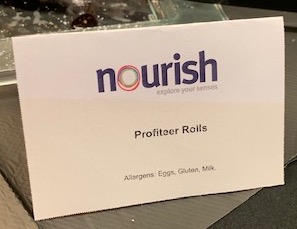 Seen on a buffet table in Glasgow: "Profiteer Rolls" for "Profiteroles".
There are a fair number of other examples Out There, but not enough to merit a separate dictionary entry, much less to eclipse the original, as in the case of Jerusalem Artichokes.
The OED's etymology:
Apparently < Middle French, French profiterole (although this is first attested later in the sense relevant to sense 1: 1549; 1881 in sense 2) < profit profit n. + -erole , diminutive suffix (extended form of -ole -ole suffix).
French profiterole is attested slightly earlier in its literal sense 'small profit': 1542.
[h/t Bob Ladd]
---