« previous post | next post »
On the UT Dallas campus: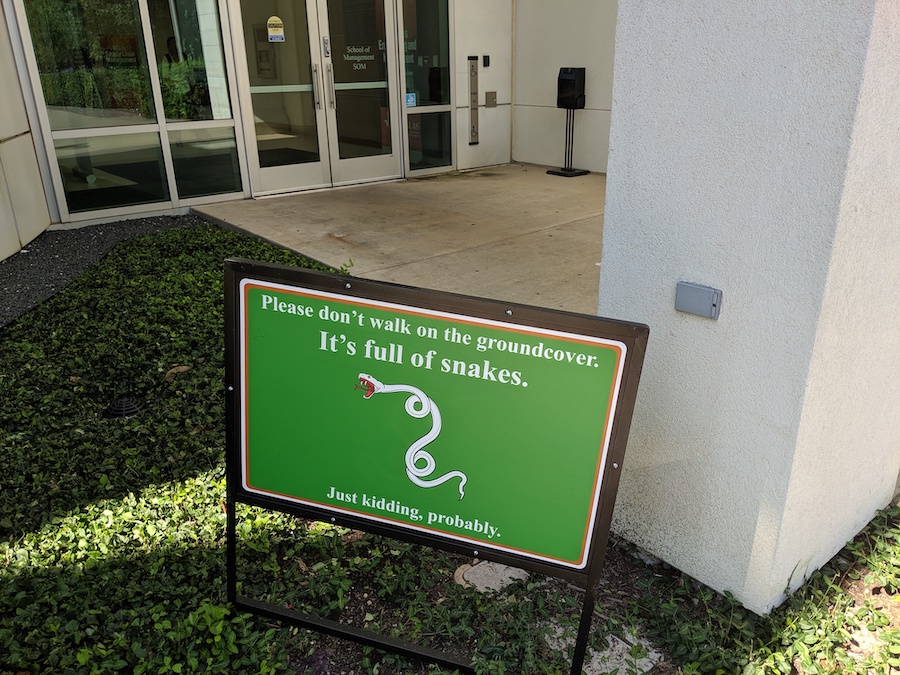 Merriam-Webster defines "snake in the grass" as "a secretly faithless friend", and says the the "First Known Use" was in 1696, but doesn't tell us who or where.
The OED explains that snake is
2.b. Used to denote some lurking danger, suspicious circumstance or person, etc.; esp. in the phrase a snake in the grass (after Virgil Ecl. iii. 93 Latet anguis in herba).
with these citations:
1611 W. Barksted Hiren sig. C6 O could this diuell my soule so transforme, That I must eate that snake in him did lurke.
1659 Haslerig in T. Burton Diary (1828) IV. 337 Consider what a snake lies under this fair Declaration.
1677 A. Yarranton England's Improvem. 101 Hold, hold, you drive too fast; there is a snake in the Bush.
1696 C. Leslie (title) The snake in the grass; or, Satan.
1709 T. Hearne Remarks & Coll. (1886) II. 173 There is a Snake in the grasse, and the designe is mischievous.
1881 S. Evans Evans's Leicestershire Words (new ed.) Sneck-i'-the-gress, a sneak; a traitor; a treacherous deceiver.
1907 E. Gosse Father & Son xi. 281 He did not scruple to remind the Deity of various objections to a life of pleasure and of the snakes that lie hidden in the grass of evening parties.
1978 J. Irving World according to Garp xiv. 271 We were playing in Dallas, when that snake in the grass..came up on my blind side.
The full title of Leslie 1696 is "The snake in the grass: or, Satan transform'd into an angel of light. Discovering the deep and unsuspected subtilty which is couched under the pretended simplicity of many of the principal leaders of those people call'd Quakers." Or in the original printing: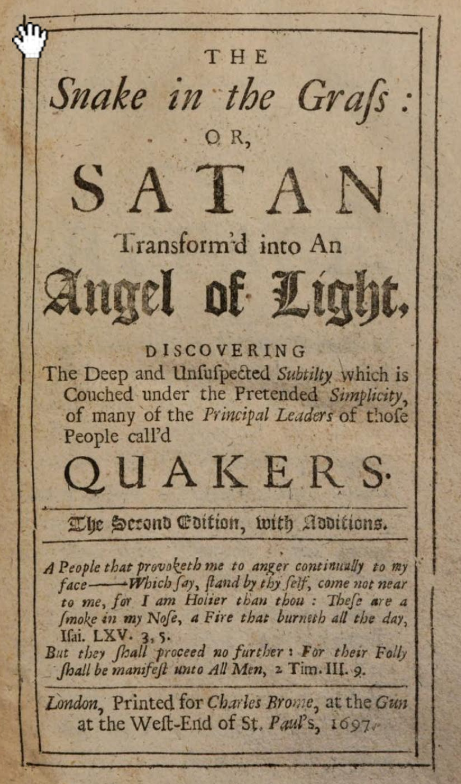 The title page is enough for me to wonder whether the 1696 usage really evokes the "secretly faithless friend" meaning — it seems more to be more congruent with the OED's "lurking danger" gloss, though I guess "SATAN transform'd into an Angel of Light" counts as an apparent ally that's secretly hostile and dangerous.
The Virgil source is the couplet
Qui legitis flores et humi nascentia fraga,
frigidus, O pueri, fugite hinc, latet anguis in herba.
translated by J.B. Greenough as
"You, picking flowers and strawberries that grow
so near the ground, fly hence, boys, get you gone!
There's a cold adder lurking in the grass."
---