« previous post | next post »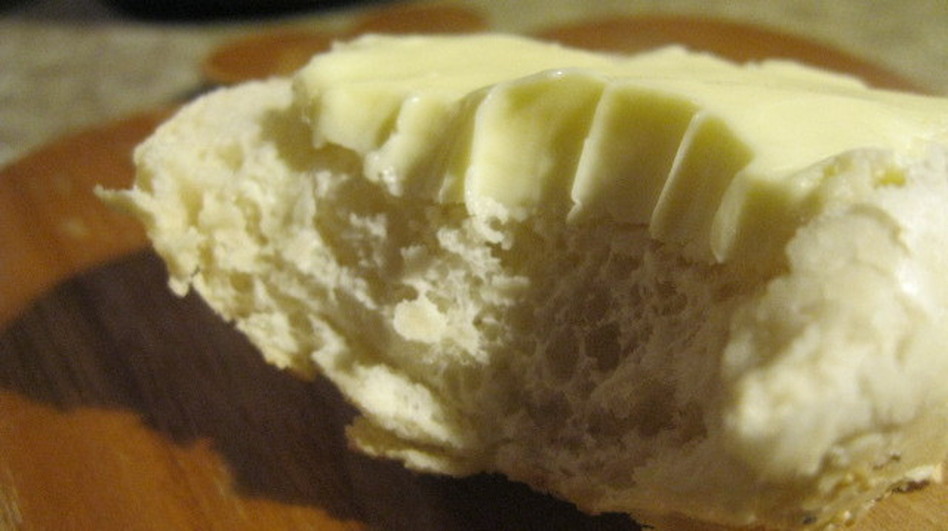 For the "Word for X" (or "No Word for X") file, from Sidsel Overgaard, "Danes May Bring Back Butter As Government Rolls Back Fat Tax", NPR News 11/13/2012:
Toothbutter: noun. Butter spread so thickly as to reveal teeth marks upon biting.
The fact that this word exists in the Danish language should help to explain what politicians were up against when they introduced the so-called "fat tax" just over a year ago. This is a country that loves it some butter (and meat, and all things dreadful to the arteries).
Distressingly, the NPR article doesn't tell us what the Danish word is. But Google translate tells us that tooth is "tand" and butter is "smør", and there's some confirmatory discussion of "tandsmoer" in this Wordreference forum from 2007, in which various Danes and visitors to Denmark are discussing, curiously enough, Danish pastries:
Well, when I lived in DK, I guess I only ate "snegle" on rare occasions, preferring instead — like most Danes that I know at least — "rundstykker" with a very thick layer of butter on them … so thick that my in-laws called it "tandsmoer." Then when I really went crazy, I'd put a piece or two of "chokoladepaalaeg" on top of the thick butter, on top of the white bread roll. So really … how much healthier than a snegl is a white-bread roll with full fat butter on it so thick you can see your teeth prints in it after you've taken a bite, topped off with chocolate?
More seriously … and to make this post more or less legal per the mods … how common is the concept of "tandsmoer" or is this just another of the now outmoded or unique-to-my-circle-of-family-and-friends phrases that I mistakenly still believe to be in use?
Response:
[…]  tandsmør is very much in use still – Personally I find it [emoticon of distaste] but I know a lot of people who have the same taste as you, BoTrojan [emoticon of extreme happiness]
Another response:
The expression Tandsmør is definately a common and well known thing in Denmark. Don't like it myself, but most people would expect that amount of butter on on their rundstykke if they ordered it with butter.
Perhaps Sidsel Overgaard left out the actual Danish word due to the problem described here…
[tip of the hat to JM]
---