« previous post | next post »
Byron York, "What Sank McCain", NRO 11/5/2008:
In January, a few days before the South Carolina Democratic primary, I went to a Barack Obama rally in Columbia with a Republican friend who had never before seen Obama in action. This friend's reaction: "Oh, s**t." The super-enthusiastic crowd was about 3,000 strong — no big deal compared to the audiences Obama would later draw in the general election, but several times what John McCain was attracting in South Carolina at the time. My friend said the scene reminded him of the old clip from Jaws, in which the small-town sheriff, seeing how big the shark really is, says, "We're gonna need a bigger boat."
The line was actually "You're gonna need a bigger boat", at least in the movie:
The movie Jaws features Orca the fishing boat, so named because orcas (= "killer whales") are natural predators of sharks: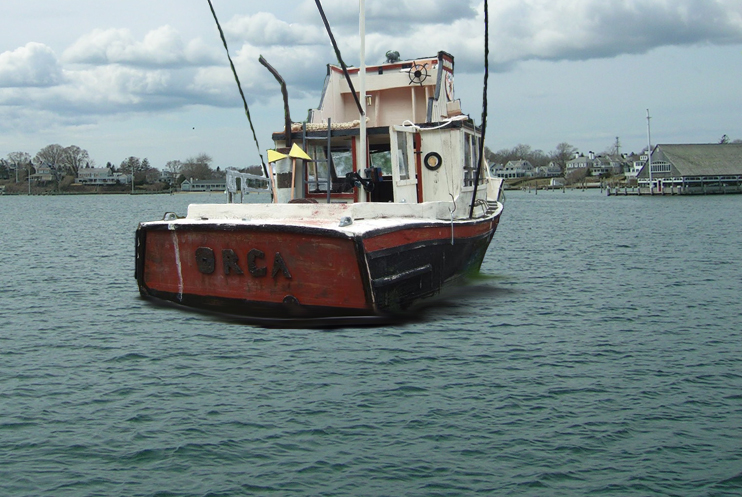 The Romney campaign featured ORCA the get-out-the-vote program (John Ekdahl, "The Unmitigated Disaster Known As Project ORCA", Ace of Spades 10/8/2012):
What is Project Orca? Well, this is what they told us:
Project ORCA is a massive undertaking – the Republican Party's newest, unprecedented and most technologically advanced plan to win the 2012 presidential election.
Pretty much everything in that sentence is false. The "massive undertaking" is true, however. It would take a lot of planning, training and coordination to be done successfully (oh, we'll get to that in a second). This wasn't really the GOP's effort, it was Team Romney's. And perhaps "unprecedented" would fit if we're discussing failure.
The entire purpose of this project was to digitize the decades-old practice of strike lists. The old way was to sit with your paper and mark off people that have voted and every hour or so, someone from the campaign would come get your list and take it back to local headquarters. Then, they'd begin contacting people that hadn't voted yet and encourage them to head to the polls. It's worked for years.
It would be a little weird, in my opinion, to name a GOTV program after a boat used to hunt a fictional monster shark. Clearly the shark would be Obama, or perhaps Obama's appeal — but in that metaphor, where are the Romney voters? Sitting at home waiting for the beaches to re-open? [Update: It seems that name was actually chosen because orcas kill and eat narwhals, and a Democratic voter-targeting project was named Narwhal; but the metaphorical emphasis remains on predation rather than on mobilization.]
And apparently Project Orca was a big step down from the traditional pencil-and-paper approach — Ekdahl's post presents an elaborate saga of mismanagement and disfunction, which ends this way:
So, the end result was that 30,000+ of the most active and fired-up volunteers were wandering around confused and frustrated when they could have been doing anything else to help. Like driving people to the polls, phone-banking, walking door-to-door, etc. We lost by fairly small margins in Florida, Virginia, Ohio and Colorado. If this had worked could it have closed the gap? I sure hope not for my sanity's sake.
The bitter irony of this entire endeavor was that a supposedly small government candidate gutted the local structure of GOTV efforts in favor of a centralized, faceless organization in a far off place (in this case, their Boston headquarters).
Most of the problems that Ekdahl describes were more managerial than technical:
People had been kicked from poll watching for having no certificate. Others never received their pdf packets. Some were sent the wrong packets from a different area. Some received their packet, but their usernames and passwords didn't work.
But there were some technical (or at least design) problems as well:
Now a note about the technology itself. For starters, this was billed as an "app" when it was actually a mobile-optimized website (or "web app"). For days I saw people on Twitter saying they couldn't find the app on the Android Market or iTunes and couldn't download it. Well, that's because it didn't exist. It was a website. This created a ton of confusion. Not to mention that they didn't even "turn it on" until 6AM in the morning, so people couldn't properly familiarize themselves with how it worked on their personal phone beforehand.
Next, and this part I find mind-boggingly absurd, the web address was located at "https://www.whateveritwas.com/orca". Notice the "s" after http. This denotes it's a secure connection, something that's used for e-commerce and web-based email. So far, so good. The problem is that they didn't auto-forward the regular "http" to "https" and as a result, many people got a blank page and thought the system was down. Setting up forwarding is the simplest thing in the world and only takes seconds, but they failed to do it.
Anyhow, ORCA the GOTV program seems to have suffered the same metaphorical fate as Orca the shark-hunting boat (except that the program's problems were self-inflicted):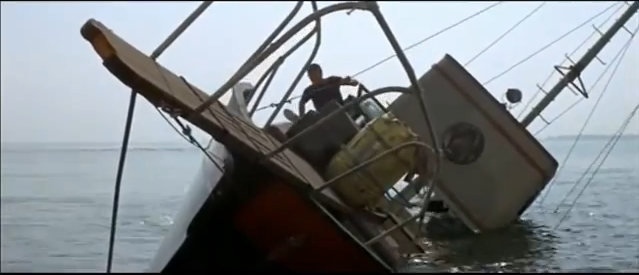 There's been some push-back from the Romney campaign to the effect that Orca wasn't a complete failure, and anyhow didn't matter to the election one way or the other. Thus Natalie Jennings, "Romney digital director: Orca wasn't a loss", 11/9/2012:
The digital director for the Romney campaign responded to criticism in the blogosphere  of the campaign's Election-Day "Orca" vote monitoring platform, saying the program had issues but for the most part performed its mission.
Zac Moffatt said that data about 14.2 million voters was recorded through Orca, including 5,397 instances of polling-place irregularities, and that data came back from 91 percent of counties being monitored.
Volunteers have started complaining online about lack of instructions, non-functional usernames and an overall system crash.
"I understand the frustrations over interruptions with so many people engaged," Moffatt said. "But I have real numbers."
Real numbers of dollars in new personal wealth, according to Ben Howe, "Campaign Sources: The Romney Campaign was a Consultant Con Job", Red State 11/9/2012:
So what caused the breakdown and why didn't it get fixed in time? Well according to sources who worked closely with the program, the blame is at the feet of consultants. […]
They say that the truth is the consultants essentially used the Romney campaign as a money making scheme, forcing employees to spin false data as truth in order to paint a rosy picture of a successful campaign as a form of job security.
Zac Moffatt, Digital Director for the Romney campaign, was specifically named as having "built a nest egg for himself and co-founder of Targeted Victory, Mike Beach," and that they "didn't get social" media and ignored objections from other consultants and staffers in the campaign.
So maybe, in the end, the difference between we and you mattered, because the line really should have been "Let us sell you a bigger boat".
---
A detailed pre-election take on Project Orca: Amanda Terkel, "Mitt Romney Campaign Plans Massive, State-Of-The-Art Poll Monitoring Effort", HuffPo 11/1/2012.
As for the source of Project Narwhal's name, Sasha Issenberg wrote ("Obama's White Whale", Slate 2/15/2012) that
In a campaign that has grown obsessed with code-naming its initiatives, the integration project is known as Narwhal, after the tusked Arctic whale whose image (via a decal) adorns a wall adjacent to the campaign's engineering department, as first reported by Newsweek. Narwhal remains a work-in-progress. Campaign spokesman Ben LaBolt refused to discuss the project, and the actual origins of their project's code name are obscure, but at Obama's headquarters the joke has become that reference to a mammal often called "the unicorn of the sea" has come to accurately describe an elusive quarry.
As Issenberg explains, Narwhal was not an election-day GOTV program, but an attempt "to link once completely separate repositories of information so that every fact gathered about a voter is available to every arm of the campaign". Why the Romney campaign's Project Orca was conceived as a way to kill and eat the Obama campaign's data-integration effort is a different metaphorical mystery.
For a pre-election discussion of the campaign's differing approaches to software development, see Hamish McKenzie, "In the Red Corner, Zac Moffatt Leads Romney's Digital Drive to Topple Obama", Pando Daily 9/26/2012:
At the Democratic National Convention in Charlotte, tech people I talked to approvingly described Obama's digital team as a "startup within a startup." Rather than outsource the building of various tools to other companies, it has developed everything in-house.
When I put that claim to Moffatt, however, he protests that the opposite is true. The Obama campaign, he asserts, is more like government. "They've pulled everything together and determined that they can do everything best," he says. "We actually function like a startup. We are finding the best minds and best companies, but if something doesn't work it's easy for us to iterate and pivot into a new direction." By relying on in-house tools, you can very quickly get lumped with cumbersome legacy items that becomes costly over time. "For me, it looks much more like central planning than it does anything else."
Additional Orca post-mortems: Sean Gallagher, "Inside Team Romney's whale of an IT meltdown: Orca, the Romney campaign's 'killer' app, skips beta and pays the price", Ars Technica 11/9/2012; Robert X. Cringely, "Unleashed! Project Orca, the campaign killer whale: Big data fails big time for the Romney camp as its smartphone app crashes spectacularly, right on schedule for Election Day", InfoWorld 11/9/2012; Adi Robertson, "Killer fail: how Romney's broken Orca app cost him thousands of votes", The Verge 11/9/2012; Michael Kranish, "ORCA, Mitt Romney's high-tech get-out-the-vote program, crashed on Election Day", Boston Globe 11/9/2012; Rosslyn Smith, "Conservatives harpooned by Orca", American Thinker 11/11/2012; Michael Falcone, "Romney Campaign Acknowledges High-Tech Election Day Monitoring System 'Had Its Challenges'", ABC News 11/10/2012; Maggie Haberman & Alexander Burns, "Mitt Romney's ORCA program couldn't stay afloat", Politico 11/9/2012.
Catherine Ann Fitzpatrick tried to figure out who got the Orca development contract ("Was Al Gore's Dev In Charge of Romney's Aps?", and follows the digital breadcrumbs to what she thinks is the answer:
Ekdahl didn't say — but I found it. The organization is called Targeted Victory, and they have Romney logos flashing on their site now.
Look at Our Team –– typical bloated over-staffed organization top heavy with marketers and underpaid drones — and then see how many devs there are.
Just two. Apparently under the direction — in between them and Moffat — of a senior project manager whose credentials include working for United Nations Women, The Getty Institute, UNESCO, Ecuadorian Ministry of Tourism and the Quito Tourism Bureau.
So…All of this complicated, national, critical system rested on the slender shoulders of two dudes 20-something or 30-something at best — with maybe their project manager also bringing them the pizza and yelling at them?
I was afraid to click, because I knew what I would find.
Sure enough, what I found were two guys who looked like very likely Obama voters.
Commenters on the Ars Technica article quote unsourced rumors that development was outsourced to India via Accenture. I'm skeptical of both theories, and look forward to learning who really did the project.
Update — Still no clarity on who built Orca — but for the other side's story, see Alexis Madrigal, "When the Nerds Go Marching In", The Atlantic 11/16/2012.
---