« previous post | next post »
Sent in by Joe Boyd:
I read this schadenfreude-inducing story and was stuck by the singular use of "a genital" as a noun describing the scrotum ("A 46-year-old man accidentally shot himself in a genital Thursday after a gun slipped from his waistband, police said").
Two things struck me as weird about this: first, a "genital"'? Not the "genitals" or "genitalia"? And second, "a" genital? Not "one of his" genitals (if not the most natural "the genitals")?
I don't think I've ever encountered it before. It's difficult to track down other instances, as searches for "a genital" return uses of 'genital' in adjectival form (I suppose one could search for text that doesn't contain "warts" or "herpes" or other nouns that are often modified by "genital," but this seems like work for a qualified linguist). I had never thought about how you would divide "genitals" into their singular components, but the Wikipedia entry gives the following clarification:
"The Latin term genitalia, sometimes anglicized as genitals, is used to describe the externally visible sex organs: in male mammals, the penis and scrotum … The genitals and the internal sex organs are referred to as the secondary sex organs. The primary sex organs are the gonads… specifically the testes in the male …." (I would have assumed the testicles were included in "genitals" but apparently not so!)
So, the news story's characterization seems logical, if we take the scrotum as one of the two genitals (the bullet apparently "exited his scrotum").
Regarding my second reaction, on the use of "a" genital, this is perhaps logical. It seems weird at first glance, as I would expect "his genital", or more naturally, "one of his genitals" would be more natural. On the other hand, we would say that he shot himself in "the leg", rather than "his leg" or "one of his legs". I suppose since the two (apparently) genitals are quite different from each other in a way that our two legs are not, we can't just say "the genital". We want to know which "genital" was shot more urgently that which leg, I suppose.
But, in the end, why not just, "he shot himself in the scrotum"?
You might think the writer wanted to avoid words like scrotum, but not so — the story continues
Marion Police Department issued a news release via Facebook that said Mark Anthony Jones did not have a license for the Hi-Point 9mm gun he was carrying. 
Jones, in the emergency room of Marion General Hospital, told police he was walking about 6:44 a.m. Thursday on a riverside trail near the Marion Girl Scout Cabin. That's west of the Washington Street bridge over the Mississinewa River. He said when the gun began to slip from his waistband, he reached to adjust the firearm and it discharged.
"The bullet entered just above his penis and exited his scrotum," the release said.
Geoff Pullum's comment:
The Cambridge Grammar of the English Language (page 343) lists "genitals" as one of a group of miscellaneous nouns that, although they don't denote pairs like "scissors" or "knickers", appear ONLY in the plural: alms, arrears, auspices, particulars, troops, and a dozen others.
But there are always usage outliers, and also inexperienced newbie interns writing their first news story.  Occasionally "troops" has turned up in the singular denoting an individual soldier, and now "genital" has been used for "an individual (and unnamed) part of the genital organs". I think I would want to say that the grammar is correct, though, and that this occurrence is an error.
Language continues to be so strange!
Maybe genital is going the way of troop? See "Look lively, troop!" (2/25/2005) and "Plural, mass, collective" (12/8/2006).
The obligatory screenshot: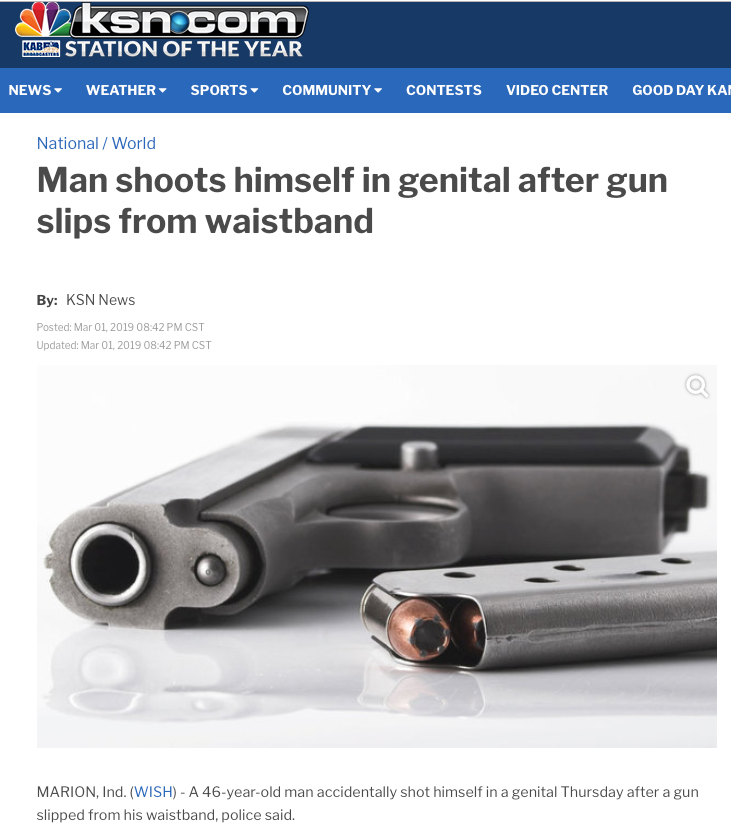 ---