« previous post | next post »
Movie ticket for "Liúlàng dìqiú 流浪地球" ("Wandering earth"):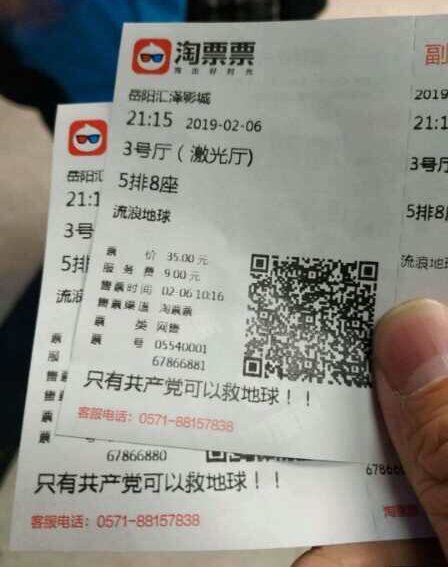 (Source)
The line at the bottom of the ticket reads:
zhǐyǒu gòngchǎndǎng kěyǐ jiù dìqiú
只有共产党可以救地球
"Only the Communist Party can save the earth"
From a Chinese graduate student:
The line at bottom shows the degree to which the theaters are desperate to survive under the tension between imaginative works and political sensitivity, almost a perfect analogy to the "smoking is harmful to your health" notices in every cigarette commercial.
But "Liúlàng dìqiú 流浪地球" ("Wandering earth")  is said to be a great sci-fi movie. I'm very interested in Liu Cixin's works. He is a Hugo Award winner!  I'm looking forward to seeing the movie this weekend.
Readings
"Ken Liu reinvents Chinese characters" (12/5/16)
"Ball ball 你" (10/4/17) — third comment from bottom
"Chinese sci-fi blockbuster The Wandering Earth battles horde of rampaging online pirates", South China Morning Post (2/11/19):  China's latest blockbuster The Wandering Earth is making megabucks at the box office but is fighting a bigger threat than a looming explosion of the sun – a voracious piracy industry that is eating into its ticket takings.
[h.t. Geoff Wade; thanks to Qing Liao]
---