« previous post | next post »
This speaks for itself, I think — the first referral from the new Cuil search engine that I've noticed in our referrer logs: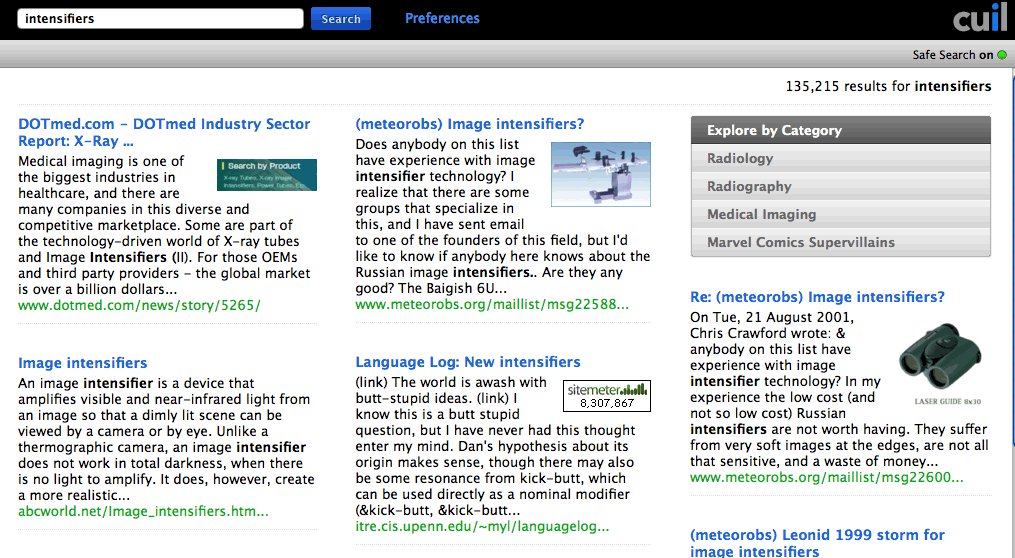 (Click on the image for a larger version.)
Well, OK, I'll indulge in one comment, which is that I clearly need to look more closely into why "Marvel Comics Supervillains" is an ontological subcategory of "Intensifiers". That makes a weird kind of sense, though I wouldn't have thought of it myself. Or is there a particular supervillain that I've missed, The Intensifier? A quick web search turns up some devices (the "mento-intensifer ring", the "psycho-intensifier", etc.) but no villains as such.
When I look at the second referral from the logs, I find some other strange things, e.g.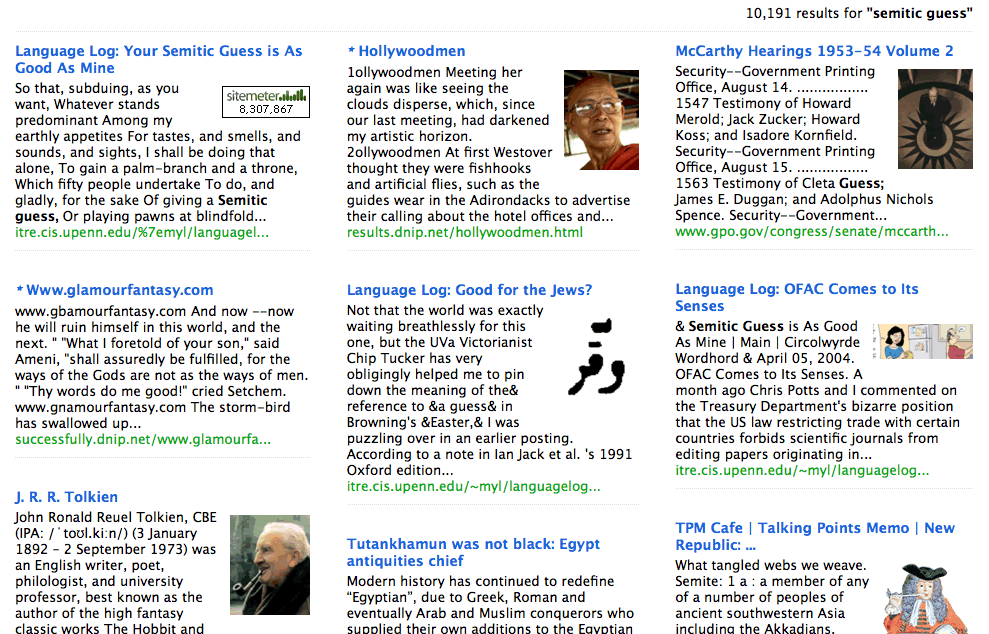 ("Semitic guess" is a phrase in Browning's "Easter Day", which Geoff Nunberg asked about back in 2004. So that's why it's actually sensible that someone might be searching for it, and why it's sensible for them to find a Language Log post in the results. But in fact the phrase "semitic guess" doesn't occur in the 1953 Senate Committee Hearings transcript, nor in the Wikipedia article on J.R.R. Tolkien, so those hits are a bit of a puzzle.
And — following a chain of associations from the LL post that shows up on that last Cuil page — I'm happy to see that even though Language Log is no longer #1 for stupid ideas in Google's index, we're still #1 for butt-stupid ideas.)
[In the comments, Soap asked about the asserted etymology ("Cuil is an old Irish word for knowledge. For knowledge, ask Cuil,").
I asked Jim McCloskey, and he responded:
I certainly don't know the word and it's not in any dictionary I have easily to hand.
There are two words `cuil' that I know. One means `enmity' or `bad attitude' or `resentment', as in
Tá

cuil

aige

liom

is

resentment

at-him

with-me

"He's angry with me/resents me/has it in for me."
The other means `fly'.
But maybe it's some Old or Middle Irish word — I'd have to check the Royal Irish Academy dictionary for that.
More on this as it develops… e.g. here]
---