« previous post | next post »
In a comment yesterday, Jonathon Owen pointed us to a fascinating post at Arrant Pedantry on Which Hunting (12/23/2011). You should read the whole thing, but as a teaser, here's the key graph: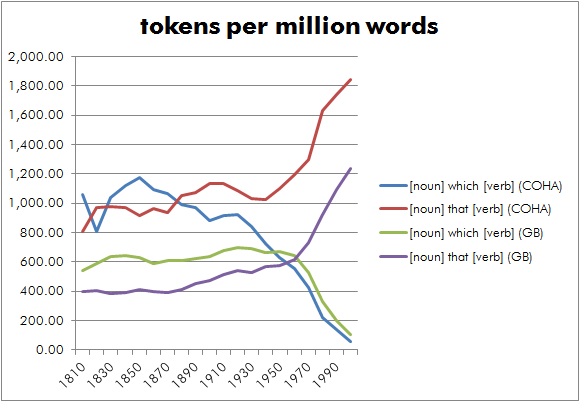 And here's (part of) what Jonathon says about it:
For one of our projects in the corpus class, we were instructed to choose a prescriptive rule and then examine it using corpus data, determining whether the rule was followed in actual usage and whether it varied over time, among genres, or between the American and British dialects. One of my classmates (and former coworkers) chose the that/which rule for her project, and I found the results enlightening.
She searched for the sequences "[noun] that [verb]" and "[noun] which [verb]," which aren't perfect—they obviously won't find every relative clause, and they'll pull in a few non-relatives—but the results serve as a rough measurement of their relative frequencies. What she found is that before about the 1920s, the two were used with nearly equal frequency. That is, the distinction did not exist. After that, though, which takes a dive and that surges.
Something that Jonathon doesn't say: It looks plausible to me that there's an acceleration of the trend around the time of the first publication of E.B. White's Elements of Style in 1959.
---