« previous post | next post »
John McCormick and Lisa Lerer. "Romney Sraddles Warmer Pitch With Obama Attacks in Tampa", Bloomberg Businessweek 8//27/2012: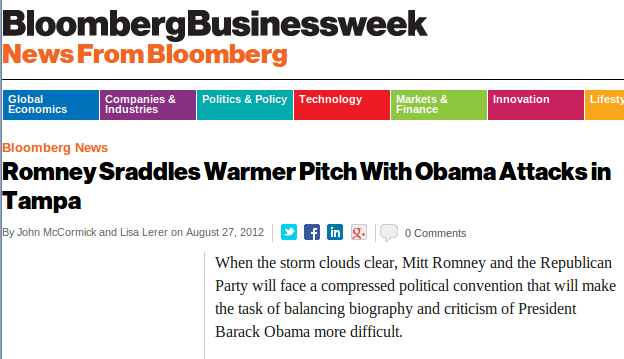 This is a typo worthy of the legendary Grauniad, all too rare in these days of rampant spelling correction.
The thing is, I can't figure out what the headline should mean after the error is corrected.  Is it "Romney straddles warmer pitch"? This evokes several unsavory or implausible images. "Romney saddles warmer pitch"? That's even more puzzling.
The "warmer pitch" is probably the attempt to "humanize" Mr. Romney. Or maybe it's the effort to attack Mr. Obama.
The convention's new opening night may present the greatest challenge with Ann Romney's address aimed at women and independent voters, as tough-talking governors — New Jersey's Chris Christie the foremost — expected to rally the party's faithful with attacks on the president. The candidate's wife, in her speech tomorrow, will try to humanize her husband, introducing him as a loving spouse and father of five.
But why is he (or she) straddling (or saddling) either or both of these themes? If it's straddle, in the sense that the OED glosses as "To stand or lie across or on both sides of (something)", then the two sides of the straddle are presumably humanizing Mr. Romney and attacking his opponent. And maybe the first side of that straddled pitch is warmer in the sense of being more "cordial or tender", while the second is warmer in the sense of more strongly "pressing hard on or harassing the foe". That works, but it's a style of interpretation more suited to reading Wallace Stevens than to sussing out newswire headlines.
Anyhow, the story made it to the top of the the U.S. news category in Google News: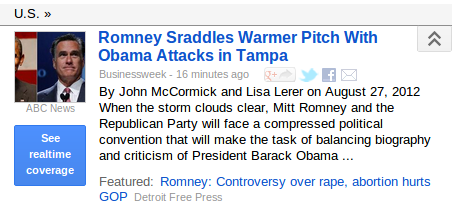 So apparently Google's algorithms calculate that pitch-sraddling sums up what's about to happen in Tampa.
Update — it occurs to me that maybe the headline writer thinks of "straddle X with Y" as meaning "combine X with Y" or "balance X with Y", or "straddle between X and Y". Some plausible examples from the web:
[link] A prominent actress who's currently straddling masala films with meaty projects directed by 'realistic' directors was allegedly busted snorting 'white powder' with the glamorous wife of a studio head in the ladies room of Mumbai's chic Oriental restaurant recently.
[link] This issue highlights PHA's complex role of straddling public sector responsibilities with private sector expectations.
[link] The chasm between the old world and the new reality is now quite large and also quite distinct. In this way, there is a huge polarity present, and thus, while we still continue to straddle one reality with another, we may indeed feel bi-polar.
For a Bloomberg headline writer, this may be a figurative extension of the financial term straddle, though investment-speak doesn't commonly seem to use the construction "straddle X with Y" in this way.
---