« previous post | next post »
Mike Ives, "Charles Kao, Nobel Laureate Who Revolutionized Fiber Optics, Dies at 84", NYT 9/24/2018 [emphasis added]:
Working in Britain in the late 1960s, Dr. Kao and a colleague played a crucial role in discovering that the fiber optic cables in use at the time were limited by impurities in their glass. They also outlined the cables' potential capacity for storing information — one that was far superior to that of copper wires or radio waves.
As commenters on the NYT obit point out, optical fiber (like copper wires and radio waves) is used for transmitting information, not storing it.
There's nothing in Kao's Nobel citation or his Wikipedia entry to suggest a source for this error. Nor could I find any similar errors in his other obituaries. So this (potentially serious) substitution therefore remains a problem in attributional abduction.
The author's other pieces seems to be about East Asian politics and culture, rather than science, so it's possible that he's just unclear about the difference between transmission and storage. This strikes me as an unlikely type of confusion, but it's possible that a larger fraction of educated people than I would have thought see data transmission as an aspect of data storage, or perhaps see data storage and data transmission as interchangeable concepts. One little-studied aspect of the "science of science communication" is the set of conceptual spaces in terms of which non-experts interpret key aspects of science and technology.
It's also possible that this error was a slip of the fingers — substitution of a semantically related alternative that the author would recognize as wrong — on the part of the writer or an editor.
In case someone at the Times discovers and corrects the mistake, here's a screenshot: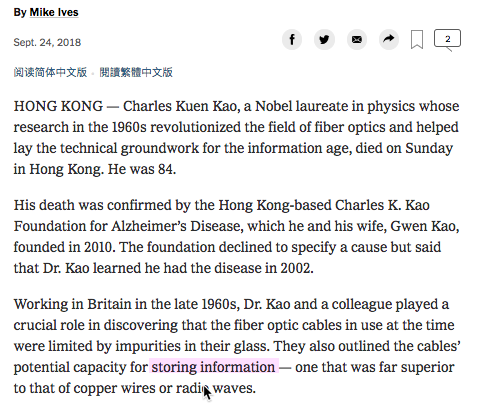 ---