« previous post | next post »
Clyde Haberman, "Is This the End of Proper Grammar? Hopefully Not", NYT, 4/19/2012.
Unsurprisingly, The Associated Press won a Pulitzer Prize for investigative reporting early this week, for articles about the New York Police Department's surveillance of Muslim neighborhoods and organizations in the wake of 9/11. Also unsurprising was fresh controversy that the award stirred, given the sensitive subject.
Curiously, that clamor proved to be but a warmup for more hullabaloo over the A.P., on an issue that is dearer to some people's hearts than police spying. This is about language. Language, of course, is the soul of a culture.
He's talking about the AP Style Guide's decision to allow the use of hopefully as an evaluative adverb, announced on Twitter at 6:22 a.m. on 17 April 2012:
Hopefully, you will appreciate this style update, announced at ‪#aces2012‬. We now support the modern usage of hopefully: it's hoped, we hope.
I didn't notice, frankly;  the "hullabaloo" was a muted one, compared to (say) the Ruckus in the Rada. The Boston Globe copy desk sniffed "Hopefully, we'll see it rarely". Andrew Beaujon at poynter.org sighed "Hopefully, this is the last we'll write about 'hopefully'", and pointed out that
Cleverly, Clyde Haberman uses a sentence adverb to begin every paragraph of his story about the change, demonstrating that the prohibition was bunk in the first place, even if pouncing on such "errors" kept many fine copy editors employed (and, by extension, manufacturers of cardigans in business).
Evaluative usage is common for adverbs made from adjectives describing emotional states (happily, mercifully, sadly, etc.). No one got upset when hopefully was now and then used in this way a hundred years ago, as in this passage from E. Morlae, "A soldier of the legion", The Atlantic Monthly, June 1916:
As silently as possible we entered between the trees and carefully kept in touch with each other. It was dark in there, and we had moved along some little distance before our eyes were used to the blackness. As I picked my steps I prepared myself for the shock every man experiences at the first sound of a volley. Twice I fell down into shell-holes and cursed my clumsiness and that of some other fellows to my right. The "Dutch" must be asleep,' I thought, or else they beat it.' Hopefully the latter!
So what happened? As the entry in Merriam Webster's Dictionary of English Usage explains,
…hopefully does not appear to have been very widely used; it was available if writers needed it, but few writers did. […]
Copperud 1970 gives the date of the rapid expansion of use of hopefully as a sentence-modifier as "about 1960". […] A 1963 edition of Funk & Wagnalls Standard College Dictionary recognizes the use. […]
The onslaught against hopefully in the popular press began in 1965, with denunciations in the Saturday Review (January), the New Yorker (March) and the New York Times (December). The ranks of hopefully haters grew steadily, reaching a peak around 1975, which is the year the issue seems to have crossed the Atlantic […] Viewer with alarm there would repeat all the things American viewers with alarm had said, and add the charge of "Americanism" to them. […]
In general, much of the furor in the press has abated since the high tide of the mid-1970s […] [O]n 10 November 1985 the Prince of Wales used the word during a televised press conference at the Smithsonian Institution in Washington. What more prestigious cachet can be put on it?
The Google Ngram Viewer confirms 1960 as the start of a rapid increase in popularity for sentence-adverb hopefully, using hopefully the as a proxy for sentence-adverb status:

So hopefully-hysteria was not completely artificial — it was a reaction to a genuine change in fashion. But the reasons given — that hopefully was a hack translation from German hoffentlich, which was Follett's objection, or that adjectival hopeful could not be used with the same meaning to modify words like fact, or that sentence-initial hopefully was meaningless stalling for compositional time — were clearly rationalizations of an emotional reaction to a change in relative frequency, rather than credible grammatical or even stylistic objections.
And by 1990 or so, most sensible people had either gotten over their reaction, or at least accepted the usage. Even E.B. White recognized the inevitability of a fashion he didn't care for: "I regard the word "hopefully" as beyond recall. I'm afraid it's here to stay, like pollution and sex and death and taxes" [letter 2/16/1970].
Still, hopefully-hysteria persists as a shibboleth of linguistic status display — what we've sometimes called a Zombie Rule. The usage note in the American Heritage Guide to Contemporary Usage and Style sums this situation up nicely:
It would seem, then, that it is not the use of hopefully as a sentence adverb per se that bothers the Panel, since the comparable use of mercifully is acceptable to a large majority. Rather, hopefully seems to have taken on a life of its own as a sign that the the writer is unaware of the canons of usage.
Why do things like this happen? John McIntyre explains ("Hopefully, someone might learn something", The Baltimore Sun 4/18/2012):
In a New Yorker cartoon from thirty years ago, a man turns to another in a bar and asks belligerently, "Hopefullywise? Did I understand you to say hopefullywise?"
There you have the hopefully brouhaha encapsulated. The Wrong People, the sloppy, trendy vulgarians who tacked -wise indiscriminately onto adjectives were the same sort who would use hopefully as a sentence adverb. It's easy to identify the Wrong People: They belong to some group we like to look down on (advertising, say, or business people in general), they latch on to any linguistic fad that lumbers down the pike, they don't know their Latin, and they have no respect for The Rules.
In fact, evaluative hopefully is a somewhat useful invention, as Cathleen Schine pointed out fastidiously in a 1993 (guest) On Language column in the New York Times Magazine ("Hopefully Springs Eternal", June 20,1993):
While the cat is away, let's play with a heretical notion. Let's engage in a spirited defense of the word hopefully. You know — the bad hopefully. The one without a verb to modify, or even an adjective to modify; the one floating, odd and defiant, at the beginning or the end of a sentence; the one you stop yourself from saying, train yourself never even to think — that hopefully.
I never touch the stuff, myself, and never will. I don't have the stomach for it. My lips draw back from it in horror. The resulting opprobrium is too great. I am a novelist, not a revolutionary. Having made that clear, I would like to say that I am also wrong.
The bad hopefully ought to be used without shame by all those who can bring themselves to do so — the less squeamish, the less prejudiced, the bold, the brave, the visionary. For this hopefully has developed a meaning, a nuance, that cannot be approximated by any other word or combination of words. Beyond being useful, hopefully is necessary, a profound modern expression of an exclusively modern sentiment. If there were no hopefully, man would have to invent it. And so we did.
Clyde Haberman's recent NYT article notes:
"The New York Times Manual of Style and Usage," while acknowledging that "hopefully" is an adverb that "inflames passions," cites surveys showing that "large majorities" of writers and teachers cling to the more restrictive use. So does The Times, and no change is contemplated for now, said Philip B. Corbett, the associate managing editor for standards.
But the deprecated usage has been sneaking into NYT headlines for some time:
Mekado Murphy, "SXSW: Going to the Movies and Hopefully Getting In", 3/15/2010; Dave Itzkoff, "Matthew Weiner Explains Why 'Mad Men' Will (Hopefully) End Like 'Abbey Road'", 7/14/2011; Lynn Zinser, "Today's U.S. Open Rain Delay, Hopefully Only a Delay", 9/7/2011; …
In fact, it's not all that easy to find serious negative reactions to the A.P.'s decision in respectable publications. There's Mary Elizabeth Williams ("The audacity of 'hopefully: The AP Stylebook makes a change — and breaks our hearts", Salon 4/19/2012) — but even there the outrage is heavily ironized:
This week, the venerable AP Stylebook has decreed that "Hopefully, you will appreciate this style update, announced at #aces2012. We now support the modern usage of hopefully: it's hoped, we hope." To which a million language nerds replied, Noooo!
Perhaps you are the sort of person who wasn't aware that saying things like, "Hopefully, it won't rain this weekend" has long been considered a grammatical faux pas. One hopes that you received a deeper language-arts education than that. "Hopefully" is an adverb. An adverb, I tells ya, one that means to do something in a hopeful manner.
Ms. Williams demonstrates her allegiance to various other Zombie Rules, including several that have never had any basis outside the imagination of various self-appointed usage mavens:
Those of us who work with words grapple daily with the issue of where we slide and where we take a hard line. I die a little every time I see a "gonna" or "gotta," and I'll jump through linguistic hoops to avoid using "they" or "their" for the singular when the gender isn't specified. There's nothing like a note – from a teacher, for God's sake – commanding that "Every child should bring their lunch" to make me want to switch exclusively to Latin. Yet I'm lax about ending sentences with a preposition, treat phrases like sentences for dramatic effect and use "rapey" and "stabby" and other made-up words on a regular basis. And I start half my sentences with conjunctions.
But this whole shtick is a sort of stagy imitation of a language crank, without the moral seriousness of a Kilpatrick or a Simon. Some commenters will no doubt point us to more earnest and resolute rejections of hopefully as a symptom of cultural decay — and perhaps others will enact such a reaction themselves. But as far as I can tell, this is an ex-controversy.
Bryan Garner agrees (Garner's Modern American Usage, 2009):
Four points about this word. First, it was widely condemned from the 1960s to the 1980s. […]
Second, whatever the merits of those arguments, the battle is now over. Hopefully is now a part of AmE, […]
Third, some stalwarts continue to condemn the word, so that anyone using it in the new sense is likely to have a credibility problem with some readers […]
Fourth, though the controversy swirling around this word has subsided, it is now a skunked term. Avoid it in all senses if you're concerned with your credibility: if you use it in the traditional way, many readers will think it odd; if you use in the newish way, a few readers will tacitly tut-tut you.
Update — readers may appreciate the New Yorker's 3/27/1965 sniff, which anticipates Garner by 40-odd years in suggesting that "It is all over the place and has, we suspect, come into the language":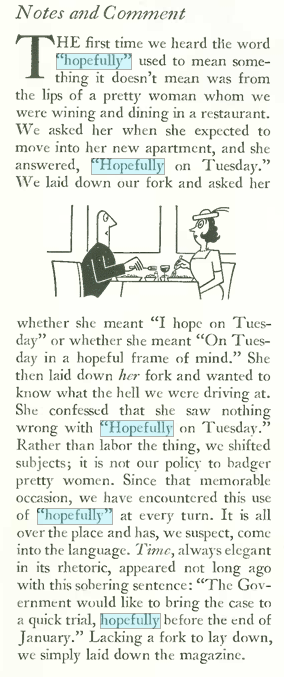 If this was genuinely the writer's first encounter with "'hopefully' used to mean something it doesn't mean", he didn't read Whitney Balliett's "Musical Events" item in The New Yorker of 8/17/1963, which began:

The crucial phrase:
Regrettably, the banks and tributaries of the mainstream are (to hopefully exhaust the metaphor) strewn with wreckage — musicians who have sunk or run aground or been carried up side streams, because of navigational errors or because of the winds of fashion.
---