« previous post | next post »
Noam Chomsky in the Guardian uses 'anticipate' to mean 'expect'. I thought language was his thing.

— Daniel Hannan (@DanHannanMEP) May 1, 2012
Daniel Hannan is both a writer for The Telegraph and also Conservative MEP for South East England; and what he's complaining about is this passage (from "What next for Occupy?", The Guardian 4/30/2012):
But a lot of [the response], again, is just, "Why don't they go away and leave us alone?" That's to be anticipated.

Tom Chivers explains the matter further ("Expecting the misuse of the word 'anticipate': the real rules of the English language", The Telegraph 5/2/2012):
My colleague Daniel Hannan caught the great linguist and philosopher Noam Chomsky out in an error yesterday. Not an error of fact or judgment, although Chomsky is certainly capable of those (Steven Pinker, in The Blank Slate, points out several, largely related to Chomsky's innocence of evolutionary biology). No: Dan points out that Chomsky used "anticipate" when he meant "expect" in an article for The Guardian. "I thought language was his thing", Dan said on Twitter, pointedly.
It's pleasing to see that Dan has internalised the Telegraph Style Guide so well. The hallowed tome declares:
anticipate is not a synonym for expect; it conveys the meaning of acting in expectation of an event. A reporter who expects to be sent to Africa may anticipate the assignment by buying tropical clothes. A couple who anticipate marriage may, for instance, open a joint bank account.
The Telegraph is, of course, entitled to constrain its employees as it sees fit. But in the English language at large, anticipate has been used at least since the middle of the 18th century in a sense that the OED glosses as "To look forward to, look for (an uncertain event) as certain", which seems to fit Chomsky's usage exactly.
Some examples from notable writers of the 19th century:
Benjamin Disraeli, Vivian (1826):
Vivian made his escape; and Beckendorff, pitying his degeneracy, proposed to the Prince, in a tone which seemed to anticipate that the offer would meet with instantaneous acceptation —double dumbmy;—this, however, was too much.
("Double dumbmy" is an archaic spelling for "double dummy", which in turn is a form of whist "in which two 'hands' are exposed, so that each of the two players manages two 'hands'".)
Thomas Carlyle, Sartor Resartus (1834):
For us, aware of his deep Sansculottism, there is more meant in this passage than meets the ear. At the same time, who can avoid smiling at the earnestness and Boeotian simplicity (if indeed there be not an underhand satire in it), with which that 'Incident' is here brought forward; and, in the Professor's ambiguous way, as clearly perhaps as he durst in Weissnichtwo, recommended to imitation! Does Teufelsdröckh anticipate that, in this age of refinement, any considerable class of the community, by way of testifying  against the 'Mammon-god,' and escaping from what he calls 'Vanity's Workhouse and Ragfair,' where doubtless some of them are toiled and whipped and hoodwinked sufficiently,— will sheathe themselves in close-fitting cases of Leather? The idea is ridiculous in the extreme.
John Stuart Mill, "Tennyson's Poems" (1835):
Our first specimen, selected from the earlier of the two volumes, will illustrate chiefly this quality of Mr. Tennyson's productions. We do not anticipate that this little poem will be equally relished at first by all lovers of poetry: and indeed if it were, its merit could be but of the humblest kind; for sentiments and imagery which can be received at once, and with equal ease, into every mind, must necessarily be trite. Nevertheless, we do not hesitate to quote it at full length.
Charlotte Brontë, Shirley (1849)
Thirdly, he had found Robert himself a sharp man of business. He saw reason to anticipate that he would in the end, by one means or another, make money; and he respected both his resolution and acuteness; perhaps, also, his hardness.
Charles Dickens, The Personal History of David Copperfield (1850):
"Well! They must be paid," said my aunt.
"Yes, but I don't know when they may be proceeded on, or where they are," rejoined Traddles, opening his eyes; "and I anticipate, that, between this time and his departure, Mr. Micawber will be constantly arrested, or taken in execution."
Charles Darwin, The Origin of Species (1859):
From looking at species as only strongly-marked and well-defined varieties, I was led to anticipate that the species of the larger genera in each country would oftener present varieties, than the species of the smaller genera; for wherever many closely related species ( i. e . species of the same genus) have been formed, many varieties or incipient species ought, as a general rule, to be now forming. Where many large trees grow, we expect to find saplings.
H. Rider Haggard, She (1887):
We are for reasons that, after perusing this manuscript, you may be able to guess, going away again, this time to Central Asia where, if anywhere upon this earth, wisdom is to be found, and we anticipate that our sojourn there will be a long one. Possibly we shall not return.
And also John Henry Newman, John Ruskin, Sir Walter Scott, Anthony Trollope, and many others.
Chomsky's specific phrase "That's to be anticipated" has been anticipated many times in reputable publications. Thus the (London) Times for June 3, 1847: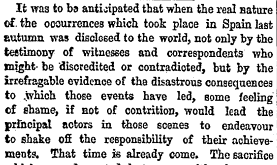 So this feature of the Telegraph's Style Guide is pure prescriptivist poppycock, a typically ignorant and philistine rejection of more than a century of elite usage. Where did it come from? Merriam-Webster's Dictionary of English Usage explains the (all too typical) history:
The original objection seems to have been made by Ayres 1881. Ayres decided that certain examples he had collected meant "expect" and were wrong. To prove his contention, he points to the etymology of the word and a number of different definitions presumably taken from an unnamed dictionary, none of which is "expect." This is merely a game being played with the words that have been used to define anticipate; nothing whatsoever has been proved. But no matter.
The cited source is Alfred Ayres, The Verbalist: A Manual Devoted To Brief Discussions Of The Right And The Wrong Use of Words; And To Some Other Matters Of Interest To Those Who Would Speak And Write With Propriety. This little book is full of wonderful nuggets of nonsense, such as the recommendation to use "anybody's else" in place of "anybody else's":
It is better grammar and more euphonious to consider else as being an adjective, and to form the possessive by adding the apostrophe and s to the word that else qualifies; thus, anybody's else, nobody's else, somebody's else.
Considering his evident impact on journalistic style guides and Conservative Members of Parliament, it's a sad fact that Alfred Ayres apparently has no Wikipedia page. (Update — "Alford Ayres" was the pen name of Thomas Embly Osmun, who also lacks a Wikipedia entry.)
[I should note that Tom Chivers' article, once you get past its tongue-in-cheek beginning, is generally sensible, if perhaps a bit cautious about his publication's style guide; the poppycock in question belongs to Mr. Hannan's tweet.]
---