« previous post | next post »
Banner headline in this morning's Daily Pennsylvanian: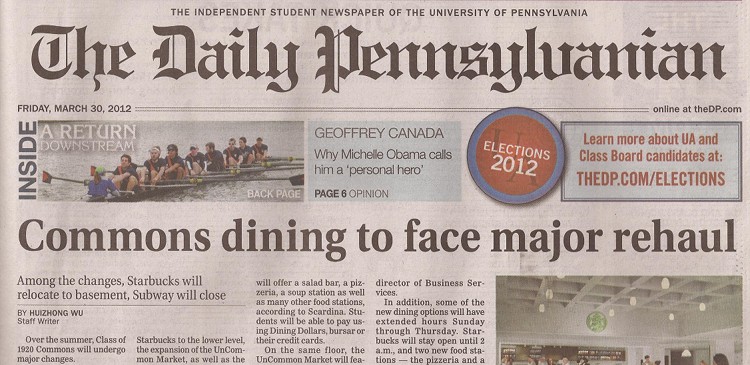 My first thought was that the word rehaul in the headline was a novel blend of overhaul with some amalgam of rehab, remodeling, repair, renewal, etc. But the OED tells us that rehaul as a substitute for overhaul has been around for a while:
1895 Belfast News-let. 27 June 3/3   The Ailsa [sc. a yacht] is now undergoing a rehaul in Messrs. A. & J. Inglis's yard.
1906 Salt Lake Tribune 23 June 7/3   The three courts at the club have been undergoing a rehaul and are now in first-class condition.
1985 Amer. Jrnl. Nursing 85 924/1   A coalition of 17 Ohio nursing groups goes for a top-to-bottom rehaul of the nurse practice act.
1995 Boston Globe (Nexis) 19 Oct. 61   Artisans and workers have spent the past seven weeks‥giving the 1,600-seat Boylston Street theater its first major rehaul.
2006 L. M. Alcoff Visible Identities 199   The complete elimination of gender would require a radical rehaul of biological reproduction.
For a slightly more recent citation in a major publication, see Ginia Bellafante, "The Return of 'Jon & Kate': Sub-Zero Days", NYT 8/4/2009:
Earlier this year, the Gosselins, who because of the show get seemingly everything for free, were offered a kitchen renovation for which they were asked to pay nothing. They proceed with it even though they won't be sharing the range, maybe thinking that because renovations can lead to divorces anyway, you might as well do them when you're already split up. Instead of just admitting the kitchen rehaul will add to their property value (presumably the couple still owns the house together), they file the need for it under the rubric that it will be best for the children, as if children reach their maximum potential in proximity to a Sub-Zero.
I'm pretty sure that I haven't encountered rehaul before. It's plausible that I haven't, since it doesn't occur in the 425 million words of the COCA corpus, and it occurs 195 times in the 155 billion words of the Google books corpus, suggesting a frequency of roughly one per billion words. Furthermore, the majority of the Google books hits seem to be references to lumbering devices called "rehaul skidders" and "rehaul lines", which are not really relevant in this context.
So my guess is that many if not most of the occasional appearances of rehaul = overhaul are in fact novel blends, created anew on each occasion. What makes this interesting is that it's not an example of standard English derivational morphology, but rather some kind of quasi-regular combination of the re- that means "back or again" with a version of -haul (from overhaul) interpreted as meaning something like "construct" or "build".
---