« previous post | next post »
Under the rubric "Kerning 101: I rest my case on the importance of spacing", Toni Tan, Director of Cambria Press, sent me this photograph: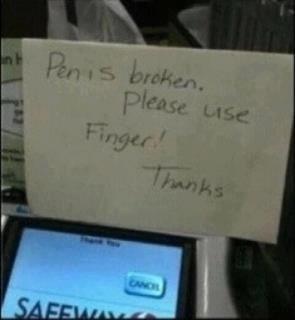 The source of the photograph is the Facebook feed of Star Trek's George Takei. One of his fans sent it to him.
Truly,
"Beneath the rule of men entirely great,
The pen is mightier than the sword."
Edward George Earle Lytton Bulwer-Lytton (1803–1873), he who penned the most (in)famous opening line in literature: "It was a dark and stormy night", and who also gave us such immortal phrases as "pursuit of the almighty dollar" and "the great unwashed".
Except when the pen|is broken, in which case you'll just have to use your finger (or your sword, if you have one).
---