« previous post | next post »
From E.W. Scripture's 1925 obituary in Nature for L'abbé P.-J. Rousselot:
In 1897, G. Paris and Breal succeeded in founding a laboratory of experimental phonetics at the College de France ; it was annexed to the chair of comparative grammar (Breal) and Rousselot was made its director. In opening the laboratory, Prof. Breal did not hesitate to declare that " the moment has arrived when one could no longer think of phonetics as anything else than experimental " ; he proclaimed that from now onward" it would be necessary to collect facts instead of announcing a priori principles."
In this heroic age, the Abbe and his pupils worked with insatiable ardour at inventing apparatus, developing methods, and collecting facts. They had to face the opposition of the whole world of linguists, grammarians, and philologists, but with ready pens they fired their bombs of explosive facts at the army of opinion and guesswork.
Edward Wheeler Scripture himself was apparently not averse to intellectual bomb-throwing:
Scripture was fired from Yale in 1903, in a dispute with the chair of the department, George Trumbull Ladd (see Seashore's description of the difficulties between these men in Murchison's Biography-History of Psychology in Autobiography, Vol 3, 1930). The disagreements originated from the philosophical differences between Ladd, who subscribed to what Scripture called "armchair psychology" and Scripture who led the "new science" movement in which experiments were the only definition of the science. Ladd also was let go (given early retirement) by Yale's president because of the conflict with Scripture.
As the NYT explains ("Change in Chairs at Yale", 9/4/1903), the department in question was named "Mental Philosophy":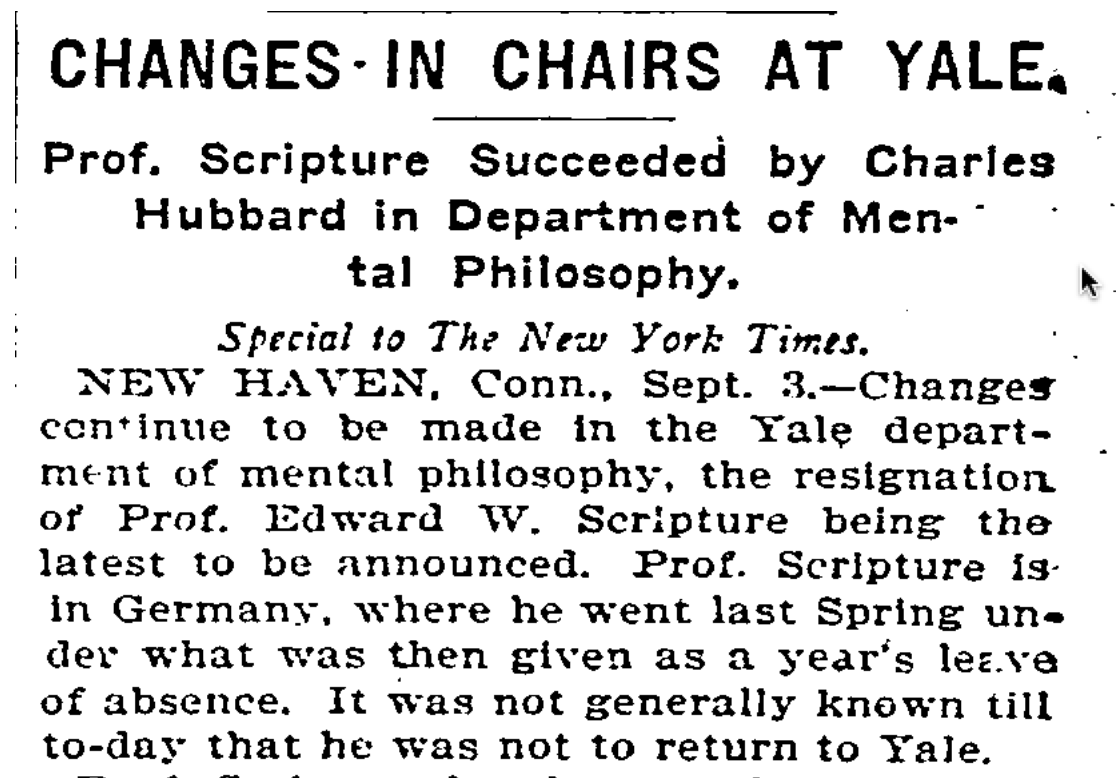 Scripture's next steps indicated a certain freedom from the hobgoblins of consistency:
After the debacle at Yale, Scripture and his wife returned to Germany for further study. While there, he was psychoanalyzed by a Vienna-trained psychoanalyst.
In 1906, Scripture returned to America, and in 1915 he took an academic position at Columbia University. There he and May Kirk Scripture started a neurology laboratory and speech clinic associated with the Vanderbilt Clinic at the Columbia Medical Center. He combined psychoanalytic theory with exercise approaches to the correction of speech problems.
---