« previous post | next post »
Or maybe it should be the sound pattern of architecture? Anyhow, Ariel Goldberg sends this interesting demonstration of the fact that Google Books still sometimes gets jiggy with its category choices: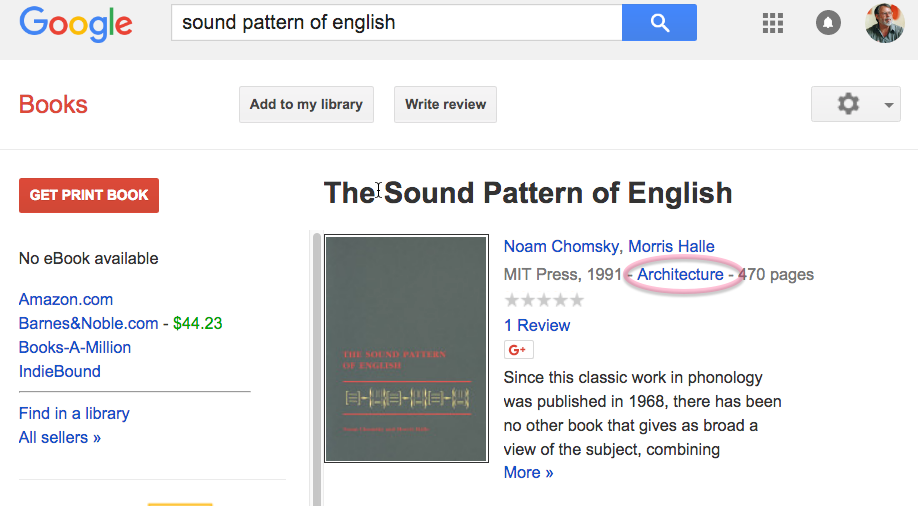 Things have gotten better — though maybe less poetic? —  since Geoff Nunberg pointed out ("Google Books: A Metadata Train Wreck", 8/29/2009) that
William Dwight Whitney's 1891 Century Dictionary is classified as "Family & Relationships," along with Mencken's The American Language. A French edition of Hamlet and a Japanese edition of Madame Bovary both classified as "Antiques and Collectibles." An edition of Moby Dick is classed under "Computers": a biography of Mae West classified as "Religion"; The Cat Lover's Book of Fascinating Facts falls under "Technology & Engineering." A 1975 reprint of a classic topology text is "Didactic Poetry"; the medievalist journal Speculum is classified "Health & Fitness." […]
Of the first ten hits for Tristram Shandy, four are classified as fiction, four as "Family & Relationships," one as "Biography & Autobiography," and one is not classified. Other editions of the novel are classified as "Literary Collections," "History," and "Music." The first ten hits for Leaves of Grass are variously classified as "Poetry," "Juvenile Nonfiction," "Fiction," "Literary Criticism," "Biography & Autobiography," and mystifyingly, "Counterfeits and Counterfeiting."
Various editions of Jane Eyre are classified as "History," "Governesses," "Love Stories," "Architecture," and "Antiques & Collectibles" ("Reader, I marketed him").
---