« previous post | next post »
Listen to this 3-second audio clip, and think about what you hear:
What I hear:
| | | |
| --- | --- | --- |
| Speaker1: | On the last day that I was there like it was so awful be | cause |
| Speaker2: | | Boy, |
(FWIW, I also hear Speaker2 sniffing before she chimes in.)
I'm less interested, right now, in the fact that I can understand the words spoken by both participants, and more interested in the fact that I can tell that there are indeed two speakers, and that the second speaker chimes in briefly at the end, for one syllable about a quarter of a second long. And I'm wondering whether this points to a missing piece in the recent history of psycholinguistics.
Over the past couple of weeks, I've spent quite a few hours helping to prepare material for the first DIHARD Speech Diarization Challenge, to be discussed in a special session at InterSpeech 2018. "Diarization" is the task of figuring out who spoke when in audio (or multimedia) recordings, and my preparation and checking of diarization data has included thousands of repetitions of the type of speaker-change detection represented by listening to that short clip.
As last summer's SALT workshop emphasized, automated diarization remains a difficult problem, so far unsolved in the general case. (See "Too cool to care", 8/12/2017, for some illustrative examples.) But there are some diarization-like problems that computers are better at than people are. For example, if a recording is accurately divided into single-speaker segments, and if there is a complete or nearly-complete inventory of speakers with a moderate amount training material for each of them, then accurate assignment of segments to speakers has been possible for some time. See e.g.  Jiahong Yuan and Mark Liberman, "Speaker Identification on the SCOTUS Corpus", Acoustics 2008 — the background of that project is sketched in "NPR: oyez.org finishes Supreme Court oral arguments project", 4/13/2013.
A task of this type is generally hard for us humans to do, unless we're familiar with most if not all of the speakers — the reason that Jerry Goldman recruited Jiahong Yuan and me to work on SCOTUS speaker ID, almost 20 years ago, was that his student transcribers were having a very hard time learning to assign turns to speakers accurately in the oral-argument recordings.
But if the number of speakers is unknown, there is no prior training material, and speech segments involving overlapping or contiguous speaker changes are not divided into single-speaker segments, the automated diarization problem becomes much harder.
And when the speaker inventory is unknown, automated systems are similarly not very good (for example) even at deciding whether two arbitrary single-speaker segments are from the same speaker or different speakers. In an experiment that participants from JHU ran at last summer's workshop, comparing all pairs of speaker segments longer than three seconds taken from meetings in the AMI development corpus, the Equal Error Rate for a state-of-the-art speaker ID system in answering the question "same or different speaker" was between 17.5% to 30.2%, depending on choice of microphones and training techniques. And they limited the segment sizes to three seconds and up, because they knew that the error rate on shorter segments would be significantly higher, approaching chance levels — although such shorter segments are often a majority in interactive conversation. (In Supreme Court oral arguments, 74% of all speaker segments, defined as single-speaker stretches of speech separated by silent pauses longer than 200 milliseconds, are less than three seconds long; in ADOS (clinical) interviews, 94% of such speaker segments are less than 3 seconds long.)
But my experience with the DIHARD data prep underlined for me that there's one aspect of the general problem that we humans are good at: speaker change detection. Listening to single-channel recordings of multiple-speaker interactions, it's almost always obvious within a syllable or two when a change of speakers occurs, even for short clips taken out of context.
To illustrate the point, here are a few short clips from various sources taken out of context. In each case, there's a change of speakers within one or two syllables of the start or end of the selection — and I think you'll find that the change points are perceptually obvious.
| | |
| --- | --- |
| (1) | Your browser does not support the audio element. |
| (2) | Your browser does not support the audio element. |
| (3) | Your browser does not support the audio element. |
| (4) | Your browser does not support the audio element. |
There's a substantial speech-technology literature on "speaker change detection". As far as I can tell, there's no standard test corpus and no standard evaluation metric, so it's hard to compare results across publications, but overall performance seems to be (unsurprisingly) rather poor.
Thus in J. Ajmera et al., "Robust speaker change detection", IEEE Signal Processing Letters 2004, the authors' contribution (the "Proposed" method) has a recall rate 0f 65%, with precision of 68%: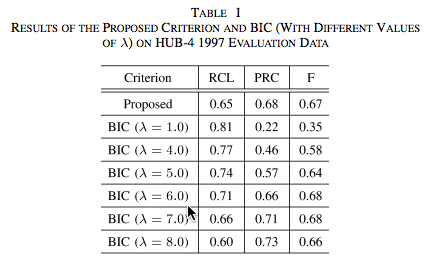 In other words, it misses 35% of the speaker change points, and 32% of its proposed speaker change points are false.
In a more recent paper using the currently fashionable type of algorithm (Vishwa Gupta, "Speaker change point detection using deep neural nets", IEEE ICASSP 2015), performance remains distinctly underwhelming.
They trained and tested their system on both English and French datasets. In English, depending on how they set the "confidence threshold", performance ranged between missing 11% of speaker changes with nearly 30 false alarms per minute (one every two seconds), and missing 43% of speaker changes with nearly 10 false alarms per minute (one every six seconds):

The performance in French is significantly worse — according to the authors, "The French dev set is more difficult than the English test set as it contains both broadcast news and talk shows", which have shorter turns and more overlapping speech:


Practical experience tells us that speaker-change detection is a very easy task for human annotators — they rarely make a mistake, if they're paying attention. And as the samples above suggest, we need only a single syllable  on one side of the change to hear the change. Based on a bit of informal exploration, I believe that this remains a fairly easy task even for conversation in a language unknown to the hearer. But I haven't been able to find any research that quantifies human performance on speaker-change detection, whether in known or unknown languages.
There's a bit of literature on cortical localization of some of the perceptual mechanisms involved — e.g. J.D. Warren et al., "Human brain mechanisms for the early analysis of voices", NeuroImage 2006, or Mesgarani and Chang, "Selective cortical representation of attended speaker in multi-talker speech perception", Nature 2012. But I could find nothing to validate (or refute) my belief that we're very good at speaker-change detection in languages we know, and pretty good at the same task even in languages we don't understand at all. If you know of any relevant research, please tell us in the comments.
So it might be useful to define some standard test datasets, and a quantitative evaluation metric, so that we can determine what human performance really is and how well our computer algorithms do in comparison. If I'm right that humans are very good at tasks of this type, that establishes a lower bound on how well computers ought to be able to do. And if I'm right that current algorithms are pretty terrible at tasks of this type, we've got an interesting challenge ahead of us.
Update — As anecdata in support of my belief that human speaker change detection doesn't necessarily depend on knowing the language in question, here are two examples from languages that I don't know. In each case I found an interview on YouTube, started listening in the middle, and took the first case where a change of speakers takes place without a silent pause.
---