« previous post | next post »
It is asserted that the following passage contains an elementary grammatical error:
When I called to see her in June, 1842, she was gone a-hunting in the woods, as was her wont (I am not sure whether it was a male or female, and so use the more common pronoun), but her mistress told me that she came into the neighborhood a little more than a year before, in April, and was finally taken into their house; that she was of a dark brownish-gray color, with a white spot on her throat, and white feet, and had a large bushy tail like a fox; that in the winter the fur grew thick and flatted out along her sides, forming stripes ten or twelve inches long by two and a half wide, and under her chin like a muff, the upper side loose, the under matted like felt, and in the spring these appendages dropped off. [Henry David Thoreau, Walden; or, Life in the Woods, 1854.]
The same error, we're told, can be found in the following quotations:
Being asked, Whether it was the general opinion of the settlement? he said, He cannot say that it was the general opinion, but it was the opinion of a considerable part of the settlement. [Edmund Burke, "Speech on Nabob of Arcot's Debts", 2/28/1785.]
Whether it was worse to stay with my co-inmates, or to sit alone, I had not considered. [Charlotte Bronte, Villette, 1853.]
Charlotte thought her very strange-looking and singularly dressed; she could not have said whether it was well or ill. [Henry James, The Europeans, 1878.]
Whether it was that they naturally liked that noise, or whether it was that they had learned to like it by getting used to it, I did not at that time know; but they did like it, — this was plain enough. [Mark Twain, A Tramp Abroad, 1880.]
Poland, Roumania, Finland, and the three Baltic States did not know whether it was German aggression or Russian rescue that they dreaded more. [Winston Churchill, The Gathering Storm, 1948.]
Americans gravely asked themselves whether it was right to cast away any of their own severely-limited resources to indulge a generous though hopeless sentiment. [Winston Churchill, Their Finest Hour, 1949]
The constitutional guarantees require, we think, a federal rule that prohibits a public official from recovering damages for a defamatory falsehood relating to his official conduct unless he proves that the statement was made with "actual malice" — that is, with knowledge that it was false or with reckless disregard of whether it was false or not. [William J. Brennan, Opinion of the Court in New York Times Co. v. Sullivan 376 U.S. 254 (1964).]
[O]ur Nation has a longstanding history of laws prohibiting sodomy in general — regardless of whether it was performed by same-sex or opposite-sex couples. [Antonin Scalia, Dissent in Lawrence v. Texas (02-102) 539 U.S. 558 (2003).]
By now, you should have figured out what the error is supposed to be, purely on the basis of string-matching in the alleged instances of it — but here's the original complaint, from Eugene Volokh's post "If Only There Were No Assertionism", 10/22/2011:
I started my post with, "A student saw 'wilful' used in an opinion, and asked whether it was a typo." A commenter then responded that the sentence
does not conform to proper English usage. The "whether" indicates that what follows is speculative, requiring that the verb be rendered in the subjunctive mood. "Was" is always indicative.
And the commenter then gave several assertedly "proper renderings of the sentence," the first of which was:
A student saw "wilful" used in an opinion, and asked whether it were a typo.
The grammatical issue in question is the use of were with first- or third-person subjects, which CGEL prefers to call "irrealis" rather than "subjunctive" for reasons explained by Geoff Pullum in "Real debate about unreal worlds", or in his comment on a post in 2004:
People often call the "were" of "I wish I were" subjunctive, but that term is much better used (as in The Cambridge Grammar of the English Language) for the construction with "be" seen in "I demand that it be done." The "were" form is often wrongly called a past subjunctive, but of course "it were done" is not a past tense of "it be done". The difference between the two is that the subjunctive construction occurs with any verb: "I demand that this cease" is a subjunctive (notice "this cease", not "this ceases"). The relic form in "I were" is only available for "be". For all other verbs you use the preterite: "I wish I went to New York more often." The Cambridge Grammar calls the "were" form the irrealis form. It is surviving robustly in expressions like "if I were you", but even there it has a universally accepted alternate "if I was you", and there is no semantic distinction there to preserve.
CGEL explains (p. 88) that
… irrealis were is an unstable remnant of an earlier system — a system which has otherwise been replaced by one in which the preterite has expanded its use in a such a way that it now serves to express modal remoteness as well as past time.
CGEL goes on to list four contexts where irrealis were remains in (optional) use: remote conditionals; the complement of wish; the complement of would rather; the complement of it (be) time.
Note that ask whether is not in this list — and in fact my own judgment is that the use of irrealis were in contexts like
?He asked whether it were a typo.
is not even grammatical, much less required, in contemporary formal written English — though I have less trouble when the same phrase uses ask if:
He asked if it were a typo.
However, unlike Eugene's correspondent, I don't take my own prejudices for gospel truth, so I thought that I'd check. In the Corpus of Contemporary American English, there are 92 occurrences of the pattern
[ask] whether I|it|he|she was
compared to two hits for the pattern
[ask] whether I|it|he|she were
The two examples of "were" strike me as acceptable (though perhaps only because they are complex enough that I lose track of whether they involve ask whether or ask if):
Asked whether she were pursuing such a change in the contract under negotiation with the union, Rhee declined to comment.
He asked whether I were not some "displaced uppercrust Englishwoman," because my accent struck him that way.
So I withdraw my assertion that irrealis were is never grammatical in the complement of ask whether — but I continue to think that it sometimes isn't, as in the original example, and that it's definitely not preferred.
And this is not a recent development. Here's a graph showing a two-century history of was/were mindshare in the complement of ask whether, according to the Google Books n-gram dataset: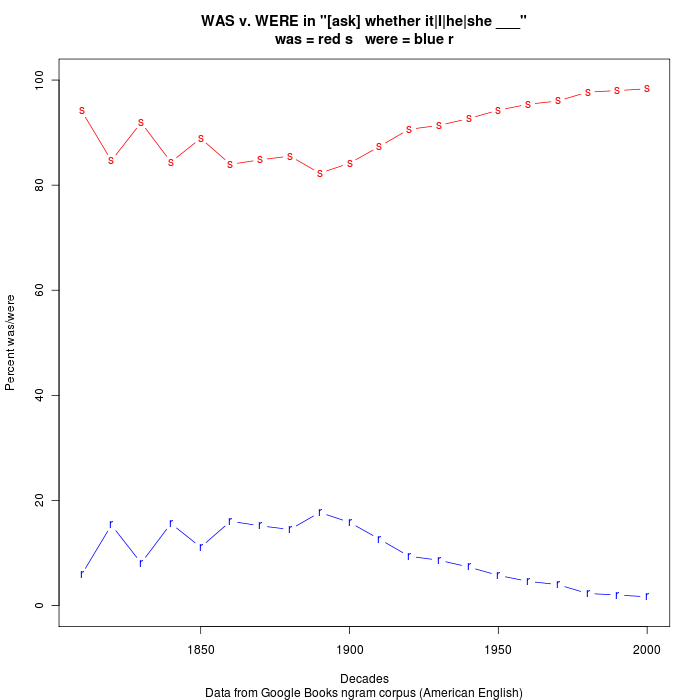 This gives essentially the same result for recent material as the COCA corpus does — 92 to 2 is 97.9% was; 3,555 to 60 is 98.3% was.
The quotations with which we opened this post show that esteemed writers over past couple of centuries have often used was to indicate modal remoteness after whether. It's worth noting that these authors — and others like them — consistently preferred was to were in such cases. The pattern with ask whether is not common enough to use for investigation of the practices of individual authors, but the strings "whether it was" and "whether it were" will do as a proxy:
whether it was
whether it were
The Bronte sisters
24
12
Charles Dickens
184
16
Anthony Trollope
106
8
Mark Twain
17
1
Winston Churchill
(Speeches and WWII History)
14
0
Literature Online
(Prose published 1477-2011)
2137
645
There is little reason to believe that the original commenter will be persuaded by this compilation of evidence. He has continued to maintain his assertion in the comments at the Volokh Conspiracy and now here on Language Log, in the face of a less concentrated but still considerable dose of facts. As far as I can tell, his only argument in favor of his view is to repeat his original contention that ask whether ___ is "speculative" and therefore requires the "subjunctive"; and his only argument against the various quotations indicating the contrary is that the authors are not Ronald Reagan, nor George Will, nor his father, and that he would not hire them.
In fact, he's playing his role so perfectly that I half-suspect him of having been engaged as a shill to illustrate Eugene Volokh's point:
Usage X is wrong, they say. Why? Because it violates this rule. What's your authority for the proposition that this is a rule? Well, it violates the rule.
No doubt he will continue to play his appointed part in the comments below, as he has ably done in the past.
[For a history of what usage authorities from Noah Webster to the brothers Fowler and H.L. Mencken have had to say on the subject, as well as some additional historical perspective, see the entry for subjunctive in MWDEU, which covers both what CGEL calls subjunctive and what it calls irrealis were.]
---