« previous post | next post »
From Bill Robertson:
I'm reading my new copy of Soonish and came across a reference to air quotes and I got to wondering about the meme. I remember using them at least 30 years or more ago, entirely un-ironically. How does one go about looking up the history of such a thing? How would you reconcile the discoverable print references to its presumably earlier emergence as a metalinguistic thing in itself? At what point do the words, "air quotes" show up to stand for actual physically-performed "Air Quotes"?
The OED's gloss for "air quote" incorporates the connotation of irony:
n. orig. U.S. (usually in pl.) a pair of quotation marks gestured by a speaker's fingers in the air, esp. to indicate that what is being said is ironic, mocking, or disingenuous, or is not a turn of phrase the speaker would typically employ.
But the OED's entry also gives evidence that some people were miming two-fingered quotes in the air more than 90 years ago (though this seems to be a slightly different version of the gesture):
[1927   Science 8 July 38/2   Some years ago I knew a very intelligent young woman who used to inform us that her 'bright sayings'..were not original, by raising both hands above her head with the first and second fingers pointing upward. Her fingers were her 'quotation marks' and were very easily understood.]
The OED's earliest actual "air quotes" citation is from 1989, and supports the "ironic, mocking, or disingenuous" connotation:
1989   Spy Mar. 94/1   When Bob and Betty describe themselves in these ways, they raise the middle and forefingers of both hands, momentarily forming twitching bunny ears—air quotes, the quintessential contemporary gesture that says We're not serious.
A bit of web search turned up an example from 1987 — Frazier Moore, "Conan better than Chevy after month", AP 3/24/1987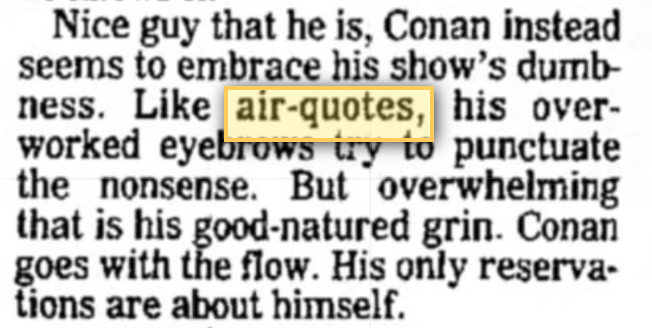 And another example from 1989 — Charles Brenner, "Caught in the grip of the smirk", The Times (London) 6/10/1989:
America is in the grip of the smirk, a relentless need to mock. From Manhattan dinner parties to the groves of Midwestern academe, they are dissecting this strange Zeitgeist of the late 1980s, usually tracing its origin to a moral drift, a pervading sense of cynicism or the 'post-modernist' sensibility. […]
Echoing the world of 'info-tainment', the whole of young America seems to have adopted the irony idiom. Listen to a group of teenagers and you get the impression they are spending all their time quoting. A trademark of the new youthspeak is the 'air-quote' a gesture of two raised fingers which insert quotation marks before and after a phrase, as in: 'Hey, this guy's, like (air quotes) totally excellent (close air quote).'
Interestingly, the two 1989 examples feel the need to explain the gesture, whereas the 1987 example just uses it.
Anyhow, the way it looks to me is that people have been miming quotation marks via hand gestures for a long time — at least a century. It's not clear to what extent this was independent invention as opposed to cultural transmission. And for at least 50 years, and probably more, quotation marks have been used in print as a distancing device. Thus the OED's gloss for "scare quotes" is
n. quotation marks used to foreground a particular word or phrase, esp. with the intention of disassociating the user from the expression or from some implied connotation it carries.
with citations from 1956 onward:
1956   Mind 65 3   The 'scare-quotes' are mine; Aristotle is not overtly discussing the expression 'whichever happens'.
1960   P. T. Geach in M. Brand Nature of Human Action (1970) 119   Someone..might use 'happy', in scare-quotes so to say, to mean 'what most people count happy, that is rich'.
The term "air quote(s)" itself, and the strong "ironic, mocking, or disingenuous" connotation, seems to have arisen in the mid to late 1980s. The fact that "air quotes" rhymes with "scare quotes" may have played a role in this transition.
By the way, the Soonish air quotes cartoon is this: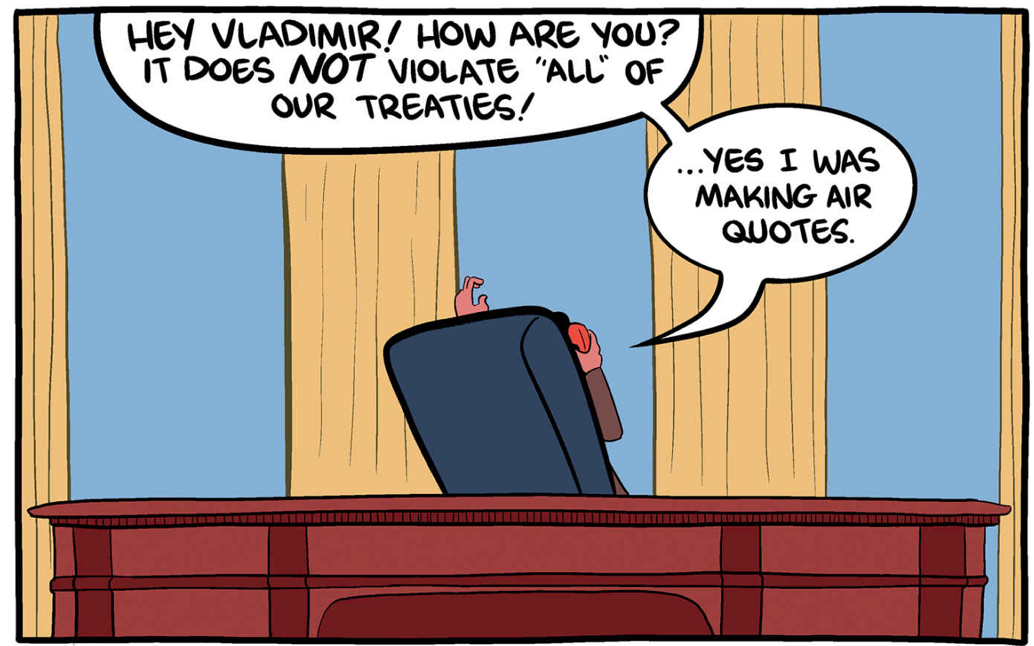 And the context is a discussion of why generating electricity by collecting heat from hydrogen bombs would be problematic:
But there are some problems. First, the container for the bomb would probably not survive the blast, making it hard to capture that energy. Second, even if the container did survive, it'd be incredibly irradiated. Third, if the container were imperfect, you might send a massive cloud of radioactive dust into the atmosphere.* Fourth, the Russian Embassy is calling, and they sound a little irritated on the phone.
Note that in this case the use of air quotes is not "to indicate that what is being said is ironic, mocking, or disingenuous, or is not a turn of phrase the speaker would typically employ", but rather to signal a type of stress and accent on the word "all", part of a larger prosodic pattern indicating that not takes scope over all (so that it's not the case the this power-generation method violates all of our treaties), while all is contrastive (implying that the method does violate some of our treaties). For discussion, see Mark Liberman and Ivan Sag, "Prosodic Form and Discourse Function", 1974.
---