« previous post | next post »
Guoming Zhang et al., "DolphinAttack: Inaudible Voice Commands", arXiv 8/31/2017:
In this work, we design a completely inaudible attack, DolphinAttack, that modulates voice commands on ultrasonic carriers (e.g., f > 20 kHz) to achieve inaudibility. By leveraging the nonlinearity of the microphone circuits, the modulated lowfrequency audio commands can be successfully demodulated, recovered, and more importantly interpreted by the speech recognition systems. We validate DolphinAttack on popular speech recognition systems, including Siri, Google Now, Samsung S Voice, Huawei HiVoice, Cortana and Alexa.
This suggests a more insidious version of the "Two tons of creamed corn" ploy: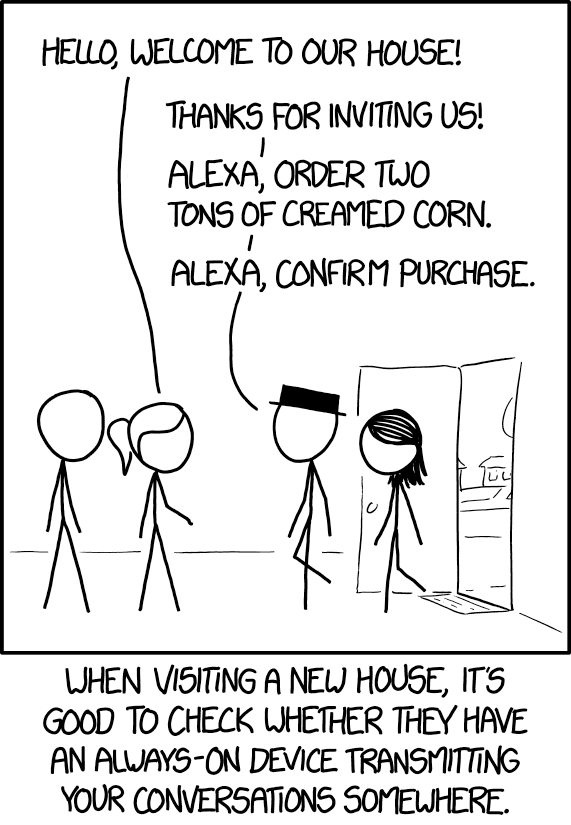 Rather than the creamed-corn scenario, Zhang et al. suggest (and test) the following possible "sneaky attacks":
(1) Visiting a malicious website. The device can open a malicious website, which can launch a drive-by-download attack or exploit a device with 0-day vulnerabilities.
(2) Spying. An adversary can make the victim device initiate outgoing video/phone calls, therefore getting access to the image/sound of device surroundings.
(3) Injecting fake information. An adversary may instruct the victim device to send fake text messages and emails, to publish fake online posts, to add fake events to a calendar, etc.
(4) Denial of service. An adversary may inject commands to turn on the airplane mode, disconnecting all wireless communications.
(5) Concealing attacks. The screen display and voice feedback may expose the attacks. The adversary may decrease the odds by dimming the screen and lowering the volume.
In all of Zhang et al.'s experiments, the maximum effective distance at which various attacks were effective ranged from 2 to 175 cm, and it's not clear that versions of this technique can be made to work under inverse-square attentuation at greater distances, given the presumably low efficiency of the non-linear microphone effects that they're relying on to produce signals in the frequency range appropriate for speech. But still…
---