« previous post | next post »
Yesterday, P.Z. Myers at Pharyngula posted some thoughts on education under the title "A goal to strive for". A zombie commenter promptly reached up through the soil of his gravesite to ask
is this where we snarkily mock PZ for ending the title of this post on education with a preposition?
As the 1995 Merriam-Webster's Dictionary of English Usage notes, in the entry on "Preposition at End",
…recent commentators — at least since Fowler 1926 — are unanimous in their rejection of the notion that ending a sentence with a preposition is an error or an offense against propriety. Fowler terms the idea a "cherished superstition." […] So if everyone who is in the know agrees, there's no problem, right?
Wrong.
Thank you for your reply to my questions but I find it extremely difficult to trust an opinion on grammar prepared by someone who ends a sentence with a preposition.
This is part of a letter received by one of our editors who had answered some questions for the writers. Members of the never-end-a-sentence-with-a-preposition school are still with us and are not reluctant to make themselves known…
Here's a cartoon to introduce a (probably incomplete) list of our posts on the subject: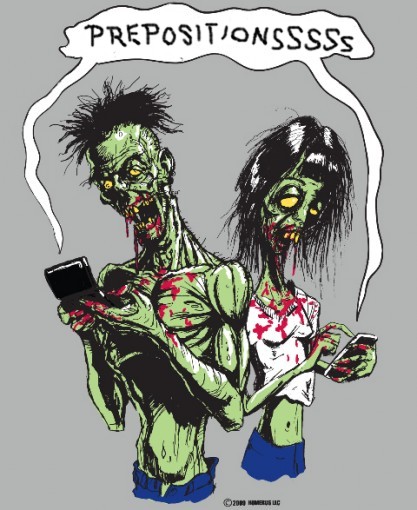 "X nazi", 4/7/2004
"An internet pilgrim's guide to stranded prepositions", 4/11/2004
"A Churchill story up with which I will no longer put", 12/8/2004
"Better a spectacular blunder than a hint of unseemliness", 4/25/2005
"The CliffsNotes version", 6/10/2005
"If we look, simply, to the French", 6/29/2005
"Avoidance", 7/5/2005
"New Yorker search engine stark staring mad", 9/20/2005
"Churchill vs. editorial nonsense", 11/27/2005
"18th-century grammarians vs. Shakespeare et al.", 9/9/2006
"Hot Dryden-on-Johnson action", 5/1/2007
"Forgive me, awful poet", 5/2/2007
"Prepositional anxiety and Voldemort's wand", 8/25/2007
"When Zombie Rules attack", 8/26/2008
" Also, check the back seat", 11/7/2009
"'Latin-obsessed 17th century introverts'?", 8/26/2010
"You can get preposition stranding right to start with", 10/3/2010
"Lady Bracknell strands even adjunct prepositions", 11/3/2010
Warning: Before commenting, please read "Boring preposition jokes: New termination policy", 10/4/2010.
---