« previous post | next post »
The last three panels of Dumbing of Age for 8/10/2017, featuring Danny and Sal: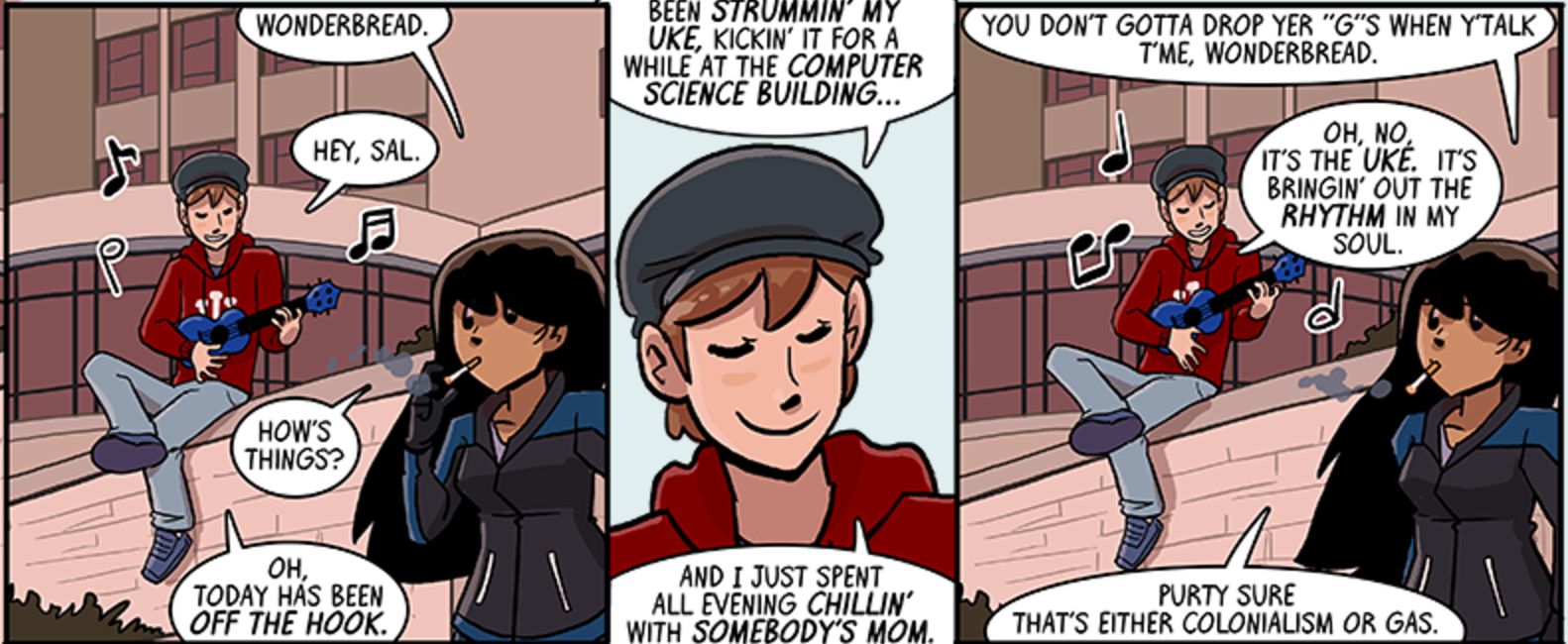 Mouseover text: "They have a similar smell."
What I wrote about g-dropping a dozen years ago ("The internet pilgrim's guide to g-dropping", 5/10/2004):
In fact, there is no "g" involved at all, except in the spelling. Final -ng (in English spelling) stands for a velar nasal, which is written in the International Phonetic Alphabet as an "n" with a hook on its right leg: [ŋ], a symbol called "eng." The final -n' in spellings like openin' stands for a coronal nasal, which is written in IPA with an ordinary "n": [n]. In IPA, opening is written as [ˈopənɪŋ], while openin' is written as [ˈopənɪn]. The only difference in pronunciation is whether the final nasal consonant is velar (made with the body of the tongue pressed against the soft palate) or coronal (made with the blade of the tongue pressed against the ridge behind the front teeth).
Thus is "g-dropping" nothing is ever really dropped — it's just a question of where you put your tongue at the end of the word.
Not all words ending in [ŋ] are candidates for g-dropping. English doesn't have a general alternation between final velar and coronal nasals: boomerang does not become boomeran', and ring does not become rin'. We are only talking about unstressed final -ing at the ends of words. In some dialects, g-dropping applies only to the inflectional suffix -ing (as in present participles such as trying), and not in words such as wedding or morning.
Historically, g-dropping is actually a more conservative pattern. The English present participle suffix was originally pronounced with a coronal, not a velar nasal: in early middle English, this inflection was -inde or -ende. There was a derivational ending -ung for making nouns out of verbs, which produced words like present-day "building." These eventually merged into the modern -ing suffix. In 19th- and early 20th-century England, the g-dropping pattern (which really was the "not g-adding pattern") marked the rural aristocracy as well as the lower classes.
The [iŋ] pronunciation for -ing, established  as the (London?) middle-class standard only a couple of hundred years ago, has become a remarkably stable marker of standard speech across the English-speaking world. The [in] pronunciation has been retained by certain regional varieties, and by lower-SES styles elsewhere — but almost everyone exhibits variable usage depending on style and context. See e.g. "Empathetic -in'", 10/18/2008, or this plot from Labov 1969:
So Sal is being somewhat unfair to Danny, who might very well have grown up in a g-dropping milieu depending on his geographic and socio-economic origins, and in any case would naturally exhibit a higher rate of g-dropping in a more relaxed setting.
---