« previous post | next post »
Driving on I-91N between New Haven and Hartford a couple of days ago, I saw this sign describing one of the exits:
Permitted loads are not allowed on Route ___.

At least that's what I think it said. According to Michael Quinion's World Wide Words (4/16/2011):
Gordon Drukier noted that new signs have appeared In the past few months on the approaches to State Route 3 from Interstate 91 in Connecticut. These warn: ROUTE 3 NO PERMITTED LOADS ALLOWED
I suspect that Mr. Drukier's attention and memory were better than mine, but I haven't been able to find a picture to verify either version.
Arnold Zwicky discussed a similar sign in California last year, and linked to a picture of a variant formulation "No permitted trucks allowed". Even without Arnold's explanation, you've probably figured out that a "permitted load" is (or sometimes can be) a load that has been granted a permit, because it's too big or too heavy to be transported legally without one. In other words, a "permitted load" is a load that is forbidden unless it is permitted.
You'd think that they could find a less ambiguous term. But as Geoff Pullum put it,
Languages love multiple meanings. They lust after them. They roll around in them like a dog in fresh grass.
In my experience, dogs are driven to roll around in fresh animal droppings more than in fresh grass; but perhaps this improves the simile for those who find ambiguity vaguely unclean.
Update — Paul Ellis supplied a picture of what was probably the sign that I saw, and certainly the sign that Gordon Drukier saw: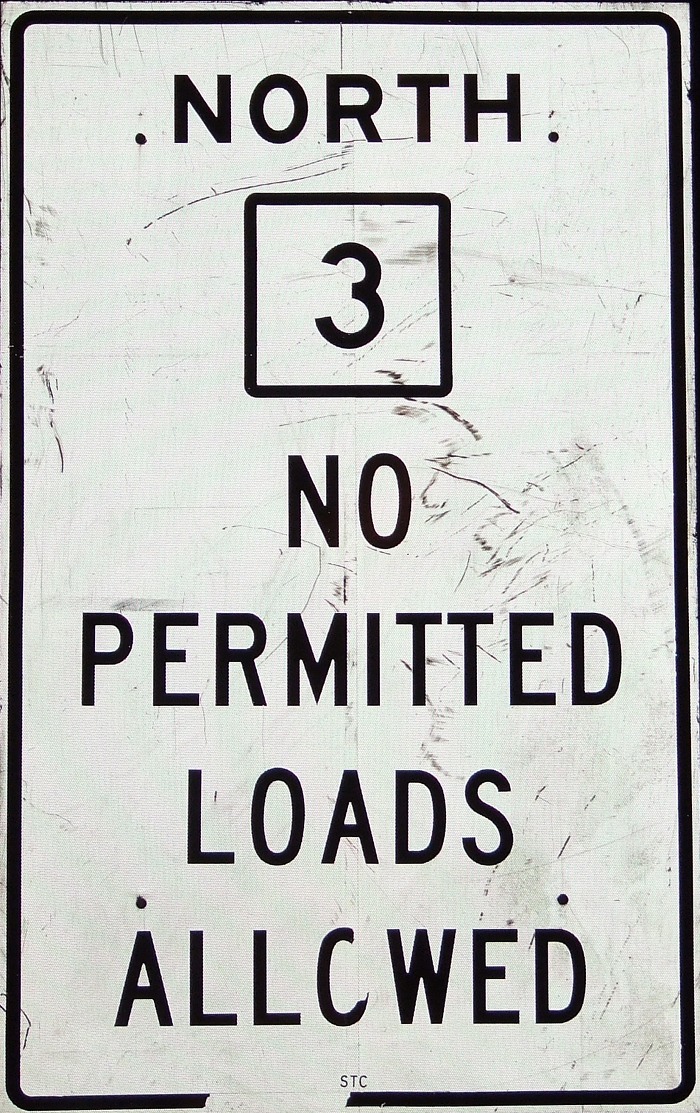 ---