« previous post | next post »
"Who'll win at Wimbledon? Just listen to the pitch of the grunts", University of Sussex press release 7/4/2017:
Never mind counting aces and killer shots. If you want to predict the outcome of a tennis match, pay attention to the players' grunts.
As Wimbledon prepares for another year of the on-court cacophony from the likes of Rafael Nadal and Victoria Azarenka, a new study has revealed that grunts produced by players during tennis matches they lost were higher in voice pitch than during the matches they won.
What's more, psychologists at the University of Sussex found that players displayed differences in their grunt pitch long before the scoreboard made it clear whether they would win or lose.
The referenced publication is Jordan Raine, Katarzyna Pisanski, & David Reby, "Tennis grunts communicate acoustic cues to sex and contest outcome", Animal Behavior 2017:
Despite their ubiquity in human behaviour, the communicative functions of nonverbal vocalizations remain poorly understood. Here, we analysed the acoustic structure of tennis grunts, nonverbal vocalizations produced in a competitive context. We predicted that tennis grunts convey information about the vocalizer and context, similar to nonhuman vocal displays. Specifically, we tested whether the fundamental frequency (F0) of tennis grunts conveys static cues to a player's sex, height, weight, and age, and covaries dynamically with tennis shot type (a proxy of body posture) and the progress and outcome of male and female professional tennis contests. […] The F0 of tennis grunts predicted player sex, but not age or body size. Serve grunts had higher F0 than forehand and backhand grunts, grunts produced later in contests had higher F0 than those produced earlier, and grunts produced during contests that players won had a lower F0 than those produced during lost contests. This difference in F0 between losses and wins emerged early in matches, and did not change in magnitude as the match progressed, suggesting a possible role of physiological and/or psychological factors manifesting early or even before matches. 
Here's their main table of results: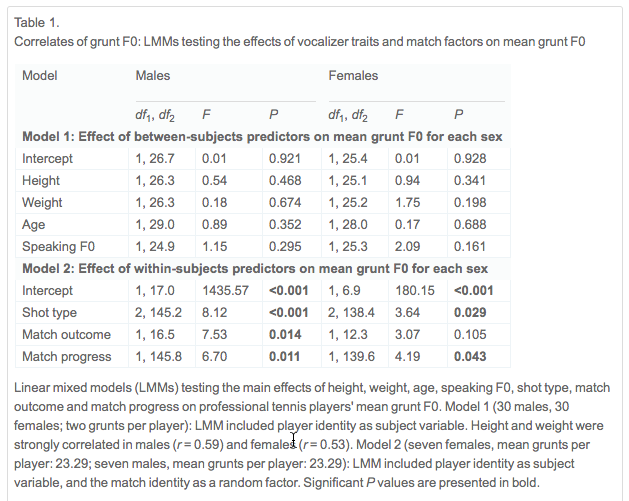 As is all too common in scientific publications, we learn what the "significant" effects were, in the sense of differences unlikely to be due to sampling error, and the direction of those effects — but not so much about their magnitude.
Luckily the authors post their data in spreadsheet form, so we can look into this.
Unsurprisingly there is a large sex effect: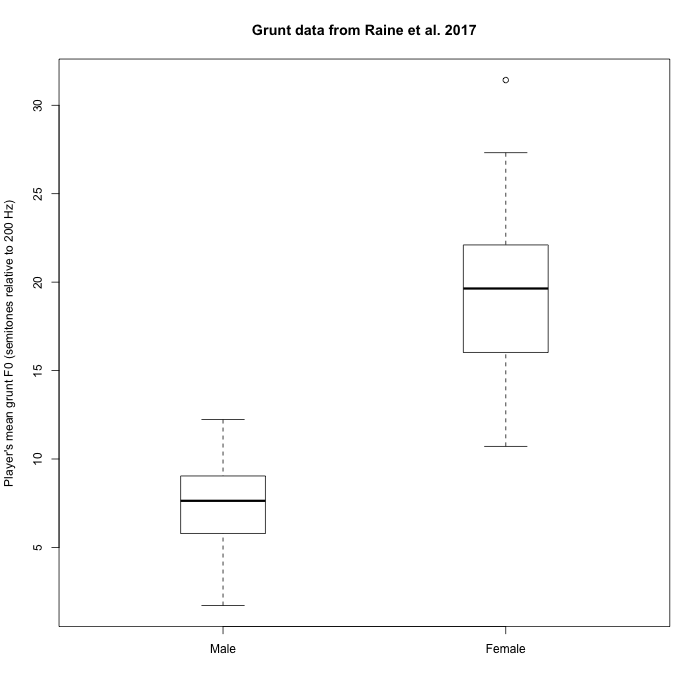 The shot-type effects are (also unsurprisingly) smaller, but consistent across sex: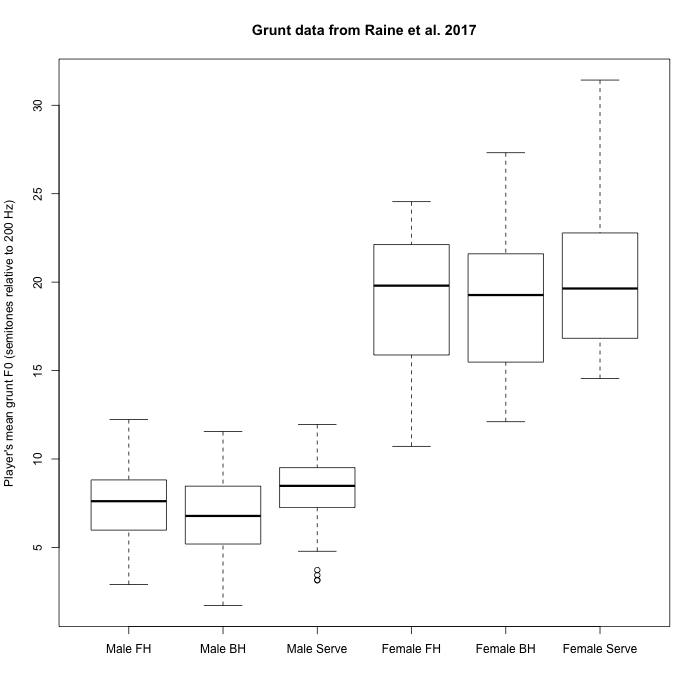 As we might have suspected, the overall match-outcome effects are small. And (pooling data across shot type and time in match), they seem to go in different directions for males and females: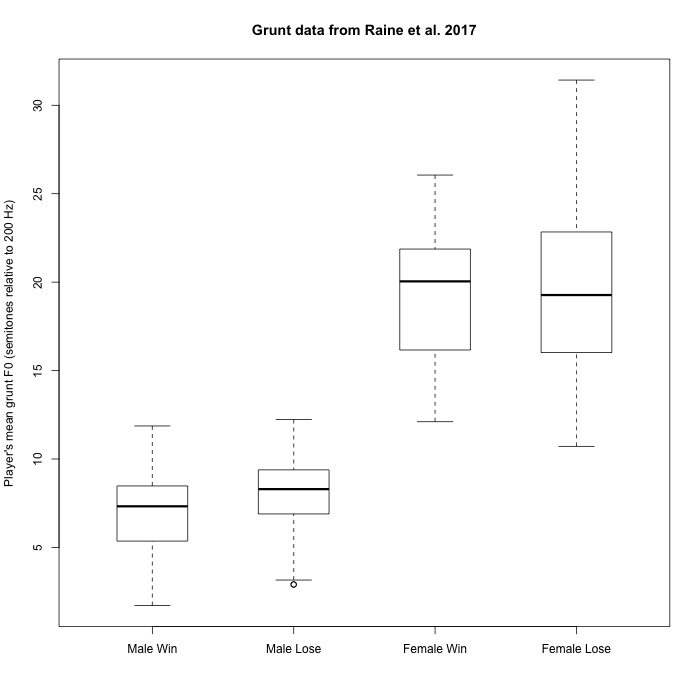 I don't have time this evening to work out why their Linear Mixed Model  finds that both male and female players have higher mean grunt f0 in losing matches, while a simple boxplot seems to indicate that males tend to grunt higher in losses but females tend to grunt lower. Maybe it has something to do with the model's assumptions about distribution shapes; maybe allowing for shot type and grunt time makes the difference; and maybe I made a mistake (my R code is here if you want to check).
But anyhow, contrary to the implication of the press release, grunt pitch doesn't look like a very powerful predictor of tennis match outcome. And perhaps this outcome should cast some doubt on the relevance of the authors' reference to the "negative relationship between F0 and dominance, and evidence that F0 increases under stress, distress and arousal in both humans … and nonhuman mammals".
---