« previous post | next post »
I just had a terrible idea that could probably make someone a modest fortune. I was inspired by Erin Gloria Ryan, "My Love Affair With 'Like'", Jezebel 6/26/2011:
I use the word "like" with embarrassing frequency. I've started paying attention to how other people talk as well, and it's amazing how many women who I know are very smart are similarly infected with like-itis.
Where does this come from? Why do we do this? […]
Since we know that saying "like" too much leads others to negatively judge our intelligence, maybe inserting "like" into a sentence is something that we do to purposefully make ourselves sound less intelligent and forceful and therefore less formidable than we actually are. We're sabotaging ourselves! […]
Maybe women of my generation have been taught, through positive social reinforcement, that we're supposed to pepper our speech with meaningless modifiers that make us sounds a little less sure of ourselves, a little less credible. No one likes a show off or a know-it-all. Better temper your smart-talk with assurance to whoever you're speaking that you're not, like, a threat or anything. Any girl who's been teased for middle school nerdery has likely developed a long standing aversion for the feeling of being excluded for being too smart or opinionated. This is the way that socially acceptable people talk. This is the way that pretty people talk. Women are taught that it's more important to be pretty and socially accepted than it is to be smart. Ergo, like.
Never mind for now whether vernacular like is genuinely female-associated.  Alexandra D'Arcy  ("Like and Language Ideology: Disentangling Fact from Fiction", American Speech 82(4) 2007) found that the discourse-particle version (as in "They're like representatives of their whole like clan, but they don't take it like really seriously, especially like during planting season") was used more by males than by females: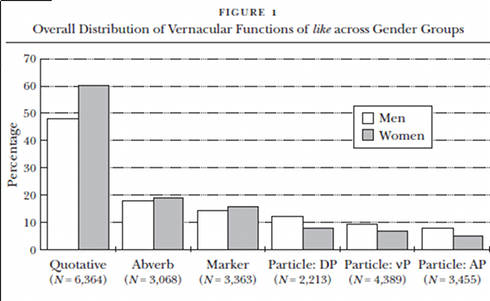 And never mind the broader question of whether there's a female speech style characterized by features that weaken assertions — this is a widespread and plausible idea, but most attempts to find empirical confirmation have come up empty (see e.g. "Gender and Tags", 5/9/2004).
Gender aside, let's be clear:  incessant repetition of a low-information-content filler is annoying to listeners and should be avoided, whether the filler is "like" or "literally" or "you know" or just plain "uh". And operant conditioning, like a teacher who rings a bell whenever a student uses vernacular like, is an effective training method. That's why my terrible idea is so seductive.
What am I talking about? Well, now that speech recognition has gotten to be pretty good and very cheap, it's only a matter of time before someone combines a speech recognizer with a style checker, and creates an app for your smartphone that will make it vibrate (or beep, or flash) whenever you indulge in any of the verbal tics that you've asked it to watch out for.
Of course, other functions could be added — detection of stigmatized pronunciations,  taboo words, political incorrectness, … But detection of over-used discourse particles and other fillers should be especially easy. With Andreas Stolcke and Jiahong Yuan, I've been working on detection of filled pauses, and it's not hard to achieve a high success rate, easily good enough to be used for operant conditioning.
I think that this is such a bad idea that I would be conflicted about revealing it to the world, if I weren't certain that its discovery and implementation are inevitable. For all I know, someone has already submitted a patent application.
[I should make it clear that I'm not against intervention to eliminate verbal tics. But I can see many problems with constant digital monitoring of verbal behavior.]
---
For those who are specifically interested in vernacular like, I can recommend Muffy Siegel's paper "Like: The Discourse Particle and Semantics", J. of Semantics 19(1), Feb. 2002, as well the following relevant LL posts:
"It's like so unfair", 11/22/2003
"Like is, like, not really like if you will", 11/22/2003
"Exclusive: God uses "like" as hedge", 1/3/2004
"Divine ambiguity", 1/4/2004
"Grammar critics are, like, annoyed really weird", 9/13/2004
"This construction seems that I would never use it", 11/11/2004
"Looks like a reference problem", 11/11/2004
"Seems like, go, all", 11/15/2004
"I'm like, all into this stuff ", 11/15/2004
"I'm starting to get like "this is really interesting", 11/16/2004
"That's such a like, coincidence", 5/31/2005
"Like totally presidential", 8/17/2007
"It's, like, war", 12/10/2007
"'Like' youth and sex", 6/28/2011
Note especially the discussion ("Grammar critics are, like, annoyed really weird", 9/13/2004) of a  method in which a speech therapist uses unpleasant smells to condition her clients not to use vernacular like. Luckily, digital-to-odor conversion is not likely to be a standard feature of smartphones for some time.
---