« previous post | next post »
From Elliott Penegar:
I was reading school board minutes (don't ask) and noticed that the board secretary had noted several times that a board member had cast a "descending vote."  I thought, "What was the member doing, voting while walking down the stairs?" No. She evidently meant "dissenting vote." But it was "descending" each and every time . . .
A couple of examples from the document that Elliott sent: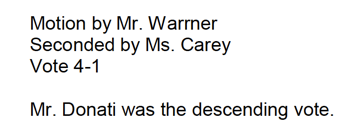 This one seems new to Chris Weigl's Eggcorn Database, but other examples are Out There:
[link] When Joseph tells this to Pharaoh and that he needs to find a man of wisdom to implement God's plan of plenty even in famine, Joseph is unanimously chosen with no descending votes from Pharaoh's advisors.
[link] It's important to understand, that when the Church accepted this theory, 300 years after the life and death of Jesus, there were descending votes.
[link] If there are more than two (2) descending votes, the nominee will be eligible for re-nomination at the next club meeting.
[link] The motion passed 4-3 with Toni Holik, Trish Bauerlein, and Vance Lankford casting the descending votes.
[link] Approving votes: Barry DelCurto,. Robert Jaeger, Duane Bernard, Steve McClelland; descending votes: Ron Borisch, Tom Alkire, Jim Morrell
There are "descending voices" Out There as well:
People that were 18 or 19 when Obama was voted in have essentially 8 years of living in an echo chamber with virtually no descending voices
It was all amicable with no descending voices from any of the parties involved.
This is Britain 2.0, you belong to us, no freedom of speech, no descending voices, you are not a free man, you are a number!
And yet, few to no descending voices in Washington, from the clergy and almost none from the people of the Republic.
---