« previous post | next post »
Yesterday's SAT "question of the day":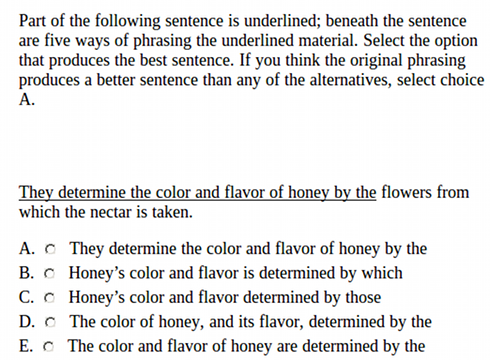 I guessed the answer that they wanted: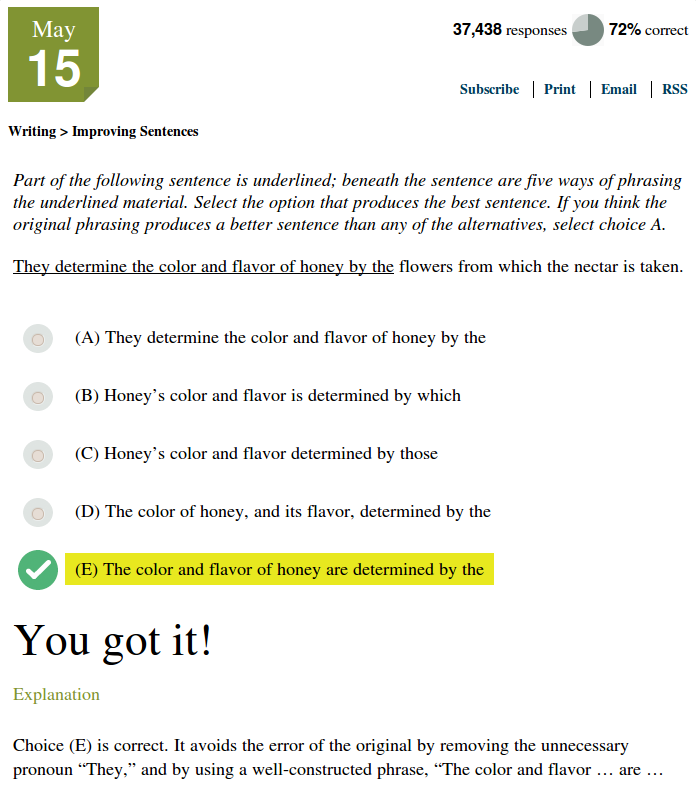 But I wonder, how many of the 28% who got it wrong rejected (E) because they've been taught to avoid the passive voice?  In teaching undergraduate Introduction to Linguistics, I find that nearly all students educated in the U.S. report having gotten anti-passive instruction from an authoritative source. Only about 10% have also been taught to identify passive-voice sentences accurately; but in this case, option (A) supplies an agent in subject position, which is one of the factors causing confusion.
I was curious to learn what the College Board would take to be the right answer in this case. It's clearly not (C) or (D), which lack a main verb; or (B), where the subject is plural and the verb is singular, and the by-phrase ("by which flowers from which the nectar is taken") is ungrammatical.
Out of context, (E) is the best choice for formal writing — but it has two passive-voice verbs, while (A) has only one!
And it's possible to imagine contexts where (A) might be better, such as
Bees do not use coloring or flavoring agents. They determine the color and flavor of honey by the flowers from which the nectar is taken.
So if you thought that the passive voice is to be avoided wherever possible — or if you thought that the College Board might think this, since your teachers have cited George Orwell and Strunk & White in warning against the passive — you might decide to choose option (A).
As we've noted in the past, SAT questions like this one often too often turn into a judgment about the linguistic ideology of the College Board,  rather than a judgment about English grammar and style ("Menand's acumen deserts him", 10/5/2003; "The SAT fails a grammar test", 1/31/2005).
Five years ago, I offered two concrete suggestions for reforming SAT questions that ask students to indentify grammatical or stylistic errors. For questions that ask students to make a choice among alternative phrasings, I'd add two more:
Avoid situations where the "correct" answer violates a grammatical or stylistic shibboleth (like "avoid passive"), while one of the "wrong" answers doesn't; and
put the target sentence in context.
The first of those suggestions has the  unpalatable flavor of concession to popular error (see "Crazies win", 5/13/2008), so an alternative formulation might be
In the overall instructions for the section on grammar and usage, explicitly list any "Zombie Rules" that you do not expect test-takers to accept blindly.
Update — I agree with the various commenters who observe that the "they" in (A) is problematic if it refers to bees, since it implicates inappropriate conscious intention, in addition to being a bad idea in any case without justification from prior context. But someone who believes that reducing the number of passive verbs is a paramount goal — or who believes that Usage Authorities believe this — might still choose (A).
---