« previous post | next post »
Josh Solomon, "Largest heroin bust in Hernando history comes with image of Donald Trump", Tampa Bay Times, 2/3/2017:
One pile of wax paper envelops that contained individually wrapped doses of heroin bore the name of El Chapo, the infamous Mexican drug lord.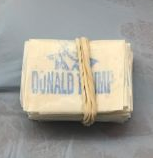 Another pile had envelopes with the name of Colombian cocaine kingpin Pablo Escobar.
Yet another pile had the name and likeness of President Donald Trump — a joke Florida Attorney General Pam Bondi didn't think was funny.
"All I want to say to this drug dealer is, 'Big mistake by putting the president's picture on this,' " Bondi said while holding up one of the little white squares. "Big mistake. Because he is going to be our most fierce advocate in taking this junk off of our streets. Can you believe this? Big mistake."
I don't recall having heard this sort of repetitive rhetoric from public officials much in the past, but it seems that the style is infectious.
Or maybe now that I've noticed it, I'm subject to stereotype formation via confirmation bias. I'll see if I can find some ways to evaluate this. One obvious question to ask is whether Ms. Bondi talked that way in pre-Trump public recordings, like this one:
or this one:
And the answer seems to be "no".
---