« previous post | next post »
In "The Road to Wazoo", I mentioned a striking 1919 advertisement for Prince Albert Tobacco . What was striking was partly the drawing and partly the text: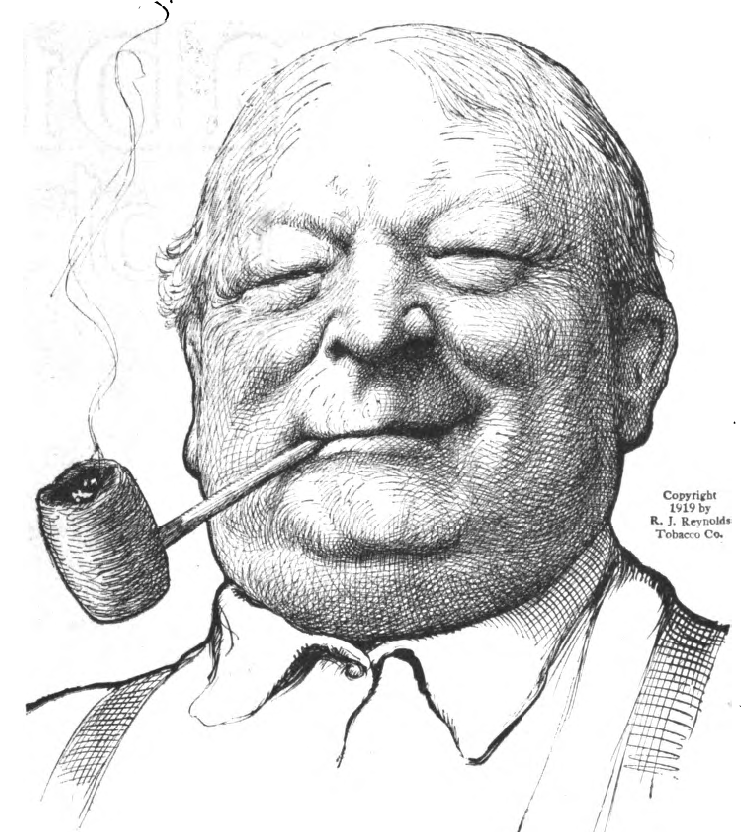 PRINCE ALBERT
the national joy smoke
Say, you'll have a streak of smokeluck that'll put pep-in-your-smokemotor, all right, if you'll ring-in with a jimmy pipe or cigarette papers and nail some Prince Albert for packing!
Just between ourselves, you never will wise-up to high-spot-smoke-joy until you can call a pipe or a home made cigarette by its first name, then, to hit the peak-of-pleasure you land square on that two-fisted-man-tobacco, Prince Albert!
Well, sir, you'll be so all-fired happy you'll want to get a photograph of yourself breezing up the pike with your smokethrottle wide open! Quality make Prince Albert so different, so appealing. And, P A. can't bite or parch. Both are cut out by our exclusive patented process!
Right now while the going's good you get out your old jimmy pipe or the "papers" and land on some P. A. for what ails your particular smokeappetite.
AG commented that
That ad is incredible. "Mad Men" is an understatement. That's like something you'd get if a roomful of Wodehouses threw typewriters at each others' heads during a gas leak
The ad's language range some kind of bell for me, and this comment from Catherine Arnott Smith nailed the source:
That ad is purest Babbittry, except that the poet Chum Frink, in Babbitt, had to wait until 1922.
Exactly. From chapter VIII of Babbitt (emphasis added):
The guests were Howard Littlefield, the doctor of philosophy who furnished publicity and comforting economics to the Street Traction Company; Vergil Gunch, the coal-dealer, equally powerful in the Elks and in the Boosters' Club; Eddie Swanson the agent for the Javelin Motor Car, who lived across the street; and Orville Jones, owner of the Lily White Laundry, which justly announced itself "the biggest, busiest, bulliest cleanerie shoppe in Zenith." But, naturally, the most distinguished of all was T. Cholmondeley Frink, who was not only the author of "Poemulations," which, syndicated daily in sixty-seven leading newspapers, gave him one of the largest audiences of any poet in the world, but also an optimistic lecturer and the creator of "Ads that Add." Despite the searching philosophy and high morality of his verses, they were humorous and easily understood by any child of twelve; and it added a neat air of pleasantry to them that they were set not as verse but as prose. Mr. Frink was known from Coast to Coast as "Chum."
However intimate they might be with T. Cholmondeley Frink as a neighbor, as a borrower of lawn-mowers and monkey-wrenches, they knew that he was also a Famous Poet and a distinguished advertising-agent; that behind his easiness were sultry literary mysteries which they could not penetrate. But to-night, in the gin-evolved confidence, he admitted them to the arcanum:
"I've got a literary problem that's worrying me to death. I'm doing a series of ads for the Zeeco Car and I want to make each of 'em a real little gem—reg'lar stylistic stuff. I'm all for this theory that perfection is the stunt, or nothing at all, and these are as tough things as I ever tackled. You might think it'd be harder to do my poems—all these Heart Topics: home and fireside and happiness—but they're cinches. You can't go wrong on 'em; you know what sentiments any decent go-ahead fellow must have if he plays the game, and you stick right to 'em. But the poetry of industrialism, now there's a literary line where you got to open up new territory. Do you know the fellow who's really THE American genius? The fellow who you don't know his name and I don't either, but his work ought to be preserved so's future generations can judge our American thought and originality to-day? Why, the fellow that writes the Prince Albert Tobacco ads! Just listen to this:
It's P.A. that jams such joy in jimmy pipes. Say—bet you've often bent-an-ear to that spill-of-speech about hopping from five to f-i-f-t-y p-e-r by "stepping on her a bit!" Guess that's going some, all right—BUT just among ourselves, you better start a rapid whiz system to keep tabs as to how fast you'll buzz from low smoke spirits to TIP-TOP-HIGH—once you line up behind a jimmy pipe that's all aglow with that peach-of-a-pal, Prince Albert.
Prince Albert is john-on-the-job—always joy'usly more-ISH in flavor; always delightfully cool and fragrant! For a fact, you never hooked such double-decked, copper-riveted, two-fisted smoke enjoyment!
Go to a pipe—speed-o-quick like you light on a good thing! Why—packed with Prince Albert you can play a joy'us jimmy straight across the boards! AND YOU KNOW WHAT THAT MEANS!"
"Now that," caroled the motor agent, Eddie Swanson, "that's what I call he-literature! That Prince Albert fellow—though, gosh, there can't be just one fellow that writes 'em; must be a big board of classy ink-slingers in conference, but anyway: now, him, he doesn't write for long-haired pikers, he writes for Regular Guys, he writes for ME, and I tip my benny to him! The only thing is: I wonder if it sells the goods? Course, like all these poets, this Prince Albert fellow lets his idea run away with him. It makes elegant reading, but it don't say nothing. I'd never go out and buy Prince Albert Tobacco after reading it, because it doesn't tell me anything about the stuff. It's just a bunch of fluff."
In the comments on that earlier post, I cited another Prince Albert ad in the same general style, from the 1921 Saturday Evening Post, with the text: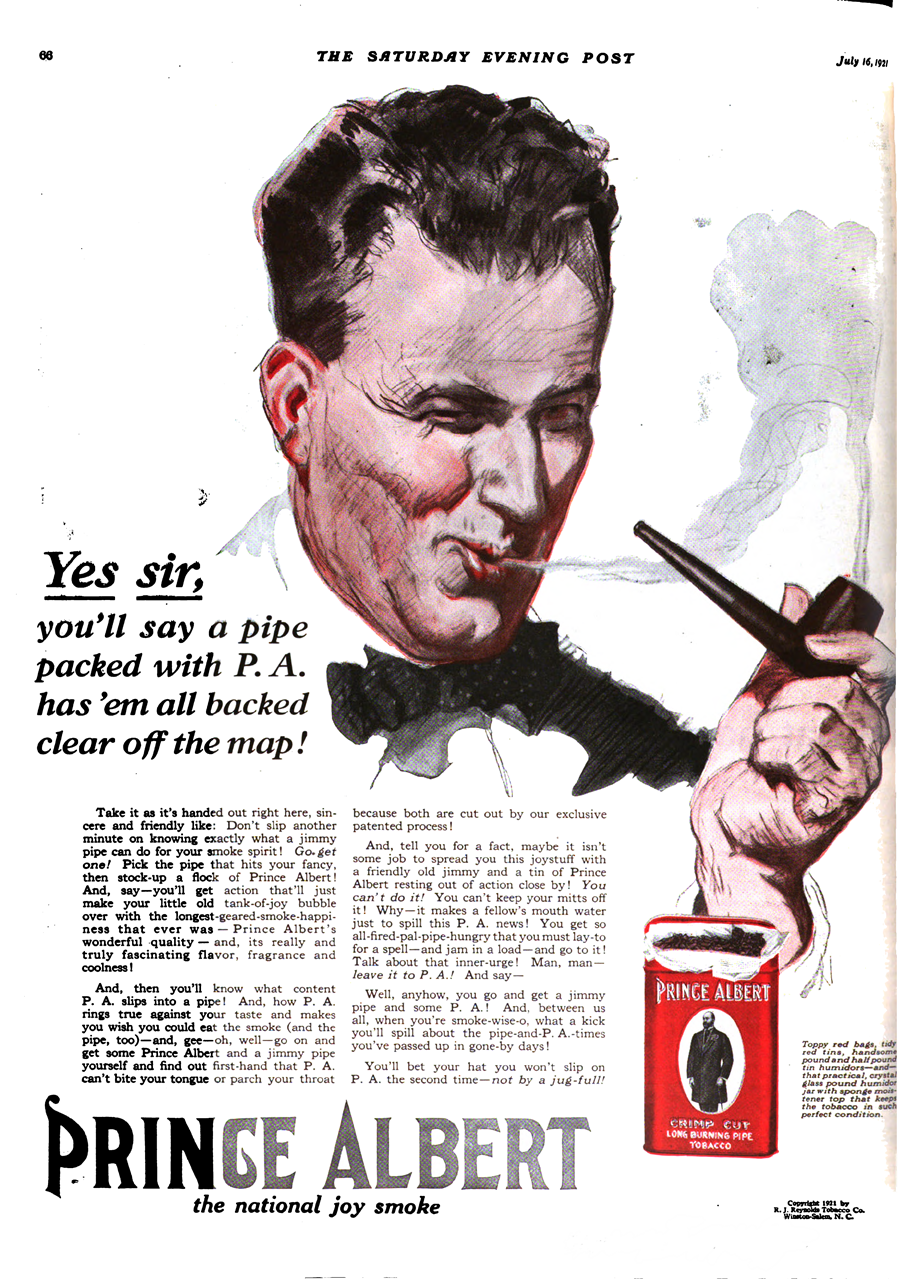 Yes sir, you'll say a pipe packed with P.A. has 'em all backed clear off the map!
Take it as it's handed out right here, sincere and friendly like: Don't slip another minute on knowing exactly what a jimmy pipe can do for your smoke spirit! Go get one! Pick the pipe that hits your fancy, then stock-up with flock of Prince Albert! And, say — you'll get action that'll just make your little old tank-of-joy bubble over with the longest-geared-smoke-happiness that ever was — Prince Albert's wonderful quality – and, its really and truly fascinating flavor, fragrance and coolness!
And, then you'll know what content P. A. slips into a pipe! And, how P. A. rings true against your taste and makes you wish you could eat the smoke (and the pipe, too) – and, gee — oh, well — go on and get some Prince Albert and a jimmy pipe yourself and find out first-hand that P. A. can't bite your tongue or parch your throat because both are cut out by our exclusive patented process!
And, tell you for a fact, maybe it isn't some job to spread you this joystuff with a friendly old jimmy and a tin of Prince Albert resting out of action close by! You can't do it! You can't keep your mitts off it! Why — it make a fellow's mouth water just to spill this P. A. news! you get so all-fired-pal-pipe-hungry that you must lay-to for a spell — and jam in a load — and go to it! Talk about that inner-urge! Man, man — leave it to P. A.! And say —
Well, anyhow, you go and get a jimmy pipe and some P. A.! And, between us all, when you're smoke-wise-o, what a kick you'll spill about the pipe-and-P.A.-times you've passed up in gone-by days!
You'll bet your hat you won't slip on P. A. the second time — not by a jug-full!
There's plenty more where those came from — here's another: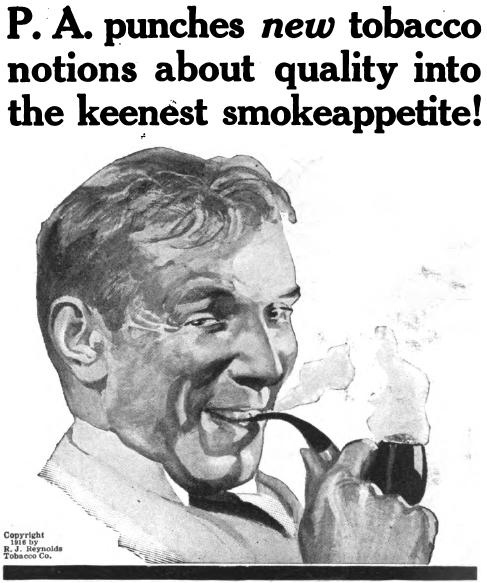 Prince Albert presents the cheerfullest bundle of pipe and cigarette joy you can figure out — tobacco happiness that means going-to-it-to-beat-the-cards without a comeback! For, Prince Albert is not only delightful in its coolness, flavor and fragrance, but it can't bite your tongue or parch your throat! Bite and parch are cut out by the exclusive patented process by which it is made!
When you open up a package of Prince Albert and fire-a-load you realize that your good money has purchased quality. The dividends of delight P.A. hands out north, east, south and west knock clipping coupons off the Christmas tree.
PRINCE ALBERT
the national joy smoke
Prince Albert is a revelation in tobacco contentment as well as a revelation in tobacco quality! Why just to think about P.A. makes your mouth water — it pans out such prime-pleasure all-around-the-clock! And you smoke free and easy, and to your heart's content!
Put yourself on the cheery side of some Prince Albert. Puff its pacifying, tasty, fragrant smoke into your mouth and know for a fact you've uncorked tobacco-treasure! Tip your sporting section to buy a package of Prince Albert — tobacco that has simply-slammed-satisfaction into wise smokers in every civilized country on the globe! P.A. will meet your desires at every point of the smoke compass!
And another: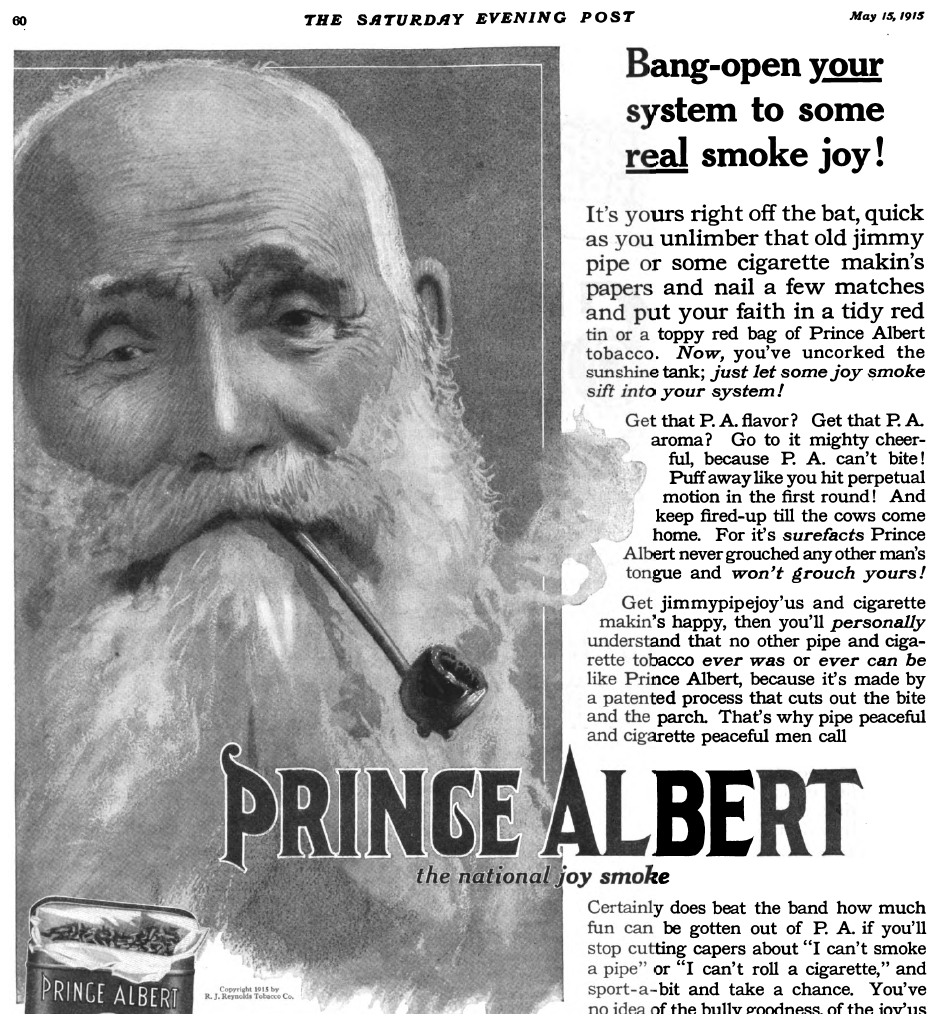 Bang-open your system to some real smoke joy!
It's yours right off the bat, quick as you unlimber that old jimmy pipe or some cigarette makin's papers and nail a few matches and put your faith in a tidy red tin or a toppy red bag of Prince Albert tobacco. Now, you've uncorked the sunshine tank; just let some joy smoke sift into your system!
Get that P. A. flavor? Get that P. A. aroma? Go to it mighty cheerful, because P. A. can't bite! puff away like you hit perpetual motion in the first round! And keep fired-up till the cows come home. For it's surefacts Prince Albert never grouched any other man's tongue and won't grouch yours!
Get jimmypipejoy'us and cigarette makin's happy, then you'll personally understand that no other pipe and cigarette tobacco ever was or ever can be like Prince Albert, because it's made by a patented process that cuts out the bite and the parch. That's why pipe peaceful and cigarette peaceful men call PRINCE ALBERT the national joy smoke.
Certainly does beat the band how much fun can be gotten out of P. A. if you'll stop cutting capers about "I can't smoke a pipe" or "I can't roll a cigarette," and sport-a-bit and take a chance. You've no idea of the bully goodness, of the joy'us satisfaction and that sort of thing that hits every man who get chummy with P. A.
Hammer this home for what ails your smokeappetite, because you've no time to lose getting introduced to this real and true man-tobacco that's ace-high and a yard wide no matter how you swing on it, jimmy pipe or makin's cigarette!
I wonder whether R.J. Reynolds still owns the "national joy smoke" slogan, and whether they're planning to resurrect it for their future recreational marijuana business.
---