« previous post | next post »
Michael Moore asks:
I wonder what your opinion is about no fly zones. Totally unambiguous (well, unless you think flies are involved), as succinct as possible, and also very irregular. I can't think of a rephrasing that would deliver the message with the same clarity. It seems that we need to sacrifice conventional rules to make a good point.
Apparently some editors at the New York Times are also worried about convention in this matter, because that publication somewhat erratically deploys "no-flight zone" in place of "no-fly zone". Thus David Sanger and Thom Shankar, "Gates Warns of Risks of a No-Flight Zone", 3/2/2011, where "no-flight zone" occurs nine times, and "no-fly zone" occurs four times. The difference? "No-fly" is in all and only the quotes (from Senator Kerry and Defense Secretary Gates), while "no-flight" occurs in all and only the unquoted text.
This is not a consistent editorial practice, however. We also see things like John Broder, "U.S. and Allies Weigh Libya No-Fly Zone", NYT 2/28/2011, where the score is "no-fly zone" 5 (both quoted and not), "no-flight zone" 0.
This editorial uncertainty goes back to the  no-fly zones imposed during the first Gulf war. Thus in Michael Gordon, "British, French and U.S. Agree To Hit Iraqi Aircraft In The South", NYT 8/19/1992, there's one instance of "no-flight zone":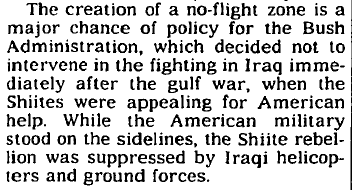 The same article contains five instances of "'no fly' zone", but in all cases, the "no fly" part is put in quotes, as for example here: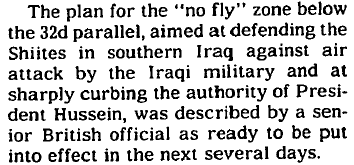 This episode, starting in 1992, seems to be when the phrase "no fly zone" (however punctuated) first came into widespread use. However, there were sporadic and more limited uses in earlier periods, for example in reference to restrictions on American bombing during the Vietnam war. From Mark Clodfelter, "The limits of air power: the American bombing of North Vietnam", 1989:
On 27 October, the chiefs urged Johnson to reduce the Hanoi "no fly" zone to a 3-mile radius.
Whenever "no fly" as a modifier was first used, the model for it was probably "no go". The OED has an entry for "no go", documenting predicative, modifier, and nominal uses back to 1825. The meaning is somewhat variable, but is usually in the range of "of no use; impossible; hopeless; indecisive; impracticable":
1825 C. M. Westmacott Eng. Spy I. 178 It won't do, no go Dick.
1829 T. Creevey Let. 20 Oct. in J. Gore Creevey's Life & Times (1934) xiv. 311 According to the Earl and myself, Fanny Kemble is no go.
1848 Thackeray Vanity Fair xxxiv. 305 You want to trot me out, but it's no go.
1888 J. R. Lowell Heartsease & Rue 207 'You must rise', says the leaven. 'I can't', says the dough; 'Just examine my bumps, and you'll see it's no go'.
1829 Sporting Mag. 13 242 It would be pleasing‥if some of the followers of the gallant varmint were to notice the blank days they have in this battue country, stating the names of the constantly 'no go' coverts.
1847 Blackwood's Edinb. Mag. 62 429/2 The jaundiced editor of some new no-go periodical.
The use of "no go" as a modifier to indicate forbidden areas was common in discussing the Ulster troubles in the 1970s. Thus Robin Evelegh, "Peace keeping in a democratic society: the lessons of Northern Ireland", 1978:
Lord Widgery, in his report on 'Bloody Sunday' at paragraphs 10 to 12, describes how the Bogside and Creggan areas were allowed to become 'no go' areas in which 'the law was not effectively enforced' and 'the terrorists were still firmly in control.' This did not happen by change or by the force majeur of an insurrection, but as the result of an agreement made in the autumn of 1971 between the General Officer Commanding Northern Ireland, Lieutenant-General Sir Harry Tuzo, and a self-appointed group of prominent citizens from the Creggan and the Bogside. The 'no-go' situation was well known and must have been authorized by the Cabinet. There is a plethora of evidence for it in the press, including pictures of IRA control points with armed sentries at the entry roads to the 'no-go' areas.
Uneasiness about "no fly zone" is not limited to the NYT, but it remains a minority attitude. The current Google News index yields 31 instances of "no flight zone", of which 9 are in NYT articles, versus 689 (actually shown) or perhaps 12,963 (unreliably "estimated") instances of "no fly zone".
---